With billionaire president-elect Donald Trump in the White House, we may be about to witness a revival of bling. Trump has promised to lower taxes on the wealthy, giving them more to spend on everything from Apples (iPad) to zircon (a natural gem not to be confused with cubic zirconia). Will the Trump Tower aesthetic—gilt, glitz and pink marble—take over?
Americans can get a peek at Trump's special style in a Fox News special this weekend, in which the president-elect himself will give a tour of his Trump Tower penthouse and show off his material possessions. (OBJECTified: Donald Trump, at 10 p.m. on Friday, 8 p.m. on Saturday and Sunday)
In the spirit, we feature here some high-end goodies targeted to the wealthy that we'll likely see more of if gold becomes the new black.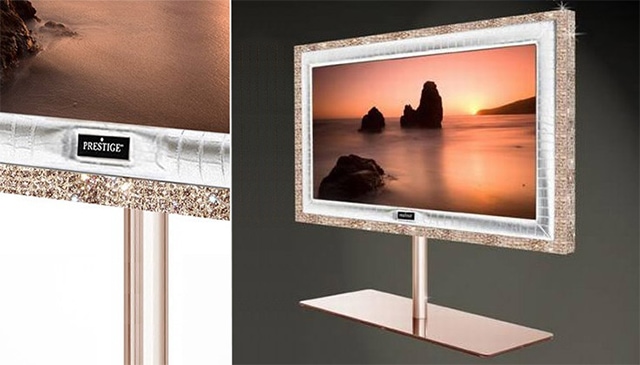 1. Consider the world's most expensive television: Stuart Hughes, the gold standard for gold-plated or otherwise bedazzled belongings, offers the Prestige HD Supreme Rose Gold Edition, for a mere US$2.25 million. Made with 28 kilograms of 18-carat rose gold, and 72 round-cut brilliant one-carat diamonds, it features an inner bezel of hand-sewn alligator. If Louis XIV owned a TV, this would be the one. (Interior designer Angelo Donghia, who passed away in 1985, said Louis XIV was a key inspiration in designing Trump's penthouse in his eponymous New York tower.)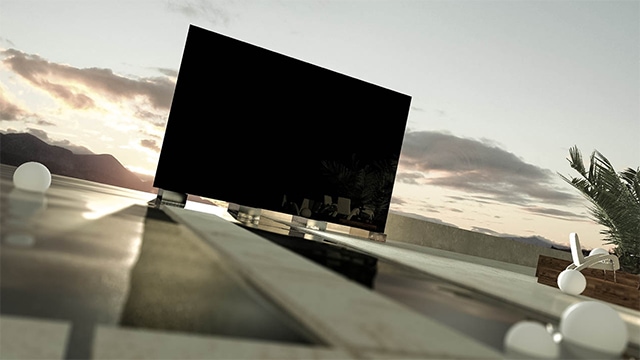 2. Pretty as it is, alas, the screen is only 55 inches. If you like your TVs "yuuuge," $1.6 million will buy a Zeus TV from British screenmaker Titan. At 370 inches (31 feet), the Titan Zeus stands as tall as a two-story house. That means during a ball game you're watching the players as large as they actually are. Just want some pretty background? One touch converts it to a CGI Aquarium.
Only four of these monoliths have been made. The first was reportedly bought by a UK media tycoon, to be installed at the bottom of his gigantic swimming pool. (How would you like to be greeted in his swimming pool by life-sized shark jaws?) The second was mounted on the rooftop of an exclusive hotel in Cannes this summer for the start of the World Cup. As of press-time, the last two were still available for purchase. In fact Titan's CEO, Anthony Ganjou, remarked in an interview that no matter what your space—hotel rooftop, poolside, yacht or bedroom wall—a Zeus can work for you. At least the colossal price tag for this colossal appliance includes installation.

3. For the ultra-well-heeled sport fisherman, MacDaddy's Fishing Lures has been making jeweled fishing lures for 50 years: gold flies with diamond eyes, gold-plated spoons, and more. But by far its blingiest offering was its Million Dollar Fishing Lure. Made of over three pounds of 14-karat gold and platinum, encrusted with 4,753 diamonds and rubies that tip the scales at a combined 100 carats, and more than a foot long, only one was made, and it was only dipped into the water once—and under the very watchful legal requirements of the owner's insurer, Lloyd's of London. [The next-most expensive lure we could find is solid gold for $1,450.]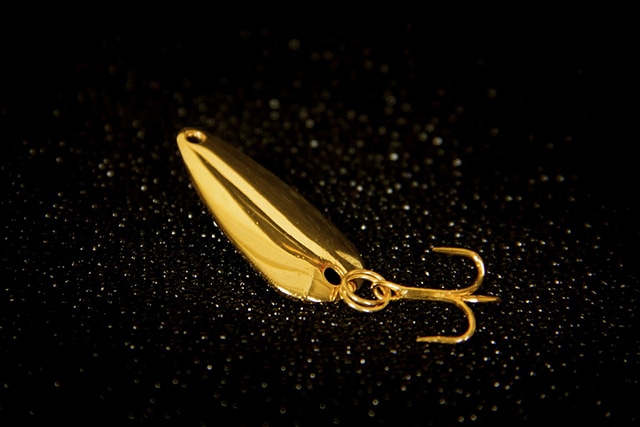 4. We can't forget our favorite family member: the dog. Canines may not fully appreciate the $3.2 million Amour, Amour diamond dog collar from I Love Dogs Diamonds, but their human pets will. Custom-made for each pooch of crocodile leather and 18-carat white gold, it is encrusted with three tiers of 1,600 hand-set diamonds totaling 52 carats.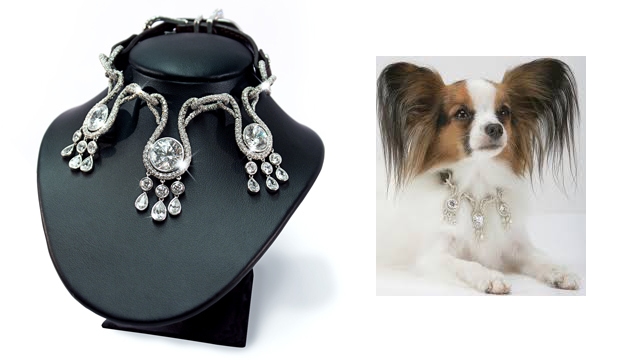 5. When outside walking your diamond-encrusted four-legged friend you are going to want to protect your eyes from the sunlight. Time to bling yourself out with a pair of Chopard De Rigo Vision Sunglasses—$408,000. These beautiful Swiss-made shades combine 24 karat and dotted gold with the logo "C" on the arms in diamonds. Dolce and Gabbana has the strikingly beautiful DG2027B sun specs at a more affordable $383,000, with brown lenses and a gold frame.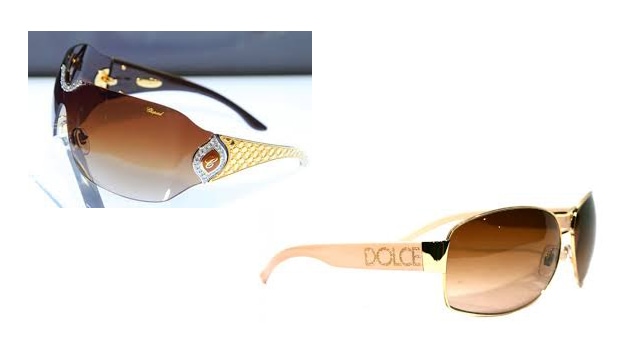 6. Bling can go anywhere—on the world's most expensive skateboard. Designed by Matthew Willet for New York based skateboard shop SHUT, it is 31.5 inches long, 8 inches wide, gold plated and fully functional—although its is 80% heavier than a typical board this fully functional skateboard comes with a pair of 100 percent cotton archival gloves so as not to smudge it's beautiful gold mirrored finish. You can order a few as this will only set you back $15,000.

7-10. Anything can glitter with gold. Once you start looking, you see that there are entrepreneurs ready to slather gold on any item you might want. A gold e-cigarette from UK-based Goldstriker International (GBP199), for example. Or a toothpick ($400) or guitar pick ($1500) or a set of jacks and ball made of 24-carat gold vermeil with pink and yellow sapphires ($33,000) from House of Gold International.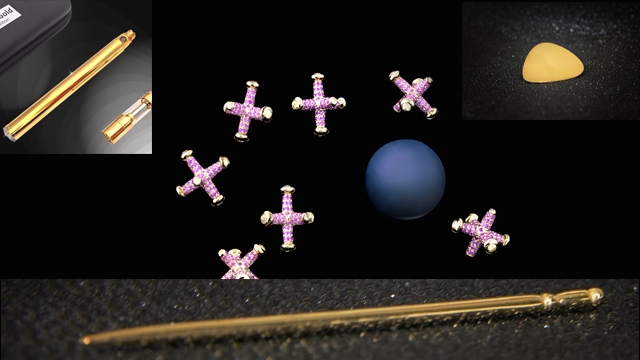 11. In a gilt world, Tiffany & Co.'s Sterling Silver Tennis Can starts toalmost look drab. At 8" in height, the four-ball container has a lid etched with the company logo. Just $1,500, they are evidently quite popular… currently on back order at Tiffany.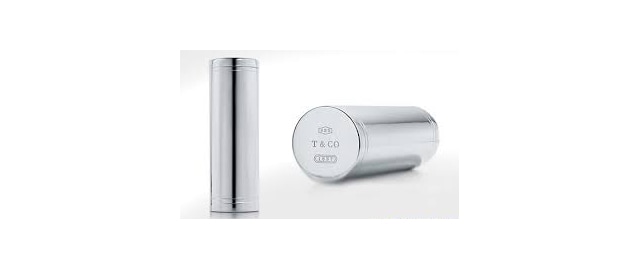 12. Last, but not least: I don't think rapper William Leonard Roberts II—better known as Rick Ross—of Maybach Music Group wants to part with his $1.5 million bling chain, as it features a miniature gold version of himself. Actually, there are two such chains, one with his bedazzled face (a), and one with a bedazzled image of himself wearing his bedazzled face on a chain (b).
Sounds like something that would appeal to The Donald.