CORPORATE FINANCING NEWS
By Gordon Platt
US companies announced $336 billion of mergers and acquisitions in the first two months of 2014, up 31% from the same period a year earlier, and the strongest January and February combined for any year since 2000, according to Dealogic. At the same time, companies in Asia, excluding Japan, found themselves the target of a record volume of takeovers in the first two months of this year.
The US total was inflated by competing bids for Time Warner Cable, only one of which will be successful. Charter Communications' $62.6 billion bid in January was followed by Comcast's $69.8 billion challenging offer a month later.
Verizon Communications' $130 billion acquisition of Vodafone's 45% stake in Verizon Wireless, which was completed in February, was the largest M&A deal on record for the telecommunications industry.
Globally, telecom-targeted M&A activity in January and February 2014 was more than double the total for the same period a year earlier, and was the highest year-to-date total since 2000, according to Dealogic. There were 14 telecom deals larger than $1 billion each in the first two months of this year, the highest since 2000, when there were 30 such deals.
CHINA TARGETED
China is the most targeted nation in Asia-ex-Japan for acquisitions so far this year, with M&A transactions of $30 billion, followed by India's $16.1 billion and South Korea's $12.7 billion, according to Dealogic. The largest Asia-targeted deal in the first two months of this year was Anheuser-Busch InBev's $5.8 billion bid for South Korea's Oriental Brewery. That deal was South Korea's biggest-ever inbound M&A transaction.
Anheuser-Busch InBev repurchased Oriental Brewery almost five years after it sold the company to Kohlberg Kravis Roberts for $1.8 billion in cash and debt.
Alcoholic beverages also figured in another major M&A transaction in February. Suntory Holdings of Japan agreed to pay $13.6 billion to buy Beam of the US, the producer and wholesaler of Jim Beam and Maker's Mark whiskeys. Including the assumption of Beam's net debt, the deal was valued at $16 billion.
Pharmaceuticals and technology are active sectors for M&A so far this year. Ireland's Actavis will broaden its drug portfolio with its $25 billion purchase of Forest Laboratories of the US. Facebook agreed to pay $19 billion for WhatsApp, which makes mobile-messaging software and has a big following in emerging markets.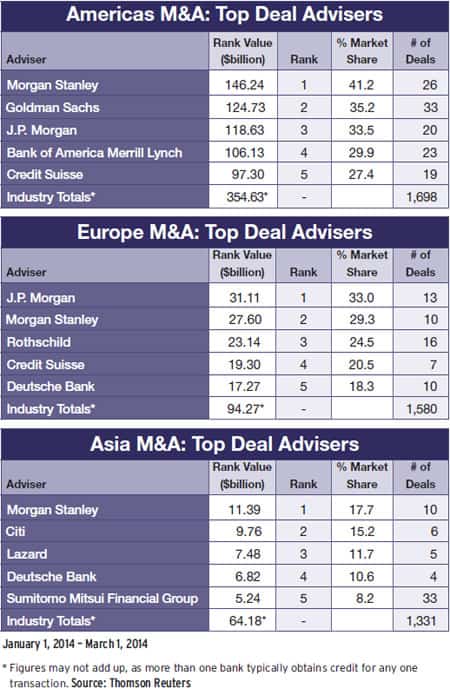 LESS UNCERTAINTY
Harris Williams, an M&A advisory firm that focuses on the middle market, says it expects to see increased interest in cross-border deals this year coming from Europe as well as the Asian markets.
Many of the performance, tax-driven timing, and regulatory uncertainty issues of recent years have been cleared up, the firm says. The absence of impediments from prior years will lead to a solid 2014 for middle market companies, according to Harris Williams, a subsidiary of PNC Financial Services Group.
There is pent-up demand for acquisitions, and companies are also flush with cash. "Strategic buyers have begun to use their war chest of capital to augment modest organic growth with targeted M&A activity," Williams says. "In addition, significant private equity capital is ready to be put to work."
With interest from both strategic and financial buyers, M&A activity started 2014 with a boom. However, today's deals are more complex, broader in geographic scope and far more likely to go off track than ever before, according to PwC.
The nature of today's deals, PwC's M&A integration leader Gregg Nahass notes, explains why. "Today's [corporate] integration process has become increasingly complex, as companies are doing more transformational deals to enter into new markets, channels, products or operations."