Canada's arrest ofHuawei's CFO is causing geopolitical and economic tensions.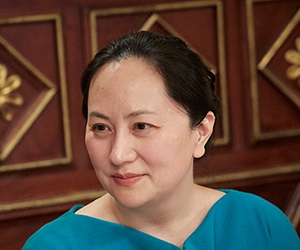 The day that Meng Wanzhou, the CFO of Chinese tech giant Huawei, was arrested in Vancouver while she was changing flights, President Donald Trump ate steak with Chinese President Xi Jinping in Buenos Aires as they agreed to a 90-day truce in the trade war. Meng was released on bail days after being taken into custody by Canadian officials, in response to an American request, for allegedly doing business with Iran in violation of international sanctions.
Simultaneously, a court in Fuzhou granted an injunction request by Qualcomm against Apple—both famously litigious—to stop selling older iPhones in China, the latest chapter in an ongoing legal dispute between the two Silicon Valley megacompanies. To some, the ruling was an act of retaliation for Meng's arrest. Yet the case predates the latest round of trade disputes, and investigations into Huawei date back to the Obama administration.
"Unless we get some smoking gun that Fuzhou courts are operating at the instruction of the Chinese trade ministry, or that Trump improperly interfered with the Obama-era investigation, we must assume that all have had unfortunate but unrelated timing," says Todd Tucker, a fellow at the Roosevelt Institute who has researched US trade politics.
China has technology ambitions of its own, and Huawei is meant to be an integral part of its global expansion, which makes the Meng arrest all the more alarming for the Chinese.
"To save the already fragile trade negotiations, it's important for the Trump administration to separate Meng's arrest from trade negotiations with China," Helen Raleigh, a fellow at the Centennial Institute who immigrated to the US from China, argued in The Federalist in December. "Reject the urge to use her legal case as a bargaining chip for trade talks, because there is such a furor in the Chinese public…. No matter how much Xi wants a trade deal, he can't be seen by the public as caving to US demands."