Zambia offers a range of advantages and opportunities for foreign investors, but they may want to wait awhile until some risks play out.

---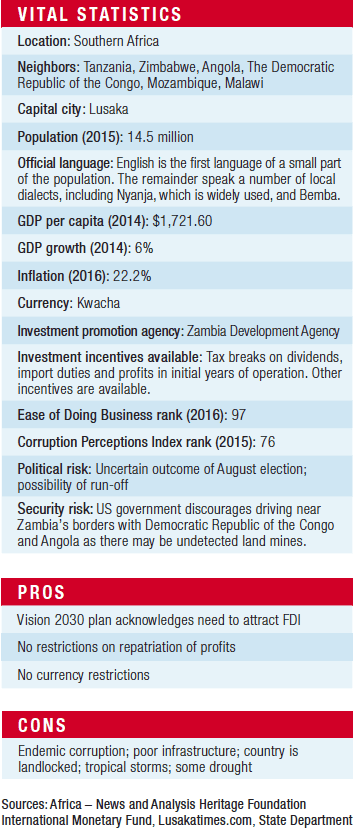 Governments that need foreign direct investment (FDI) for economic development can be forgiven for putting their best foot forward. Zambia certainly touts its advantages, including opportunities in the energy, tourism and agriculture sectors, among others, along with the Zambia Development Agency's One Stop Shop for Business Registration. Launched in June 2010 by the Ministry of Commerce, Trade and Industry, the registration is part of the ministry's Private Sector Development Reform Program.
Zambia has a history of carrying through on initiatives and a detailed, long-range economic plan called Vision 2030, which it hopes will pave the way to prosperity and stability. The plan acknowledges the country's need for FDI.
However, Frank Charnas, CEO of Tel Avivbased AfriQue Consulting Group, says risks and challenges have eroded the FDI environment within Zambia. "At the moment it's not great," he says. "There are a lot of question marks, and I believe investors are waiting to see how these things play out."
In the economic arena, FDI into Zambia is dominated by large mining investments from Canada, Australia, the United Kingdom and China. American participation in this sector is still at the exploration stage, according to the State Department. The Zambian government's decision to levy a new mineral royalty tax has contributed to uncertainty, Charnas says. Moreover, China's slowdown has meant reduced exports of Zambian copper, which has affected Zambia disproportionately.
Zambia's president Edgar Lungu came to power in January 2015, following the death in October 2014 of president Michael Sata while still in office. The next election will be this August. "In essence," Charnas says, "[Lungu] only has an 18-month period in which to convince the population that he is electable again, despite a history of managing the government with extravagance."
Taxing mining companies is a popular political move if Lungu wants to get reelected. But as he narrowly won the last presidential election in January 2015 with 48.3% of the vote—Hakainde Hichilema's opposition United Party for National Development was close behind on 46.6%—the possibility of a run-off after this August's election could add to the political uncertainty.
The weather is also creating problems for Lungu. El Niño is impacting parts of the country and damaging Zambia's ability to create hydropower, leading to power shortages that continue at the time of writing.
"All of these elements are basically coming together to make it much less comfortable for foreign direct investors," Charnas says. "Someone who is not risk-averse might say, 'Let's go now and see if we can get a better deal—they need FDI,' but only if you have a high risk appetite." The consultant estimates that Zambia will need at least three years to resolve its problems.