NEW OIL REFINERY TO NEARLY DOUBLE NIGERIA'S OUTPUT
By Antonio Guerrero
Aliko Dangote, head of the Dangote Group and ranked as Africa's wealthiest man, will invest up to $8 billion to build a new oil refinery complex in his native Nigeria.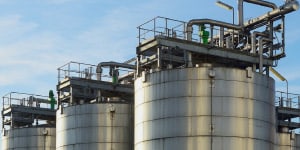 The new facility will have a production capacity of 450,000 barrels per day and is expected to nearly double the country's fuel output. While Nigeria is Africa's largest oil producer, its limited refining capacity has forced the country to import nearly 75% of the fuel it consumes. Neither of the country's two refineries is currently operating at full capacity.
The state-owned Export-Import Bank of China will provide $3.3 billion in financing for the Ethio-Djibouti Railway project, which will connect the Horn of Africa's main cities and ports. The railway will run between Sebeta in central Ethiopia and Negad Port in Djibouti. The cash-strapped Ethio-Djibouti Railways is jointly owned by the governments of Ethiopia and Djibouti. Earlier this year, the China Development Bank provided $5 billion in infrastructure funding for Transnet, the South African freight railway operator.
Africa will need some $390 million in infrastructure financing over the medium term, according to a new report published by the African Development Bank. The study says most of the funds will be needed to improve Africa's deficient power and energy infrastructure. The AfDB report estimates that the continent's extractive industries, which are typically energy-intensive, could generate more than $30 billion in government revenues each year for the next two decades.
Former British PM Tony Blair, founder of the Tony Blair Africa Governance Initiative, says Africa is poised to become this century's greatest economic success story. Speaking at the Milken Institute's 2013 Global Conference last month, Blair discussed plans to work with African leaders to boost the continent's private sector. Blair is counting on Africa's middle class expansion and the region's rapid democratization to support growth. He noted that the number of sub-Saharan democracies has risen from three to 25 over the past 25 years. According to the Milken Institute, Africa is home to seven of the world's 10 fastest-growing economies.