ROUNDUP
By Antonio Guerrero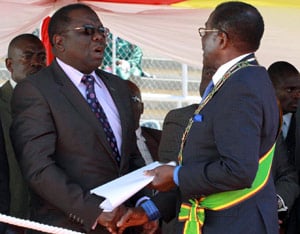 Uneasy balance: Mugabe (right) and Tsvangirai still have issues with power sharing
South Africa's state-owned development lender Industrial Development Corporation (IDC) plans to issue bonds and sell an estimated $3.6 billion worth of its listed shares by 2015 as part of a strategy to fund new investments. Johannesburg-based IDC will need to raise as much as $9 billion in financing to help fund a five-year $15-$18 billion lending program. For 2011, it has earmarked $450 million to assist private sector companies hit by the nation's recent recession. Company loans last year totaled $197 million. IDC expects demand for equity funding and project-related deals to grow. It already holds stakes in timber, mining and steelmaking operations, among others. It now expects to align its investments with sectors outlined in the government's industrial development program, targeting opportunities in the automotive, textiles, forestry, apparel manufacturing, paper, ethanol production and metals industries. Part of the IDC's mission is to help reduce South Africa's significant job losses and support economic growth.
The Nigerian government plans to issue a much-awaited $500 million debut global bond in October or November. The 10-year deal, which some investors have called on authorities to increase to $1 billion, will help fund the country's widening budget gap. The parliament in Abuja approved a $32 billion spending budget for 2010. The budget is more than 50% larger than the 2009 version and is expected to lead to a deficit above 5% of GDP. The government predicts at least 7% GDP growth for this year and close to 10% in 2011, though foreign reserves dropped to $38.2 billion in mid-August, from some $43.3 billion a year earlier. The nation's excess crude account has dwindled to $460 million from the $20 billion in oil windfall revenues deposited when the current presidential term began in 2007. Some analysts have suggested the proximity of next year's presidential elections could dampen investor demand for the sovereign paper.
Nigeria will suspend the issuance of universal banking licenses as of October and will begin enforcing new minimum capital requirements to avoid an encore of last year's near collapse of several banks (see regional banking focus, page 64). Under the new system, banks will now operate as regional, national or international banks, with each category having different capital requirements. Lenders must also sell off their non-core businesses and establish a separate holding company if they plan to become involved in asset management, insurance and capital markets activities.
Invest AD, formerly known as the Abu Dhabi Investment Company, has partnered with Japan's SBI Holdings conglomerate, under a joint venture to create a $100 million investment fund for Africa. Invest AD is owned by the Abu Dhabi government. The new fund will focus on investments in Nigeria, Ghana, Kenya, Egypt and Morocco. In April, InvestAD launched a $378 million Africa equities fund for investments in companies located in Tunisia, Zambia, Egypt and South Africa, among other markets.
Zimbabwean president Robert Mugabe and prime minister Morgan Tsvangirai have sent signals that the government intends to hold presidential elections next year, in a move that could help resolve continuing issues over a 2009 power sharing agreement. The government leaders have reportedly initiated consultations with the head of the Zimbabwe Electoral Commission, while finance minister Tendai Biti is said to be reviewing a budget for the election. Biti has estimated the cost at $200 million but says the nation does not have the funds available. Critics warn that elections could place additional pressure on the economy if there is any repeat of the violence witnessed during the 2008 election. While the government hoped to raise $10 billion to revive the nation's ailing economy, donors have pledged only about $2 billion. The government's failure to repay an estimated $400 million debt with the African Development Bank (AfDB) could soon prompt the bank to cut credit lines. Zimbabwe could still, however, gain access to the AfDB's Fragile States Facility, which provides assistance for fragile states to consolidate peace, stabilize economies and maintain poverty-reduction programs.