Taiwan Emerges As Tech M&A; Hot Spot
By Gordon Platt
In the biggest merger ever in Taiwan, liquid crystal display (LCD) monitor maker Innolux Display agreed in November to acquire Chi Mei Optoelectronics, which makes LCD panels for televisions. The stock-swap transaction, valued at $12.7 billion including debt, brought Taiwan's M&A; activity for the first 11 months of 2009 to more than $26 billion, five times the total for the fullyear 2008.
Taiwan's fragmented technology sector is consolidating, helping to provide the island with its biggest year ever for takeovers. Technology mergers accounted for more than 60% of the total through November, according to Dealogic. Financial companies held second place through the first 11 months of last year, with a 23% share.
The Innolux-Chi Mei deal was the largest M&A; transaction in Asia in November and will create Taiwan's biggest LCD manufacturing company, displacing AU Optronics from the top position. Innolux, one of the world's largest exporters of flat-panel computer monitors, is a subsidiary of Foxconn Electronics, the brand name for Hon Hai Precision Industry.
The merged firm, to be known as Chimei Innolux, will further expand its LCD business to challenge South Korea's big electronic companies Samsung Electronics and LG Display, according to Terry Gou, chairman of Hon Hai, the world's largest contract electronics maker. Hon Hai has extensive operations in China.
Chi Mei has a leading 43% share of China's LCD market, and Samsung Electronics is second, with 26% of the market, according to Taiwan-based research firm WitsView Technology. Global large-size panel shipments rose 32% from a year earlier in October. The consolidated sales revenue in the LCD sector from the four major Taiwan panel makers increased more than 34% in October from the depressed level of a year earlier, according to WitsView.
Shares in Taiwan-based technology companies surged on news of the Innolux-Chi Mei merger in anticipation of further combinations. Chunghwa Picture Tubes, which also makes LCD displays, rose by its 7% daily limit in Taipei on December 8, as analysts said AU Optronics could acquire the company to gain market share. Chunghwa Picture reported a loss of $800 million in the first nine months of 2009.
Chipbond Technology and International Semiconductor Technology announced a day earlier that they would merge to form the world's biggest manufacturer of driver integrated circuits, which form part of an LCD module.
In September the Carlyle Group, a global private equity firm, agreed to a shareswap transaction between Kbro, one of Taiwan's largest cable TV operators, and Taiwan Mobile, the country's biggest telecom company. Under terms of the deal, Carlyle Asia Partners II will exchange its holdings in the cable company for a 15.5% stake in Taiwan Mobile. The telecom will acquire Kbro's 1.1 million cable TV subscribers, giving it a cable TV market share of 32% and allowing it to overtake China Network as Taiwan's biggest cable system operator. The transaction was valued at $1.8 billion, making it the biggest M&A; deal in Taiwan in 18 months, only to be surpassed weeks later by the much larger Innolux deal.
Innolux itself was the acquirer in October when it purchased Toppoly Optoelectronics, another flatpanel maker in Taiwan's highly competitive flatscreen market. That deal was encouraged by Nokia, which increased its orders for cell phone flat panels from Innolux.
Gou says he expects Chimei Innolux to form new collaborative relationships with its clients and rivals, including Samsung Electronics and LG Display of South Korea. He says Chi Mei's leading position in chemicals and materials and Foxconn's strong presence in global research and development and manufacturing in the optoelectronic, machinery and electronics sectors will create a strong business with formidable competitiveness.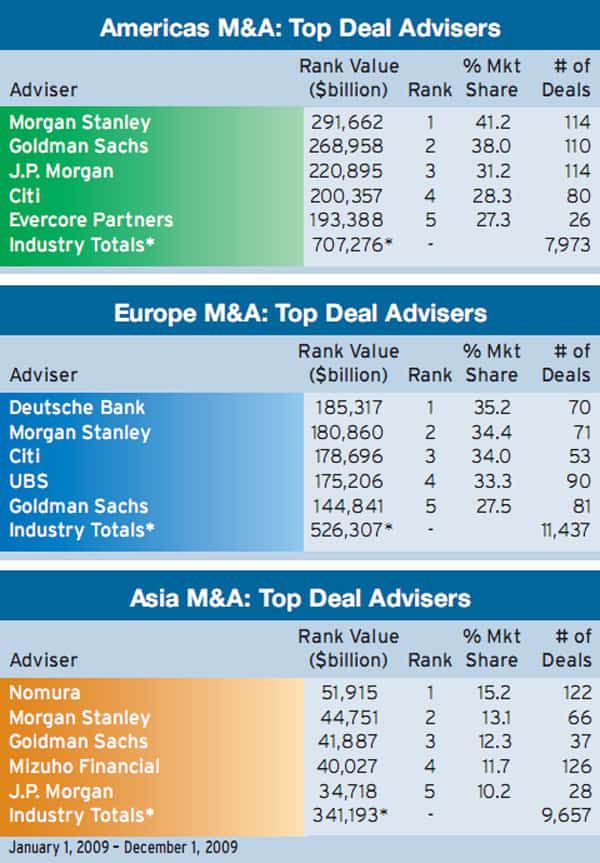 * Figures may not add up, as more than one bank typically obtains credit for any one transaction.
Source: Thomson Reuters
AMERICAS
Date Announced

Target Name

(Target Advisers)

Country

Acquirer Name

(Acquirer Advisers)

Country
Description

Ranked Value

($billion)

11/3/09

Burlington Northern Santa Fe(Goldman Sachs)(Evercore Partners)

US

Berkshire Hathaway

US

Definitively agreed to acquire the remaining 77.4% interest it did not already own in railroad.

35.95

11/16/09

Bristol-

Myers Squibb

US

Bristol-Myers Squibb(Citi) (Goldman Sachs)(Morgan Stanley)

US

Planned an exchange offer to split off its 83.13% interest in Mead Johnson Nutrition.

6.54

11/5/09

IMS Health(Foros)(Lazard) (Deutsche Bank)

US

Investor group (Goldman Sachs) (Bank of America Merrill Lynch) (Barclays Capital) (Evercore Partners) (J.P. Morgan)

US

Definitively agreed to acquire provider of market intelligence services, in a leveraged buyout.

5.08

11/2/09

Black & Decker (J.P. Morgan)

US

Stanley Works (Deutsche Bank) (Goldman Sachs)

US

Definitively agreed to acquire manufacturer of power tools, in a stock-swap transaction.

4.24

11/1/09

Encore Acquisition (Barclays Capital)

US

Denbury Resources (J.P. Morgan)

US

Definitively agreed to acquire oil and gas company.

4.09

11/13/09

GVT (Credit Suisse) (Goldman Sachs) (Barclays Capital)

Brazil

Vivendi (BNP Paribas) (Calyon Corporate and Investment Bank)

France

Planned to launch a mandatory tender offer to acquire the remaining 42.5% stake in provider of telecom services.

1.78

11/6/09

AES (Deutsche Bank) (Citi) (Credit Suisse)

US

China Investment (Morgan Stanley)

China

State-owned China Investment agreed to acquire a 15.82% stake in electric utility holding company.

1.58

11/10/09

Clearwire (Morgan Stanley)

US

Investor group (Citi) (Barclays Capital)

US

Definitively agreed to acquire a 22.74% stake in provider of wireless Internet services.

1.56

EUROPE

11/13/09

Unitymedia (UBS Investment Bank) (Morgan Stanley) (Nomura) (Hypo

Vereinsbank)

Germany

Liberty Media (Goldman Sachs)

US

Agreed to acquire provider of cable TV and Internet services from Apollo Management; includes $2.3 billion in liabilities.

5.20

11/25/09

WestLB

Germany

SoFFin

Germany

State-owned SoFFin planned to acquire a 49% stake in bank.

4.54

11/25/09

Sunrise Communi-cations (Morgan Stanley) (UBS Investment Bank) (J.P. Morgan)

Switzerland

Orange Communi-cations (Lazard)

Switzerland

Unit of France Telecom's Orange agreed to merge with provider of telecom services.

2.24

11/12/09

Smit Internationale (RBS)

Netherlands

Koninklijke Boskalis Westminster

Netherlands

Agreed to launch a tender offer to acquire provider of maritime services.

2.00

11/25/09

Orange Communi-cations (Morgan Stanley) (UBS Investment Bank)

Switzerland

France Telecom (Lazard) (Perella Weinberg Partners)

France

France Telecom was granted an option to acquire the remaining 25% stake in Orange Communi-cations.

1.80

11/19/09

JPMorgan Cazenove

UK

JPMorgan Chase (J.P. Morgan)

US

Agreed to acquire the remaining 50% interest it did not already own in investment bank.

1.67

11/23/09

Canal + (Nomura Securities)

France

Vivendi (Nomura Securities)

France

Definitively agreed to raise its interest to 74.9% by acquiring a 9.9% stake from Television Francaise.

1.11

ASIA

11/14/09

Chi Mei Optoelect-ronics

Taiwan

Innolux Display (Yuanta Securities)

Taiwan

Agreed to merge with maker of LCD products, in a stock-swap transaction.

12.73

11/19/09

Mitsubishi Rayon (Mizuho Securities) (J.P. Morgan)

Japan

Mitsubishi Chemical Holdings (Mitsubishi UFJ Securities)

Japan

Planned to launch a tender offer to acquire the remaining 99.34% stake it did not already own in chemicals manufacturer.

5.22

11/8/09

AXA Asia Pacific (Macquarie Bank) (UBS Investment Bank)

China

AXA (Deutsche Bank)

France

Agreed to acquire the remaining 46.08% interest in the Asian business of Australia-based insurance company.

3.27

11/25/09

Mangistau

MunaiGaz (Morgan Stanley) (J.P. Morgan)

Kazakhstan

Investor group (ABN AMRO Holding) (Citi) (Deloitte & Touche)

China

China National Petroleum and KazMunaiGas unit acquired oil and gas company.

2.60

11/16/09

Hyundai Oilbank (Morgan Stanley)

South Korea

Hyundai Heavy Industries

South Korea

Planned to raise its interest to 89.87% by acquiring a further 70% interest in petrochemicals manufacturer.

2.23