BREAKING BARRIERS
By Michael Shari
Yoshio Nakamura is the director general of Nippon Keidanren, the Japan Industry Federation—the main voice representing large industry in the country.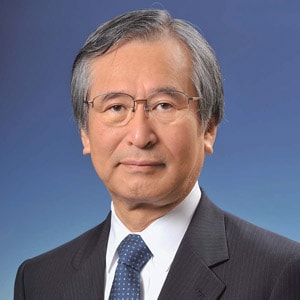 Global Finance: What developments have most shaped Japan's economy over the past 25 years?
Yoshio Nakamura: We have had two lost decades of deflation. Deflation leads to the yen's appreciation. That affects Japanese industry. The growth center has changed from the US and Europe to Asia. But we have an ageing population with a very low birth rate, which means we have very weak domestic demand right now. And the leading automobiles and electronics companies of Japan are competing against each other by cutting prices. If they cut profits, they cannot make investments.
GF: What will the Japanese economy look like 25 years from now?
Nakamura: By 2020 we would like to have a Free Trade Agreement for Asia-Pacific. We are isolated in the Asia-Pacific market. Right now we are discussing whether we should participate in the Trans-Pacific Partnership or not. Participating in the TPP means being part of growth in Asia-Pacific. TPP has a very strategic meaning. Once we mention that Japan has an interest in participating in the TPP, then we can negotiate free-trade agreements with Europe and China. The US is a TPP member, but the US will not negotiate bilateral trade agreements anymore. So it's a chance to be part of a free-trade agreement with the US. It's the only way to get rid of our trade barriers. We have strong opposition from the private sector. But look at Japan's future. The average age of working farmers is 66. If we do not participate in the TPP, the agricultural sector does not have a bright future. Maybe less than 10 years.
GF: What are your concerns about the global financial system going forward?
Nakamura: First of all, we have to solve the European sovereign debt crisis. We would like to contain that risk within Europe. The money market is very rapidly influenced by the debt crisis.
GF: Could the earthquake, tsunami and nuclear tragedy in northern Japan in March last year shake Japan out of deflation, just as World War II awoke the US from a depression?
Nakamura: The difference between after World War II and right now is that we are not hungry. We think we are rich. But we are not. Most of our assets have been turned into public bonds. Once something happens to the Japanese government, the value of public bonds declines. Steve Jobs said in a speech at Stanford University, "Stay hungry, stay foolish." We have to think from the bottom up—and not pretend we are wise.