DRIVE FOR DEMOCRACY
By Gordon Platt
Adel El-Labban, group CEO and managing director of Ahli United Bank, Bahrain, has had a major influence on Middle Eastern banking.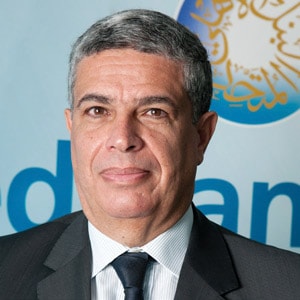 Global Finance: The past 25 years in the Middle East have been tumultuous. Will the next 25 years be equally so?
Adel El-Labban: If the past is an indication of the future, I would expect the Middle East to continue to be a turbulent region, especially if long-standing regional problems such as the establishment of a Palestinian state are not resolved. The major new threat to stability going forward is the wave of sectarianism affecting many countries. On the other hand, the drive for democracy, freedom and inclusion unleashed by the Arab Spring will hopefully channel forces more productively and act as a unifying force to counterbalance divisive tendencies.
GF: What will be the role of Islamic finance in the future?
El-Labban: Islamic banking has grown significantly, buoyed by positive sentiments, particularly on the retail consumer banking side. The challenge is to develop innovative products based on creating new types of shariah-compliant deposit and financing instruments, rather than its current dependence on adapting conventional banking products to an Islamic mode. This is a critical challenge that it needs to overcome to continue its progression in the global banking space.
GF: Will there be increasing opportunities for women in the Arab world?
El-Labban: A major reason for the political and economic underdevelopment in the Middle East is the exclusion of women and the existence of serious barriers to their full participation in society. An improvement in their status will depend on two factors: The success of the Arab Spring in producing political regimes supportive of an inclusive, egalitarian and modernist state. And women have to take a greater initiative to secure their rights.
GF: What are the key risks facing developed and emerging markets?
El-Labban: The emerging-markets story is closely related to the export of the South Asian model of productive, export-driven capitalism to other parts of the world. Commodity dependence, overly protective insularity and failure to address difficult structural problems are the main stumbling blocks to the growth and economic independence of most emerging markets.