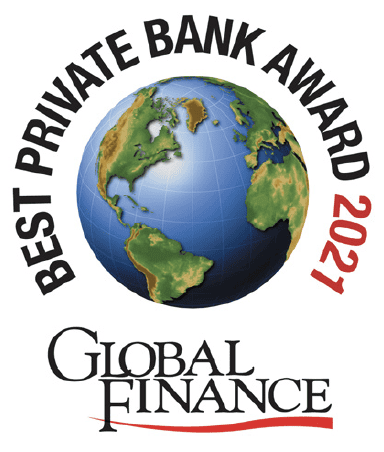 NEW YORK, November 4, 2020 — Global Finance has announced its sixth annual World's Best Private Banks Awards for 2021. A full report on the selections will appear in the December print and digital editions of Global Finance and online at GFMag.com.
Global Finance's sixth annual Private Bank Awards honors banks that best serve the specialized needs of high-net-worth individuals as they seek to enhance, preserve and pass on their wealth. The winners are not always the biggest institutions, but rather the best—those with qualities that individuals rate highly when choosing a provider.
Global Finance's editorial board selected the winners for the Private Bank Awards with input from executives and industry insiders. The editors also use information from entries submitted by banks, in addition to independent research, to evaluate a series of objective and subjective factors. This year's ratings were based on performance during the period covering July 1, 2019 through June 30, 2020.
"The past year's crisis has caused many to re-evaluate priorities, and private bankers are invaluable partners in guiding clients through challenging decisions," said Joseph Giarraputo, publisher and editorial director of Global Finance. "The Global Finance private bank awards indicate which institutions are rising to meet needs of new and established client groups."
The full list of Global Finance's World's Best Private Banks 2021 follows.
For editorial information please contact Andrea Fiano, afiano@gfmag.com