MENA Banks Driving Sustainability Regionally & Globally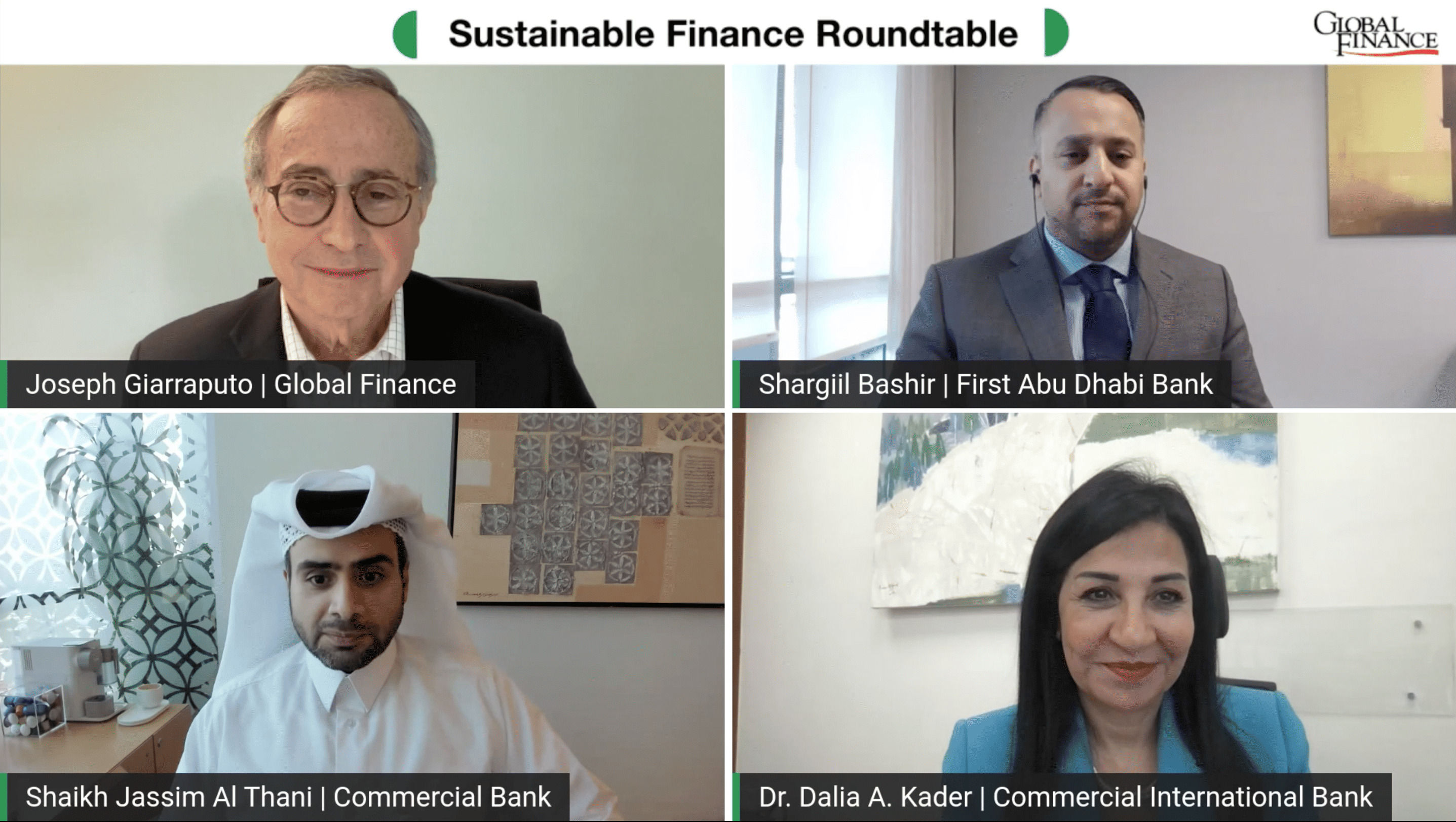 As the MENA region prepares to host the world's major climate change policy events, Global Finance explored the region's sustainability commitment and sustainable finance initiatives in a roundtable discussion among experts from MENA's leading banks. Joseph Giarraputo, Founder & Editorial Director of Global Finance, moderated a distinguished panel featuring Dalia Kader, Commercial International Bank, Egypt; Shargiil Bashir, First Abu Dhabi Bank, United Arab Emirates; and Jassim Al-Thani, Commercial Bank Qatar.
---
GLOBAL FINANCE: How do banks in fossil-fuel producing countries, such as yours, promote sustainability and sustainable finance?
---
GLOBAL FINANCE: What sustainable finance or ESG product offerings have you brought to market?
---
GLOBAL FINANCE: How can human capital be marshalled to support sustainability?
---
GLOBAL FINANCE: Where does your bank stand on net-zero commitments and principles for responsible banking?
---
GLOBAL FINANCE: This year, the MENA region will host two premiere global events—COP 27 and The World Cup. How will they move sustainability forward?
---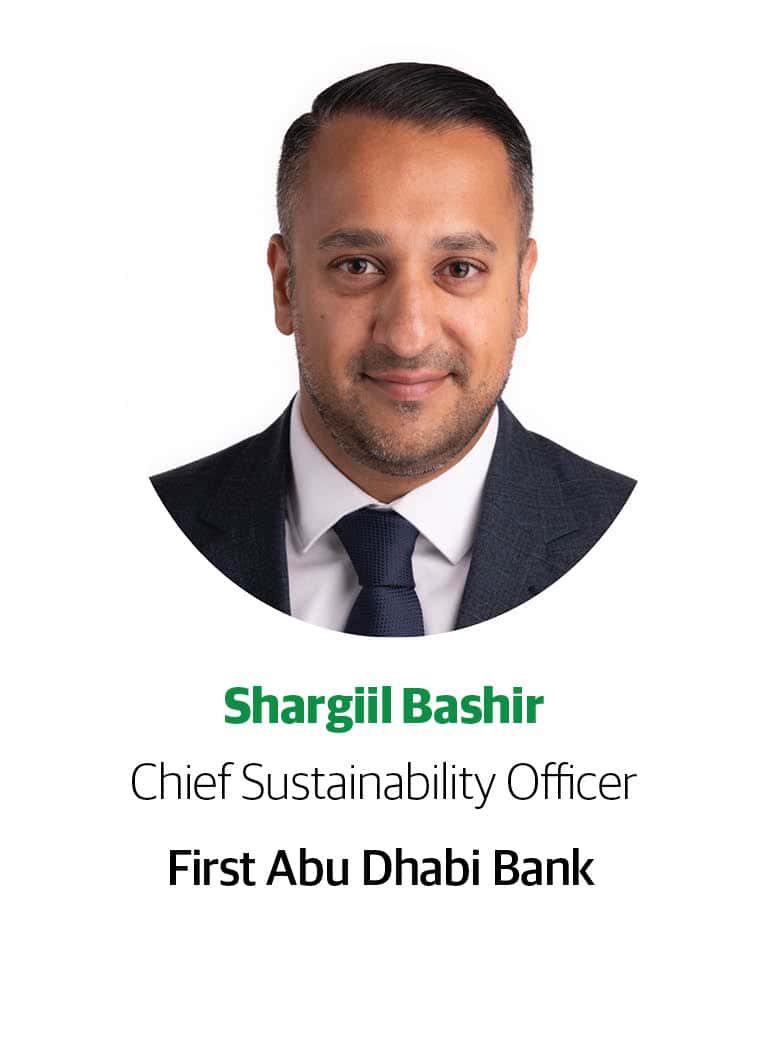 Shargiil Bashir is the Chief Sustainability Officer at First Abu Dhabi Bank (FAB). In this role, Shargiil is responsible for developing, leading, and implementing the bank's ESG strategy and initiatives. He was among the main drivers of the bank joining the UN convened Net Zero Banking Alliance as the first bank in UAE and GCC. He is a seasoned banker with over 20 years of experience, he led various aspects of Corporate Governance, Strategy, Risk Management, Risk Assurance and Sustainability across multiple countries. Prior to joining FAB in November 2020, Shargiil was the Group Head of Risk Quality Assurance at Danske Bank, based in Denmark. Shargiil holds a Bachelor of Business Administration and an Executive MBA from the Copenhagen Business School, Denmark; and has completed Executive Education from INSEAD.
---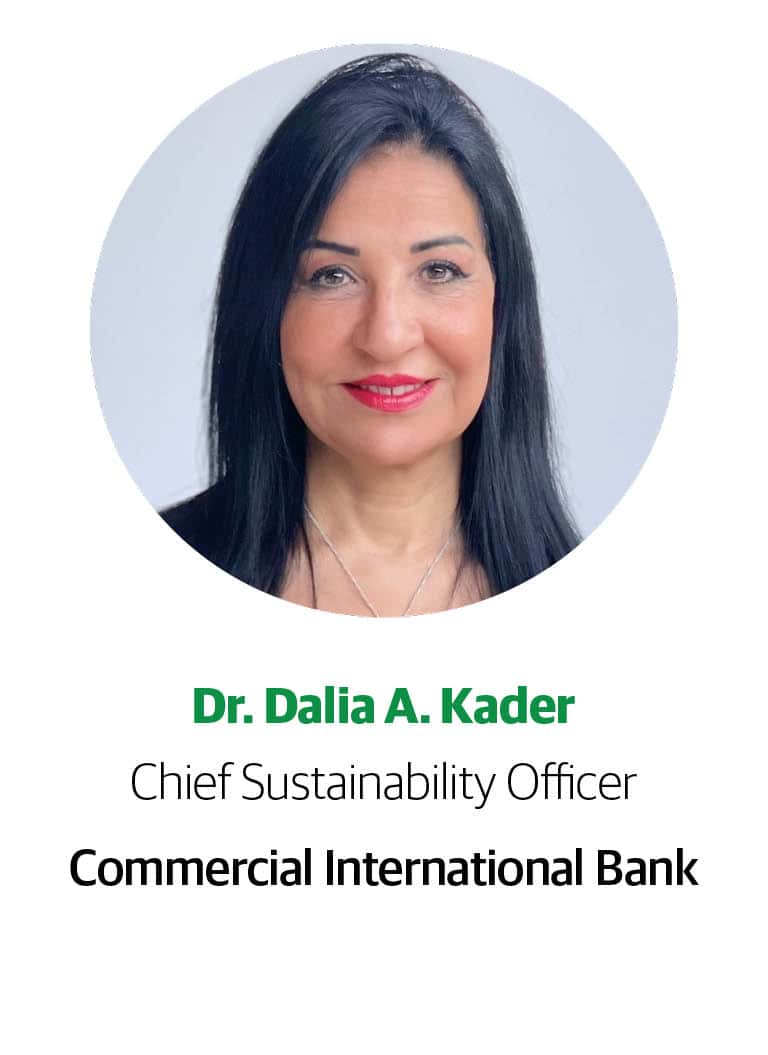 Dr. Dalia A.Kader is the Chief Sustainability Officer of Commercial International Bank (CIB), Egypt's largest private sector bank, and the Chair of the Sustainable Finance Committee at the Federation of Egyptian Banks. In addition, she is the Founder, Vice Chairman, Board Member of the "We Owe it to Egypt" Foundation, and Board Member of the CIB Foundation. She is also a member of the UNEP FI Banking Board "Principles for Responsible Banking" representing the MENA region and the Net Zero Banking Alliance (NZBA) Steering Committee representing Africa. Dr. Kader holds a B. A from the American University in Cairo in 1984 (Major in Political Science & Minor in Economics), an M.A. degree in Political Science from the American University in Cairo in 1989, and a Ph.D. in Political Science from Cairo University in 2003.
---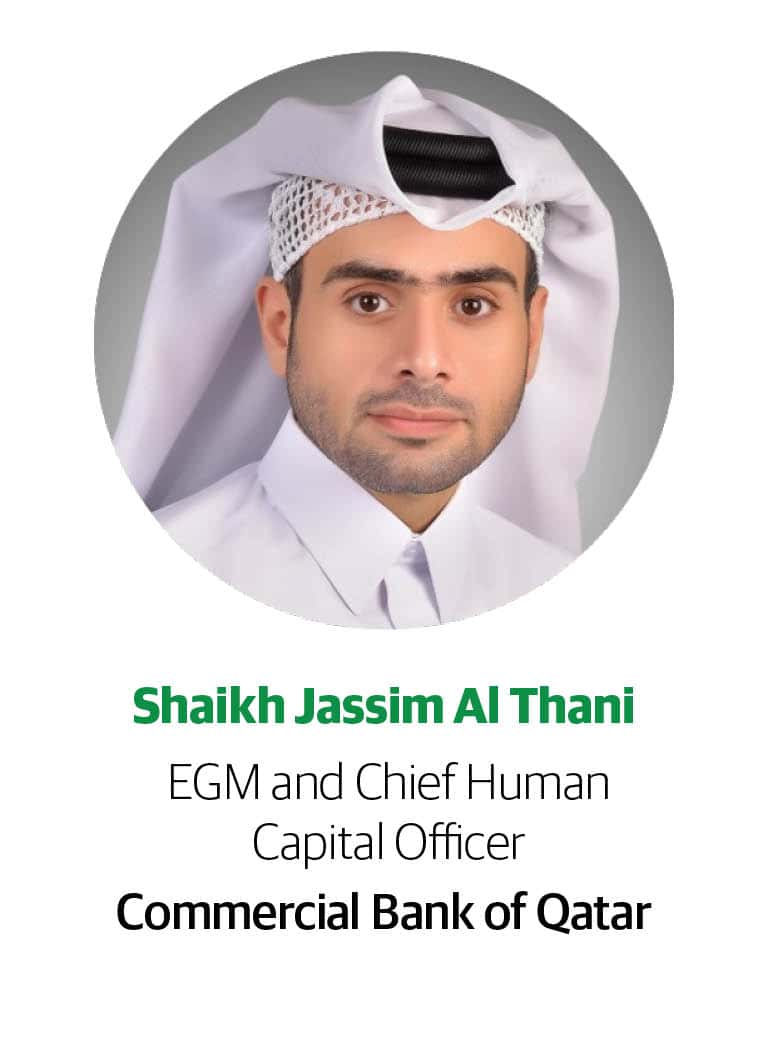 Jassim Saud Al Thani is the Senior AGM–Chief Human Capital Officer of Commercial Bank of Qatar. Sheikh Jassim joined the Bank in 2018 from North Oil Company where he was Heading the Public Relations and Communications. He holds a Specialized Masters in Strategic Business Unit Management from HEC Paris and a Bachelor's degree in Computer Science Engineering from University of Qatar. He has extensive experience leading HR functions including management of HR operations and Nationalization in Maersk Oil Qatar and a global HRBP with major business units in Maersk Oil in Denmark.
---
The Roundtable can be viewed here and a full report will be published in the July-August print and digital editions of Global Finance.
---
Sponsored By: