UNITED STATES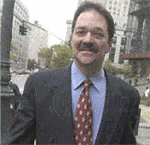 Frank Quattrone:

Prosecution deferred
Two years after a previous conviction was overturned on appeal, former star banker Frank Quattrone has struck a deal that could result in prosecutors dropping all charges against him. Under the terms of the deal, Quattrone, whose name was almost synonymous with the Silicon Valley IPO dot-com mania of the late 1990s, would avoid a third trial, and possibly jail time, for charges against him of obstruction of justice and witness tampering. In exchange for deferred prosecutionwhich is often offered to first-time offenders who may have been charged with drunk driving or, as one observer noted, with smuggling a few Cuban cigars into the United Statesthe former Credit Suisse investment banker, who had also worked at Morgan Stanley and Deutsche Bank, did not admit to any wrongdoing but had to promise that he would not break the law for one year.
Quattrone and Credit Suisse had attracted the attention of investigators for allegedly pressuring analysts to overvalue companies and for IPO spinning favoring some clients by giving them shares in hot IPOs in exchange for higher fees and additional business, a scheme that regulators likened to kickbacks. Credit Suisse did not admit or deny wrongdoing but settled with regulators for $100 million in 2002.
Quattrone was charged with obstructing the governments investigation by forwarding to his colleagues an email asking them to clean-up their files, which could be interpreted as suggesting that they destroy evidence. His first trial ended in a hung jury, but in a second trial he was convicted on two counts of obstruction of justice and one count of witness tampering. That conviction in 2004 was overturned in an appeal. Had a third trial resulted in a conviction, he would have faced up to 20 years in prison.
At the height of the dot-com boom, Quattrone became a celebrity, and later a legend, for taking hundreds of companies publicmost notably Netscape, Amazon.com, Cisco Systems and VA Linuxand for making $100 million in a single year. Im very pleased this case will be concluded, and I look forward to the formal dismissal of all charges, Quattrone said outside the courthouse. And with the legal battle almost certainly behind him, Quattrone also said he was looking forward to getting back down to business.


Tina Aridas