BUSINESS CONTINUITY



The recent spate of terrorist attacks and natural disasters has rammed home for businesses the importance of planning for the unthinkable.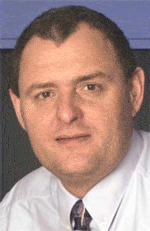 David Gilpin: Working

from home is the

ultimate business

continuity solution

Companies have long been aware of the need to safeguard their valuable information and data, but recent events have sent businesses scurrying to security experts in search of ever more comprehensive and foolproof systems. Post-September 11, companies spent millions protecting data and building back-up sites for their data, observes Roy Pinchot, CEO of Telecontinuity, a US-based survivable communications network set up in the wake of the attacks.
SunGard Availability Services, which provides more than 10,000 customers worldwide with business continuity and information availability, experienced a major upturn in its managed services and hosting business, which includes full fail over of people and data to remote or hosted solutions. We spent money on our network so we could back up companies data online, explains David Gilpin, CIO, SunGard Availability Services. Online availability of data replaces tapesexcept for archiving purposesso companies can get near-time recovery in minutes, which gets rid of eight hours worth of having to prepare systems and waiting for tapes to turn up, he explains.
SunGard Availability Services has 20 workplace recovery centers in the United Kingdom for relocating company staff. The centers are set up to replicate a companys work environment, so staff can use the same telephone number, for example. Their PC desktop also looks the same. It also has two UK-based technology centers that provide data storage space. We provide everything from building a data center in somebodys car park, to high availability services, says Gilpin. Baillie Gifford, a UK-based investment management firm with 25 billion under management, uses SunGards Livingston Recovery Centre in the UK to provide back-up facilities for 40% of its staff, including technology, which it restores via a local area network (LAN).
Hewlett-Packard (HP) has invested $100 million in business continuity and recovery centers throughout Europe, the United States and Asia-Pacific. These centers provide fully functioning computer environments and help companies recover critical business processes from all kinds of disruption including virus attacks, natural disasters or other unforeseen events. Following Hurricane Katrina last year, the University of New Orleans approached HP to help it develop a secondary data center for disaster recovery purposes that mirrors its key applications and provides instant availability of mission critical applications.
The threat of a bird flu pandemic has also sparked companies interest in recovery centers, says John Bennett, worldwide director for business continuity and availability solutions at HP. According to Bennett, banks are particularly focused on protecting data. Banks have comprehensive business continuity plans in place, as well as data protection and hot sites for transactional systems, he says. However, he adds that business continuity, security and data protection are also becoming major business considerations for smaller to mid-size companies as well. Hurricane Katrina was a wake-up call for a lot of people, he continues. Sarbanes-Oxley highlights the issue of information availability, and Basel II and USregulations stipulate that companies must have business continuity plans in place. Business continuity has become a must-have, not just a nice-to-have, he adds.
According to a survey conducted in May on behalf of HP of more than 340 technology decision makers at companies based in North America, the UK and Australia, 90% of companies indicated they had a business continuity plan in place. More than 60% had tested their continuity plans, and approximately 30% had had to implement them during a real disaster or business disruption. For the most part, companies are strongly aware and concerned about business continuity, says Bennett. The challenging part is identifying what is the impact of a particular risk on their business.
In reality, business operations are more likely to be affected by mundane everyday events such as a power disruption or a human, system or IT failure. The HP survey estimates that the primary causes of company downtime are network/telco issues (32% of companies) and hardware failure (30%). The biggest challenge, says Bennett, particularly in the Internet age, is guaranteeing full-time availability of business processes and operations. [Business] applications today have to handle 20, 30 or even 40 times the volume they did a few years ago, observes Tim Eitel, CIO, Raymond James Financial. For that we need robust systems with high availability.
Around-the-clock business and information availability has seen basic disaster recovery morph into what is now termed business continuityensuring your IT systems and the information needed to conduct your business are available no matter what. Something as simple as a fault in a network switch can have a catastrophic business impact, says Phil Andrews, operations director, Cisco Systems, Europe. Some banks have systems processing 200,000 transactions a minute. Even five to 10 minutes of IT or network downtime can cause considerable damage to their business.

Communication Breakdown


Business continuity is not just confined to data, business processes and IT systems. Recent events have also highlighted the need for companies to have a flexible communications continuity strategy in place as well. Pinchot says September 11 highlighted the fragility of the national telecommunications network. One of the key telephone exchanges near the World Trade Center was damaged, and mobile networks became congested, as more people reverted to mobile phones. According to Pinchot, US telecom providers are reluctant to invest in the resilience of their networks. Instead, third-party providers such as Telecontinuity works with telcos like Verizon and others around the world to provide what it calls voice continuity services.

Phil Andrews: Even

five to 10 minutes of

IT or network

downtime can cause

considerable damage

Technology, particularly the Internet, is helping eliminate or reduce some of the major obstacles to restoring companies critical data, business processes and communications during a major disruption. Cisco is witnessing a strong trend for companies to consolidate the number of data centers and application servers they operate, which not only increases resilience, says Andrews, but also reduces cost.
One of the more popular technologies being used to reduce the risk of a major IT disruption is virtualization, which allows companies to dynamically provision servers or applications to where they are most needed. According to Bennett of HP, virtualization and data center automation eliminate human error, one of the most common causes of business failure and disruption. Using virtualization, if a node fails, another server can pick up the workload in seconds or minutes, he says. Virtualization also provides smaller companies with a more cost-effective solution for allowing staff to work from home or remote locations.
Telecommuting, or working from home, is the ultimate business continuity solution, says Gilpin of SunGard, particularly if a flu pandemic ever comes to fruition. A pandemic would be a true test of business continuity, he says, but solutions like virtualization and Voice over IP mean that people could work from home. The remote working culture is firmly engrained at companies like Cisco Systems, where employees use soft phones and collaborative technologies such as video conferencing on a PC. If we lost one of our key buildings in a disaster, it would not cripple us, as most people would be able to work from home or from anywhere where we have access to a network, says Andrews.
While the ability to communicate and access key customer and business information from home may be the future of business continuity, according to Gilpin, a lot of companies struggle with the psychology of it, in terms of managing staff and the associated costs, which he says are often easier to control in an office environment. People recovery is still an area where the solutions remain complex, he says.

Anita Hawser