Indias economy is surfing a wave of growth driven by the booming outsourcing industry.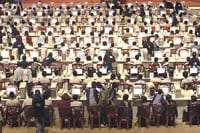 International companies have flocked to India to carry out non-core operations, taking advantage of the wide availability of well-trained English-speaking professionalscheap and well-trained, to be more precise. With salaries for Indian business school graduates generally only 10% to 20% of what their counterparts command in New York and London, companies are finding it increasingly difficult to resist the cost-savings factor.

That hunger for cost savings is driving wild growth in the Indian outsourcing industry. Indias National Association of Software and Service Companies (NASSCOM) estimates that, after growing by 59.1% in 2002-2003, the IT-enabled services (ITES) and business process outsourcing (BPO) industry will grow another 54%, to $3.6 billion, in 2003-2004. According to finance minister Jaswant Singh, the IT software and services industry accounted for 2.4% of GDP and 20.4% of exports in 2002-2003. Within five years it is expected to grow to 7% of GDP and 35% of exports.
Recent performance of the industry has been nothing short of breathtaking. The IT software and services industry posted a compounded annual growth rate of 43% over the past five years, accounting for $12.7 billion in turnover and $10 billion in exports last year. The BPO industry alone is expected to produce revenues of as much as $60 billion by 2012, after posting a mere $565 million in revenues in 1999-2000.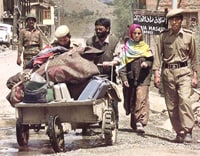 The Education Factor


India benefits from having a large pool of well-educated, well-trained, English-speaking, relatively modern engineers, finance professionals and specialists in quantitative disciplines, says Kristin Lindow, lead analyst for India at Moodys Investors Service in New York, noting that while the BPO work force is still a relatively small segment of the population, numerically it is quite large given the countrys population of more than 1 billion.

Contributing to sector expansion prospects is the growing number of Indian university graduates who enter the sector each year, bringing with them credentials that are superior to those of many BPO workers in the US and Europe. Higher-education enrollment in India has been growing by more than 7% annually for several decades, with some 8 million students enrolled in graduate and post-graduate programs in 2001.

Many students attend the government-funded Indian Institutes of Technology (IITs) and the Indian Institutes of Management (IIMs). Keen to encourage more potential students onto the courses, the government slashed annual tuition fees for post-graduate programs at IIMs by 80% to Rs30,000 ($660). And the Confederation of Indian Industry is trying to encourage universities to introduce courses aimed specifically at preparing students to enter the BPO market.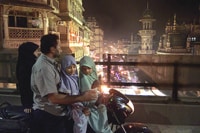 India will need to pump out more graduates if it is to maintain its momentum. Few graduates view BPO as a long-term career, despite the fact that call center employeesthe lowest-level BPO workersearn annual salaries of some $5,000 in a country where the average income is closer to $500. The rate of attrition at call centers, where many workers hold MBA degrees, is as high as 35%. The work can be monotonous, and companies offer little scope for professional development.
Services worth $300 billion to $400 billion are already being moved offshore or outsourced abroad by US companies. Speaking at the NASSCOM 2004 India Leadership Forum in Mumbai, McKinsey Global Institute director Diana Farrell said global offshore outsourcing would grow to $164 billion by 2008 compared with just $17 billion in 2001, and some 3.3 million US service jobs would go offshore by 2015.

The Numbers Game


For the nations winning the business, the numbers are mouthwatering. For opponents of outsourcing, they are horrifying. While the list of US multinationals that have already outsourced back-office operations to India includes AOL, Delta Airlines, IBM, Sprint and American Express, political resistance to outsourcing is growing. The US Senate in January passed a bill that prohibits government contractors from outsourcing overseas, with several US states considering similar laws. The situation has been exacerbated by the US downturn and political rhetoric during this years presidential election. Some Europeans are also riding the anti-outsourcing wave, with UK labor unions joining forces to demand an independent inquiry against offshore outsourcing by British firms.

The resistance has influenced some companies to reconsider their strategies. UK-based Co-operative Financial Services publicly stated that it would not outsource abroad and would instead increase staff at its UK call centers this year. Others, including Lehman Brothers and Dell, have moved their customer support functions back from India to the US.

Outsourcing supporters contend that moving low-end back-office jobs abroad supports the creation of jobs in the US that require higher-end technical skills. Opponents are not buying the argument, but they are thwarted by the economicsand by corporate pragmatism. More than half of the CEOs questioned for the Economist Intelligence Units annual CEO Briefings Survey on corporate priorities for 2004 said increased outsourcing and offshoring would be the main critical force changing the global marketplace over the next three years. Another survey taken at an outsourcing summit held by US-based Gartner Research last year showed that 80% of respondents indicated that the potential political backlash would not hinder their offshore outsourcing plans.



Turbulence Ahead?


According to the 2003 E-commerce and Development Report by the United Nations Conference on Trade and Development (UNCTAD), of the 3.3 million jobs that will be generated by global offshore outsourcing operations by 2015, more than 2.3 million will be created in India. The country has captured nearly 20% of the global offshore IT services market, and growth prospects remain healthy.

However, it is already witnessing the arrival of other lower-cost competitors on the scene, including China, Bangladesh and Vietnam. To maintain its lead, analysts say, India must now aim to provide higher-end services and outsource lower-end tasksincluding customer support and data processingto its neighbors. Call centers currently account for nearly 70% of Indias BPO industry in terms of revenues, making the sector more sensitive to price competition from cheaper labor markets.

The arrival of several global financial institutions is helping to take Indias BPO sector to another level by offering more technical services, including equity research and underwriting services. US investment banks, for example, can pay a junior analyst in India an annual salary of around $20,000 instead of some $85,000 in New York.

Goldman Sachs announced in February that it would set up a back office support center in Bangalore this year, where it expects to employ 250 workers. JPMorgan Chase and Morgan Stanley are among other investment banks that have established equity research units in India. JPMorgan Chase also operates a commercial banking back office unit in Mumbai.

But India must continue to upgrade its infrastructure if it is to maintain its position as a global BPO giant. Infrastructure is still relatively backward, and its not only telecom, says Moodys Lindow. Companies that have grown large there rely heavily on their own electricity-generating capacity. There are also transport network bottlenecks and bureaucratic bottlenecks. The bureaucracy has been simplified, but its still rather cumbersome, she notes.
In comparing India with China, a major BPO competitor, a Standard & Poors research report authored by Joydeep Mukherji notes that the gap in public sector investment in physical infrastructure is one of the most glaring differences between the two countries. Chinas rapidly improving infrastructure of roads, railways, ports, and ample electricity is in sharp contrast with Indias dire shortage of all of the above, says the report.
There is still considerable room for growth. We are just toddling; hence we should stop terming ourselves as the IT superpower, said NR Narayana Murthy, chairman of Infosys Technologies, at the NASSCOM India Leadership Forum. People tend to exaggerate Indias size in the IT market, says Lindow. NASSCOM says the country accounts for only 2% of the worlds IT sector at this point, and that includes software, hardware, back office and consulting. But that also means that theres tremendous room for growth, she adds.

Fundamentals help India make the grade


Indias improving economic and political scenario contributed to its obtaining a coveted investment-grade rating from Moodys Investors Service. The rating agencys upgrade took the nations foreign currency debt rating above the investment-grade threshold to Baa3 from Ba1 in January.

The rating action was motivated mainly by a reduction in external payments vulnerability, with official foreign exchange reserves rising by $30 billion over the past year to $100 billionequal to more than twice Indias external obligations falling due this year. Gradual structural reforms and market liberalization also support this years expected 8% GDP growth.

However, Moodys maintained a negative outlook on the countrys domestic currency debt, reflecting Indias ongoing fiscal troubles. Standard & Poors, which does not currently have India on review for upgrade, also maintains a negative outlook on the local currency debt and a positive outlook on its foreign currency obligations.

India still has government deficits of 9% of GDP, which are among the highest of any of our sovereign ratings, says John Chambers, managing director of the sovereign ratings group at Standard & Poors. They have a very serious fiscal problem that needs to be addressed, and they also have impediments in their economy. Theyre growing smartly now, but these things could be a hindrance to long-term growth, he says.
Nevertheless, the country is enjoying its current economic surge, with agriculture, manufacturing and services all contributing to GDP expansion. On the political side, it is also enjoying a rapprochement with Pakistan and the prospects for early national elections.

Santiago Fittipaldi