A CFO is at the heart of change in a Swiss icon.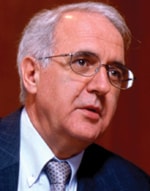 Its the day after the companys annual results bonanza, and Novartis CFO Raymond Breu is sitting comfortably in the Basle headquarters of the Swiss pharmaceutical company.

Breu has good reason to feel happy. Together with chairman Daniel Vassela, hes just unveiled 2002 financials that show sales up 11% in point-of-sale currencies and operating income up 10%. Whats more, theyve just sprung the news that Novartis has covertly built up a 32.7% blocking stake in cross-town pharma rival Roche. Its that revelationand debate over whether a takeover of the fellow pharma company is inevitablethat dominates Swiss news that day and the next.

But the brouhaha over the Roche demarche obscures a deeper, slower transformation thats coursing though Novartisand one that CFO Breu is at the heart of. For the 2002 results are the last that Novartis will be filing in Swiss francs. From the next quarter the company will report in US dollars, a reflection of an inexorable shift of gravity at Novartisaway from Switzerland and toward the United States. It is a very clear process that we are going through, says Breu. And we have taken a number of steps that are also going in the same direction. The company already reports quarterly and has made its peace with Sarbanes-Oxley.

Like pharmaceutical companies worldwide, Novartis is feeling the relentless magnetic pull of the US. We have at the moment approximately 43% of our business in the US, and that share should increase still further, explains Breu. That is a priority for most of our businesses.

Little wonder: World-class teaching hospitals and medical colleges have combined with unregulated drug prices to make the US a pill-poppers paradise. Nearly one in every two drugs prescribed in the world is sold in the US. Some 45% of new drugs are discovered there.

Pharma watchers say Novartis has a good pipeline by industry standards, but its the need to develop blockbuster drugsproducts like its market-leading hypertension treatment Diovan that rack up $1 billion-plus in peak annual salesthat is exerting a transatlantic pull.

Last May Novartis said it was moving its global research headquarters from Basle, a university town set on the Rhine where Switzerland, France and Germany meet, to Cambridge, Massachusetts.

But its not just brains that Novartis is hunting in the US; its money, too. The company has had a Level 1 listing on the NYSE, and Breu calculates that up to 20% of Novartis stock may now be in US money managers hands, a figure he aims to raise further still. We want increasingly to have access to the largest capital market in the world, says Breu. If you want to focus on the US investor, then you have to play by the rules of those markets, and the rules are, We want to see those numbers in US dollars. Most all of Novartiss real competitors report in the greenback, he says.

In truth, the move also helps the company manage its own results better, by stripping out the effects of currency fluctuations. Converting dollar and euro-denominated sales to the Swiss franca small currency thats often tossed around by tides of geopolitical sentimentcan cause headaches at HQ. Despite hedging, a strong Swiss franc depressed sale growth by 9% in Swiss franc terms in 2002 and slimmed 2% off operating income.

But USpractices have their drawbacks. Posting earnings each quarter can create problems, especially in an industry with product cycles as long as those in the pharmaceutical industry. The switch to quarterly reporting is a bit controversial sometimes because it may mislead management into short-term decision-making, Breu says. We resisted it for a while, but then investors in the US told us, We will simply not look at you.

Thats already thrown up some conundrums for the board. Breu says that the recent decision to increase research expenditure by more than 20% for the next couple of years would clearly hit short-term profits for a payback that might take a decade. And even decisions over individual drugs can raise similar questions, says Breu. Last year when we got the approval of Zelnorm in the US, we immediately said, Here is another dilemma for usshould we maximize the short-term profit for 2002, or should we maximize the value of Zelnorm over its patent life?

Zelnorm, a treatment for irritable bowel syndrome, had gotten approval from US regulator the Food and Drug Administration earlier than expectedhalfway through the financial year. The sales support and advertising program associated with its rollout carried an additional $240 million price tagone that would have to be paid in financial year 2002. It was very, very clear what we had to do, says Breu. We went to certain shareholders and explained to them that we wanted to maximize profits for the long term.

The strategic decision to adhere to new US corporate governance standards also meant resolving potential conflicts. For example, under the Sarbanes-Oxley Act external auditors have to be appointed by the audit committee; in Swiss law its the shareholders meeting that has the right to hire. Novartis got round this by having the audit committee make a recommendation to the shareholders meeting. We took the spirit of the law and asked how can we implement it in the Swiss legal environment, says Breu. You can always find a solution.

Accommodating Sarbanes-Oxley is made easier by the fact that Novartis had already begun to move away from the notoriously clubby style of doing business in the top echelons of Swiss corporate life. Breu points out that 10 out of 12 board directors are independent, though its fair to say theyre still overwhelmingly Swiss. Thats changing, too. Two proposed new board members are a German and an Indian-born naturalized American. The executive committee has four Swiss members against three non-Swiss, and the new man in the key role of pharmaceuticals research, Mark Fishman, is a Yale and Harvard Medical School graduate. Business group heads are overwhelmingly international. More and more non-Swiss are moving into key management positions, and more and more non-Swiss are on the board of directors, says Breu, whose previous employment at Sandoz took him to London and New York, but who remains resolutely Swiss. We are being reduced by natural attrition.

But its that kind of process that fuels the worries that regularly resurface over whether Switzerlands corporate titans are set to flee the nest. With five out of the worlds top 100 companies headquartered in a country of 7 million inhabitants, Swiss business punches well above its weight. But a litany of woes and scandals at ABB, Swiss Life and the former Swiss Air have made for a febrile attitude toward the business elite in a country accustomed to the good times.

Those fears bite deepest in Basle, home to Switzerlands chemical and pharma industries since Johann Rudolf Geigy-Gemuseus began trading there in dyes and drugs in 1758. The tramstop outside Novartiss headquarters still bears the name of Sandoz, the company that merged with Ciba-Geigy to form Novartis in 1996. Breu acknowledges that remaking the company along American lines can cause tensions among domestic investors and the Swiss public at large. The general public especially may be a bit concerned, he says. But there is no danger: We are a global pharmaceutical company where the largest market is in the USbut the headquarters will stay in Switzerland.


Raymond Breu on

the effects on analysts of dollar reporting:

I think I understand the worries of the analysts. A change is always a bit more work for them: You have to change your models, but its a one-time thing.

remaking the companys reporting:

My ultimate goal is that a US investor cannot tell the difference between a Merck and a Novartis. I would say we are 95% there.

on Sarbanes-Oxley:
We made immediately the decision that we would comply with all the requirements like a US company.
on European stock markets:
The minute I really see a uniform European capital market evolving with one stock exchange then I will list too, but not as long as it is so diverse and amorphous.


Mark Johnson