CHINA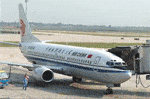 Slow take-off for Air

China

China raised interest rates again in August in the latest effort to cool off the countrys sizzling economic growth. The move marks the second time the central bank has raised the one-year lending rate this year and the first time it has increased the deposit rate. The interest rate hikes come in addition to administrative controls limiting loans to certain overheated sectors. Stocks of Chinese companies on the Hong Kong stock exchange closed down following the central banks announcement as investors worried that the rate increase would dampen demand for new loans from listed banks.
Perhaps reflecting that unease, investors showed limited enthusiasm for the domestic stock market debut in August of airline giant Air China. The share price barely budged on the first day of trading from its initial offering price. Dissipating excitement for new IPOs and rising fuel costs dampened investor enthusiasm for the share sale. China National Aviation, the parent company of Air China, promised to buy up to 600 million shares on the Shanghai exchange if the share price falls below the IPO price before the end of the year.
Zhu Junyi, the head of the Shanghai Municipal Labor and Social Security Bureau, was removed from office in August and detained for allegedly taking bribes and embezzling from the citys pension fund. Shortly after, Wang Chengming was replaced as chairman of Shanghai Electric Group, Chinas largest power equipment maker and a Hong Kong-listed company. Authorities have detained Wang and two other Shanghai Electric executives for questioning. Domestic media reports allege that Zhu defied national regulations to invest pension funds in risky and sometimes illegal projects. One such investment involved the company Fuxi Investments, a major shareholder of Shanghai Electric. The scandal has increased worries about the transparency of foreign-listed Chinese companies and also raised concerns over investment decisions for Chinas pension funds.

Thomas Clouse