ARGENTINA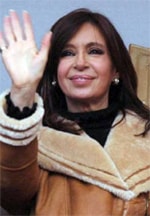 Seeing off the debt: Kirchner hopes investors will accept deal.
In a major policy reversal, the Argentine government is reaching out to holdouts from its $100 billion debt workout in which bondholders received a 70% haircut in 2005. Some 25% of investors did not accept the deal's draconian terms. President Cristina Kirchner, whose husband, former president Nestor Kirchner, completed the debt restructure three years ago, hopes a new offer will close an uncomfortable chapter in the country's history and bring to an end Argentina's banishment from global markets.
Argentina defaulted in 2001 amid a financial crisis that included a peso devaluation, soaring inflation, capital flight and a freeze on bank deposits. In the workout, 76% of defaulted paper was exchanged for a series of longer-term bonds. At the time, president Nestor Kirchner vowed not to make any new offers to holdouts. While the government said its offer was all it could afford, Argentina's later GDP growth and rising reserves led to lawsuits from bondholders.
The Cristina Kirchner administration has hired Citi, Barclays and Deutsche Bank to restructure the remaining $20 billion in defaulted debt. Cabinet chief Sergio Massa says the new deal, unlike the 2005 restructure, will involve direct negotiations between banks and creditors, which can then present the government with a swap proposal. There are indications that debt would be swapped for a single bond issue, likely with a haircut near 60%, and takers would be forced to buy additional new debt.
While the government hopes to complete the process by the end of this year, some investors have already rejected the plan. The new proposal "appears worse than the terms of the 2005 swap," said a group that represents Italian holdouts.
Rejecting the deal is a risky proposition, as analysts warn Argentina may be poised for a new default unless it can raise funds abroad. Oil-rich Venezuela's president Hugo Chávez, who has bought several billion dollars worth of Argentine bonds, remains Buenos Aires' only international financial lifeline. With oil prices on the decline, the lifeline may soon be severed.
Antonio Guerrero