Can Accenture's CEO continue the company's momentum?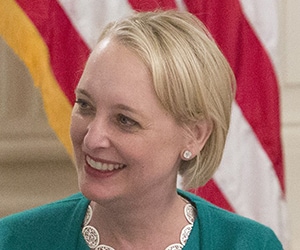 Julie Sweet has a tough act to follow. As the new global CEO of consulting firm Accenture, she follows the charismatic Pierre Nanterme, who significantly increased the company's value and influence during his tenure from 2011 until January of this year, when he stepped down and then succumbed to colon cancer. Sweet, formerly head of Accenture's North American business, will raise the number of female leaders among S&P 500 companies to 27.
"She possesses one of the finest legal minds in the business world, having been a partner at the prestigious law firm of Cravath prior to joining Accenture in the role of general counsel," says Jeffrey Cunningham, professor in global leadership at Arizona State University's Thunderbird School of Global Management. "She will be very adept at navigating the high level of volatility in trade, innovation and geopolitics."
Sweet, 51, has said that she wanted to be a lawyer since she was in eighth grade. Her well-known dedication to inclusiveness and fostering a values-oriented work culture, Cunningham adds, are among her many remarkable leadership qualities.
She will need all those skills as she takes the helm of a sprawling organization with nearly half a million employees and operations in 52 countries. Accenture is increasingly focused on helping clients embrace new technologies such as artificial intelligence, data analytics and cloud computing. The company serves three-quarters of the Fortune Global 500 companies in 13 industry groups, ranging from banking and high tech to public service and media and consumer goods. Accenture's shares have more than doubled over the past five years.
That strong momentum, however, could also represent the new CEO's worst enemy. Analysts have warned that opportunities arising from new applications and current projects are at risk of leveling off. In June, the company reported a 9% drop in quarterly consulting bookings. As the chief of a company geared toward preparing businesses for the future, Sweet will have to lead by example.