The firm says the new headquarter would beas big as the existingoffices in Seattle and will come with $5 billion in investment promisingjobs for 50,000 employees.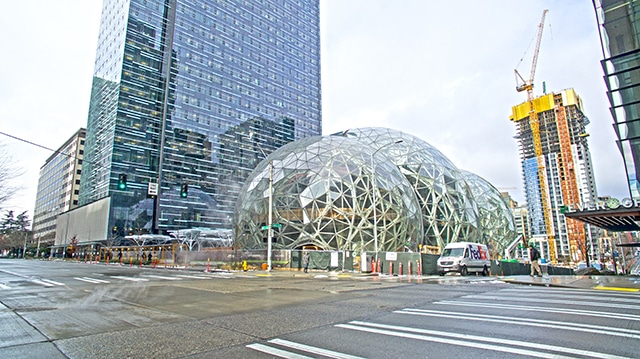 Within days of the world's largest online retailer, Amazon, releasing a request for proposal (RFP) for its second US headquarters (HQ2), more than 100 North American locations have expressed interest in clinching the deal.
Trumpeted as a "full equal" to its existing headquarters in Seattle, the $5 billion investment promises jobs for 50,000 employees.
Chris Steele, COO and North America president at advisory firm Investment Consulting Associates—which was involved in the high-profile Boeing headquarters move in 2001, when a substantial incentives package ($63 million) helped bring just 500 jobs to Chicago rather than Denver or Dallas—reveals that his phone has not stopped ringing, as "everyone wants to get in on [HQ2]."
But it's debatable whether these locations can meet Amazon's exacting requirements: a metropolitan area with at least one million people; a mass transit system; an international airport; the potential to attract and retain strong technical talent; a "stable and business-friendly environment"; and an ability to think "big and creatively" when considering locations and real-estate options.
The requirements for that much space and talent being on a public transport system really narrows the field considerably, and Steele highlights just four locations.
"Boston is a possibility," he says, "because of its tech talent and with GE moving its HQ there and because it has the ability to build that kind of a concept with a mass transit situation. Northern Virginia, particularly the Arlington area, seems a place to accomplish all things on the RFP, plus it provides the added benefit of being very close to Washington DC for regulatory reasons, and gives Amazon a more real-time dialogue with federal government."
These locations, however, are suffering from a housing crunch, with the potential for a residential real-estate bubble, which makes Detroit an interesting option: "If we talk about underutilized infrastructure and talent that wants to stay in Michigan, anyone who wants to look like an economic development hero or savior could come in and basically remake Detroit in their image."
If Amazon isn't wedded to a US location, Steele believes Toronto could be the strongest contender, as it fits all the criteria. "With the Toronto/Waterford corridor, there is just so much talent coming through and it has incredible attractiveness, particularly in its ability to attract global talent."
Steele believes the site search will be resolved by Thanksgiving, as Amazon will have shortlisted the few places that meet the RFP. "The RFP," Steele concludes, "creates competition where the checks get bigger. This is basically [a corporate version of the US television show] The Bachelor— it's that type of a concept."