MILESTONES: BANGLADESH
By Udayan Gupta
Bangladesh is one of the more intriguing frontier market economies for foreign investors. In 2011 its GDP rose an estimated 6.3%. But a volatile political environment and an economy that is not immune to the larger global picture has affected its progress.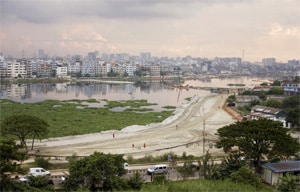 Open door: Bangladesh hopes to attract more foreign capital
Now Bangladesh is hoping it can convince overseas investors and lenders that it is ready for a new influx of foreign capital. Its government has lifted restrictions to allow foreign lenders easier access. "We have a vibrant economy, one that has shown great resiliency and growth even as the global economy has faltered," says Salman Rahman, vice chairman of Beximco, Bangladesh's largest conglomerate, which reported 2011 revenues in excess of $1 billion. "More importantly, our companies are benefiting from competitive products and services in the domestic and global markets."
Bangladesh's largest industrial sector is textiles, a sector that has benefited greatly from increased global demand and its own expanded capacity to meet that demand, says Shabbir Chaudhury, founder of Invest Bangla, a strategic consulting firm. Until now, large textile firms in Bangladesh have been able to borrow internally and reinvest in capital improvements and capacity expansion, says Chaudhury.
"As China's labor costs have risen, we, as lower-cost labor providers, have benefited. But we also are competing on design and quality," adds Beximco's Rahman.
Still, to be fully competitive Bangladesh needs greater foreign participation in its economy—as providers of capital and as partners, says David Hasanat, chairman of the Viyellatex Group, a privately owned textile firm. Domestic banks have been lending to local businesses but at a rate that is far costlier than what might be available from overseas lenders, he says. Access to the global debt markets will not only reduce the debt-servicing costs but also allow businesses to reinvest the savings back into their businesses, he says. Greater transparency and stricter rules on financial disclosure are also needed to attract foreign investors.