NEWSMAKERS: UNITED STATES
By Gordon Platt
David Beers, managing director and head of sovereign credit ratings for Standard & Poor's in London, is the mustachioed face behind the rating agency's downgrade of US treasury bonds to AA+ from AAA.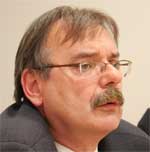 Beers: Deficit reduction package is not credible
Beers will go down in the history books as either the man who took a stand and called the US on its less-than-adequate deficit reduction plans and the broader impact of its political infighting or the man who sealed the coffin on S&P;'s credibility—at the moment the latter seems to be the consensus in the broader financial community.
He made the circuit of business television shows in the weeks before the August 5 downgrade, the first ever for the US, and clearly sent a message that a rating action was possible in the near term.
Beers warned repeatedly that S&P; might take such action. Back in April, when S&P; cut its ratings outlook on the US to negative from stable, he said: "It's somewhat questionable that [the Obama administration and Congress] are going to get a deal that is sufficient in its scope of deficit reduction, and when you get down to the details, whether it will be seen by the market, let alone by us, as being credible."
S&P; announced the move after close on a Friday to give investors time to absorb the news, but it still rattled financial markets, especially stocks. US treasury bonds and the dollar were supported by safe-haven demand.
Treasury Secretary Timothy Geithner said S&P; showed terrible judgment in lowering the rating.
"They've handled themselves very poorly," he said. "And they've shown a stunning lack of knowledge about the basic US fiscal math." The administration said S&P; made a $2 trillion error in estimating deficits over the next decade.
"This idea that we made a $2 trillion error is simply a smoke screen for the unhappiness about our decision," Beers said in an appearance on CNN. He said he had absolutely no second thoughts on the US downgrade.
Before joining S&P; in 1990, Beers was an economist at Salomon Brothers, where he specialized in analyzing the creditworthiness of sovereign debt. He graduated from the University of Virginia and the London School of Economics, where he endowed a scholarship in his name.