NEWSMAKERS: UNITED STATES
By Anita Hawser
With the US economy still in recovery mode, monetary policy decisions of the Federal Reserve can have a major impact on which way the markets move.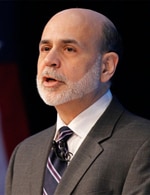 Bernanke opens up
But now, perhaps following the lead of its European cousins, the Fed appears set to release more information than ever about its decisions.
It may be taking a risk: The Bank of England governor Mervyn King has come under increasing criticism recently from his own monetary policy committee members for being too outspoken in supporting the pace and severity of spending cuts made by the UK's coalition government. While central bank governors' commenting publicly on financial matters can send the wrong signals to the market, on the whole the UK's Bank of England and the European Central Bank (ECB) in Frankfurt have promoted greater transparency by holding press conferences immediately following their monetary policy committee meetings.
The Fed is now taking the same approach, with Ben Bernanke due to hold press briefings four times a year to present the Federal Open Market Committee's current economic projections and to provide additional context for FOMC policy decisions. In an official statement the Federal Reserve said, "The introduction of regular press briefings is intended to further enhance the clarity and timeliness of the Federal Reserve's monetary policy communication" and added that it would "review its communications practices in the interest of ensuring accountability and increasing public understanding."
The press conferences will test Bernanke's mettle as a communicator able to balance considerations of openness and accountability regarding FOMC decisions with a circumspection about saying too much. A 2007 paper published by the ECB suggests that press conferences can provide "substantial additional information" to financial markets and, on average, have "had larger effects on financial markets than even the corresponding policy decisions, and with lower effects on volatility."