NEWSMAKERS: UNITED STATES
By Gordon Platt
Speaker of the US House of Representatives John Boehner told his fellow Republicans to prepare for a government shutdown last month, as the standoff with Democrats on the budget came down to the wire.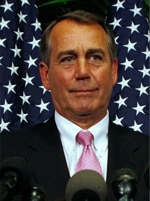 Boehner stalls tax cuts
President Obama met repeatedly with Boehner to try to hammer out a deal that would cut $33 billion from the budget, but neither man appeared willing to compromise.
As the debate raged, the International Monetary Fund warned that the structural government deficit in the US was projected to be one of the largest among developed countries, surpassed only by Japan. The IMF urged the US to come up with a credible strategy to stabilize the debt, which it said was threatening to derail the global recovery.
In the end there was no government shutdown, and Wall Street executives criticized Boehner's brinkmanship for unsettling the markets.
Charles Schumer, Democratic senator from New York, said: "The Speaker [Boehner] seems to be testing how far he can venture on a frozen lake before the ice breaks. Messing around with the debt ceiling just to satisfy the Tea Party will lead to higher interest rates and an economic cataclysm."
The issue of the debt will come to a head later this month when Treasury issuance will likely hit the current ceiling. Many conservatives say they won't support an increase in the limit without significant spending cuts. Obama touched a raw nerve when he outlined his approach to reducing long-term deficits in a speech on April 13, when he called for an end to Bush-era tax cuts for the wealthy.
"We can't tax the very people we expect to reinvest in our economy and create jobs," Boehner told reporters. "Washington has a spending problem, not a revenue problem."
Obama's plan would reduce the deficit by $4 trillion over 12 years through a mix of spending cuts and tax hikes. While Republicans share the goal of trimming $4 trillion of debt, they disagree radically about how to do it.
The whole world is watching, and selling dollars, as the money supply soars and America's political leaders start digging the trenches for the fiscal showdown that will lift the curtain on the 2012 election season.