New agreement reduces uncertainties surrounding the details of Brexit.
The British pound rose sharply last month after the UK and the EU reached a milestone in Brexit talks. London and Brussels agreed to a 21-month standstill period after Britain leaves the EU on March 29, 2019. The agreement removed the risk of a so-called "cliff edge" Brexit and showed that both sides are willing to deal, although it was Britain that made the most concessions.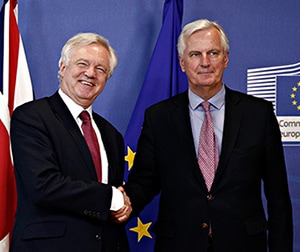 As the pound rose near the high end of its six-month trading band, Viraj Patel, foreign exchange strategist at ING in London, said the transition agreement "will go some way to alleviating the short- to medium-term uncertainties surrounding the UK economy." Currency traders can turn their attention back to UK economic fundamentals, Patel said.
Companies on both sides of the Channel welcomed the deal, which the Confederation of British Industry termed "a victory for common sense." However, the transition period will only happen if the two sides reach a legal withdrawal agreement, known as an Article 50 deal, in the next 12 months. Significant issues are still outstanding, particularly the future of the Northern Irish border and a dispute-resolution mechanism for future trade relations.
Barring surprises, businesses now can assume that the UK will be fully out of the EU by January 2021. The UK will remain in the single market and customs union until the end of 2020. David Davis, UK Brexit secretary, says this provides some certainty about what will happen immediately after the UK leaves the EU in March 2019. Britain would have liked a longer transition to implement a new customs system, but agreed to EU demands that it cannot be extended.
During the transition, Britain will be able to sign trade deals with other countries—a key concession London won from Brussels. The two sides issued a 129-page draft treaty, and Michel Barnier, the EU's chief negotiator, described it as a "decisive step" toward an orderly British withdrawal. Nonetheless, nothing is agreed until everything is agreed.