MILESTONES: BURMA
By Thomas Clouse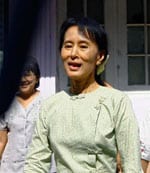 Suu kyi: Free at last
Burma held its first election in two decades in early November. The winners of the election will take control of the government from the military, which has ruled the country for 48 years. The initial results suggested there would be little change within the country, with the pro-military Union and Solidarity and Development Party taking the majority of the 1,159 open offices in national and regional parliaments. Many of the USDP's candidates ran unopposed, and others were likely helped by alleged vote-rigging, voter intimidation and other forms of election fraud.
The National League for Democracy, led by Nobel Peace Prize winner Aung San Suu Kyi, disbanded as a political party before the election and called for a boycott of the election process, which it claimed would be undemocratic. Suu Kyi was released from house arrest shortly after the election, having been detained for 15 of the past 21 years. According to a spokesperson for the National League for Democracy, Suu Kyi will participate in an election fraud investigation.
The election triggered conflict within Burma, especially in the ethnically diverse northeastern region. As a result, an estimated 15,000 refugees poured across the border into Thailand. Despite the conflict, some of the country's nonmilitary parties did win offices. The National Democratic Front, a breakaway faction of Suu Kyi's pro-democracy party, vowed to investigate election fraud but also committed to participating in the parliamentary process with the seats that the NDF did win.
Burma's election drew criticism abroad for its lack of transparency and allegedly flawed election process. In a statement posted on the US State Department website, Secretary of State Hillary Clinton said, "The electoral process was severely flawed, precluded an inclusive, level playing field and repressed fundamental freedoms. As a result, the elections were neither free nor fair."
Mahdev Mohan, associate fellow with the Singapore Institute for International Affairs (SIIA), offered a more positive assessment. "Although the former ruling generals continue to hold a dominant position in the economy, when the new constitution comes into effect [at least in theory,] there will be a chance for the rule of law to take root and support the growth of business and investment."