Puerto Rico is in talks with Tesla about the possibility of using renewable microgrids to revamp the island'selectric infrastructure.
Devastating damage to Puerto Rico's outdated power grid has meant that 80% of the island is still without power a month after Hurricane Maria swept through the territory, with officials predicting that restoration will take six months.
The need to rebuild has focused attention on the role that renewable energy, particularity solar, might play in helping to lower energy costs and increase resilience in the face of storms.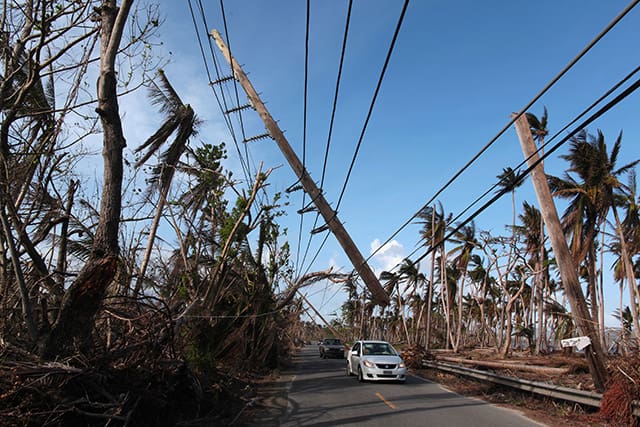 Puerto Rico's governor, Ricardo Rosselló, is in talks with Tesla CEO Elon Musk about the possibility of using renewable microgrids (decentralized local power grids) to revamp or replace the current infrastructure.
"When you lose such a significant amount of electric and transmission capacity, then you have the opportunity to rethink what sort of system you want to put in place," states Jim Long, a partner in the Zurich office of Greentech Capital Advisors. "For an island, solar makes a lot of sense, because fuel has to be imported so the cost is relatively high, and then there is the vulnerability of the transmission network to weather-related events."
Although a 100% solar option may not work for Puerto Rico, Long believes it would be a sensible policy choice to replace the existing centralized system with a significant dose of decentralized solar power to provide 50% of the island's energy needs.
"You start to take technical and operational risks if you try to design a system that is fully reliant on solar," Long explains. The production of 24/7 power will, according to Long, require storage capacity in the form of stationary batteries, local networks and software that hasn't yet been developed or deployed systematically on anything like the scale of Puerto Rico.
Energy expert and policy analyst Vaclav Smil isn't convinced that Tesla will save the day: "Elon Musk's defining characteristic is to make bombastic claims—colonizing Mars by 2022, delivering a million cars by 2018—while his companies hemorrhage billions and he gets billions of taxpayer monies," says Smil.