MILESTONES: CANADA
By Denise Bedell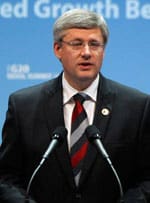 Harper: Potash decision prompts concerns
When Canada's government blocked Australian mining firm BHP Billiton's $39 billion bid for fertilizer giant Potash of Saskatchewan, it did more than put a dent in the Canadian company's share price: It also rattled foreign investors who may have been looking at Canada as a potential direct investment opportunity. With an economy that has bounced back well and key sectors, such as banking and certain commodities, benefiting from sound financials and robust demand, Canada is currently one of the more attractive developed markets for investors. The Bank of Canada forecasts economic growth of 2.3% in 2011, and although that is down from earlier forecasts of 2.5% on the back of worsening global economic conditions, it is still appealing.
The rejection early in November of the BHP bid raises concerns over whether the country will play by the rules when it comes to future foreign bids for domestic corporations or whether prime minister Stephen Harper will continue to use the Canadian foreign investment law requiring a bid to be of "net benefit" to the nation as a means to protect politically significant assets. Harper declined to comment in detail on the decision, but industry minister Tony Clement reportedly claimed the BHP takeover could "jeopardize the benefits that Canadians derive from the industry." Some observers have suggested, however, that the government's decision to nix the bid had more to do with political pressure than with the economics of the bid itself.
The decision may also draw more attention to the lopsided record of merger and acquisition activity between Canada and its southerly neighbor this year. According to data from Thomson Reuters, 15 of the 20 largest Canada-US M&A; transactions so far this year have involved Canadian companies buying up US ones. If the government continues to tip the playing field in domestic companies' favor, that ratio could become even more imbalanced.