NEWSMAKERS: UK
By Erik Heinrich
Mark Carney, governor of the Bank of Canada, will have a new job next year.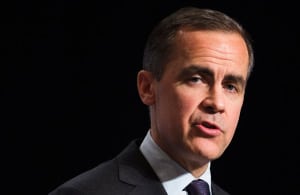 Post-Libor scandal, UK appoints outsider Carney
Photo Credits: CARNEY: REUTERS/MARK BLINCH
Starting in July, Carney will cross the pond to become the first non-native in history to head the Bank of England.
Carney's actions as the Bank of Canada's governor have played a key role in helping the Canadian economy avoid the worst effects of the financial crisis and outperform its G7 peers. (Canada was the first G7 country to have its GDP return to pre-crisis levels.)
But perhaps the real reason for his appointment in London has more to do with politics than monetary policy. "The recent Libor scandal tainted the whole of the Bank of England," says Laurence Booth, a British expat and finance specialist at the University of Toronto's Rotman School of Management. Booth adds that private communication between the Bank of England and Barclays over the London Interbank Offer Rate, which is the interest rate banks charge each other for loans, resulted in Barclays' lowering its quotes.
Apointing an outsider will help the "Old Lady of Threadneedle Street" distance herself from the Libor scandal, but being a foreigner won't make Carney's new job any easier. Perhaps his top priority will be to restore London's image as the world's premier financial center at a time when many domestic politicians are hostile toward banking.
Industry sources identified the Bank of Canada's senior deputy governor, Tiff Macklem, as the most likely choice to replace Carney as governor. Macklem has been with the bank since 1984, and is therefore in a position to provide a sense of continuity. "One obvious difference between the two men is that Macklem, unlike Carney—who did a stint at Goldman Sachs—does not have experience outside the bank working in financial markets," says Peter Buchanan, senior economist with CIBC World Markets in Toronto.