NEWSMAKERS
As third-quarter profits plunged 44%, US heavy equipment-manufacturer Caterpillar slashed its 2013 profit forecast for the third quarter in a row. Caterpillar is being hit with lower demand in nearly all its major business sectors, but about three-quarters of the drop in sales were the result of lower sales of mining equipment.
CEO Doug Oberhelman vastly increased Caterpillar's exposure to the mining sector in 2011 with the $8.8 billion purchase of Bucyrus International. The maker of gigantic ore shovels has been particularly hard hit by weak demand from the mining industry.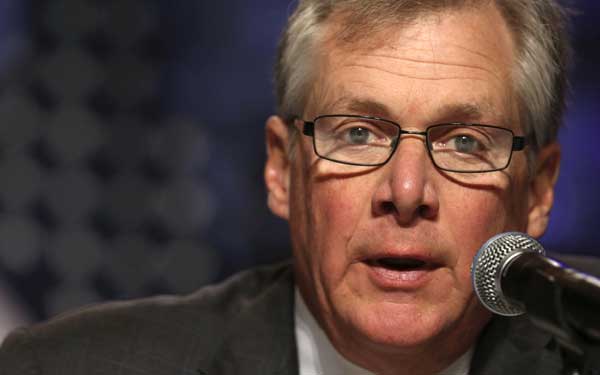 Caterpillar profits hit by Doug Oberhelman's mining gamble
Brian Langenberg, principal and director of research at Langenberg, a research firm focused on the industrial sector, agrees with Oberhelman's strategic decision to up Caterpillar's stake in mining equipment.
"They did a deal, and the deal made sense then, and the deal makes sense now, but it is not unrealistic to say that maybe they got a bit too aggressive with production and capital expansion plans. But that is easier to say after the fact than predict beforehand. On the other hand, they got into an industry which has great cyclical growth."
"If you look at the big four mining companies," continues Langenberg, "they all fired their CEOs in the last few years, but Caterpillar got into a market that is attractive over time and has a big consumable content—but right now that market is down, so profits are down too. They have not made any strategic errors; their strategic decisions have been good ones."
Langenberg sees no recovery in the mining sector next year, but he does foresee some kind of recovery in both construction and power generation, which will help Caterpillar's profits rise. "Next year should be up as comps [comparable sales] get easier, construction equipment improves and global long-cycle activity continues to recover."
In the meantime, he believes Oberhelman is right to concentrate on locking down costs. "The biggest thing you can do when demand goes down is get your cost structure in line with revenue, and you want to do that without damaging the long-term profitability of the business, not skimping on certain customers or services. They just need to ride this out."