Fiat Chrysler Automobiles' new CEO has some big shoes to fill.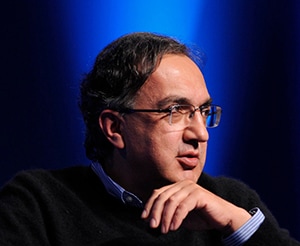 New Fiat Chrysler Automobiles (FCA) CEO Mike Manley has big shoes to fill. Manley took the helm of the Italian-American automaker late in July, after his charismatic predecessor, Sergio Marchionne, passed away at just 66. Tapped to lead Fiat in 2004, Marchionne had gained legendary status in the industry by quickly steering the then-embattled company to profit and merging it with Chrysler in 2009.
If Marchionne was able to mold Fiat Chrysler into the world's seventh-largest automaker, however, he certainly got a hand from Manley. The British-born executive, 54, had previously been COO for APAC and chief executive for international activities, and then head of the automaker's Jeep and Ram truck brands. Under his leadership, Jeep broadened its product line and quadrupled sales. "As the leader of the Jeep brand, Manley was a smart choice" to succeed Marchionne, says Kenneth Elias, partner at global automotive consulting firm Maryann Keller & Advisors. "The road map laid out by Marchionne was clear: Push Jeep and Ram; focus on what makes money."
Manley will now have to rejuvenate other FCA brands. FCA has named Alfa Romeo and Maserati to spearhead its global push. What about low-margin mass-market brands like Dodge, Fiat, and Chrysler? Their long-term fates remain unclear.
"FCA is still playing catch-up with regard to electrification and autonomous tech, and, in my opinion, needs better small-displacement gas engines for North America," says Elias. "The jury is still out on whether FCA has the horsepower—i.e., capital—to drive Alfa to be a lux-brand competitor with the Germans globally."
Manley is already facing higher steel and aluminum costs due to Trump's tariffs. FCA recently lowered its full-year profit forecasts, prompting its stock to fall. Analysts fear worse is yet to come; with a large chunk of the company's vehicles assembled in Italy, the threatened 20% US tariff on all car imports from the EU could wreak havoc on the company's growth plans.