Yi Gang's appointment asgovernor of the People's Bank of China a sign of policy continuity.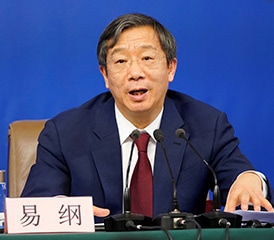 Although Yi's nomination was not widely anticipated, his appointment is being interpreted by financial markets as a sign of policy continuity. Yi, a technocrat who served as Zhou's deputy, is expected to be less high profile than his predecessor and will likely continue promarket policies, analysts say. But the PBoC's lack of independence could constrain Yi's ability to set the direction of policy, Capital Economics said in a research note following Yi's selection.
For the moment, the party leadership and PBoC seem to be in agreement over the need to deleverage and reduce financial risk. President Xi Jinping moved decisively to reshuffle China's economic team, appointing Liu He as a vice premier, to whom Yi will report. With the party exerting more control over the state, this move suggests Yi will play a supportive role to Liu, says Capital Economics. Still, reaction to President Trump's punitive tariffs, and whether China sacrifices deleveraging in favor of looser monetary policy to support growth, will be early signals of Yi's place in China's economic hierarchy.
Meanwhile, further evidence of Xi's determination to push through reforms and strengthen the party leadership comes in the choice of Wang Qishan as vice president. A political soulmate of Xi with a reputation as a troubleshooter, he is expected to morph the largely ceremonial role of the vice presidency into a position of power. Wang may assume a prominent role in foreign policy, perhaps promoting president Xi's signature One Belt, One Road Initiative and taking a lead in relations with the US, Zhixing Zhang, a senior analyst at Stratfor, tells Global Finance.
"One area of focus will be dealing with [the] Sino-American relationship," Zhang says. "Wang's solid reputation and track record, alongside his experience in engaging with previous US administrations, will be a boon to his course."