One of the biggest challenges facing corporate America is not about to go away, but there are signs that it might be capped.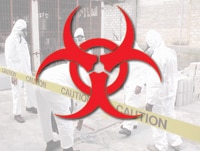 Finally, theres light at the end of the tunnel for companies struggling with the ballooning costs of asbestos-related claims. In mid-January Swiss-Swedish engineering combine ABB said it had reached a preliminary agreement for a pre-packaged Chapter 11 filing for its US subsidiary Combustion Engineering. If that deal goes through, it will become the first foreign company to totally ring-fence its exposure to the US courts.

Engineering company Halliburton announced a different form of settlement in December last year, following in the footsteps of three other companiesPittsburgh Corning; Sealed Air, a US packaging company; and German medical equipment manufacturer Fresnius.

All settled last year for smaller amounts than many investors had feared. In recent years the torrent of asbestos litigation has threatened to inflict more damage on the corporate-American landscape than Enron, WorldCom and Hurricane Andrew combined, if some people are to be believed. Estimates of the eventual cost of litigation range up to $275 billion.

More than 600,000 claims have been filed against 6,000 defendants totalling $54 billion, according to a report by Santa Monica, California-based RAND Institute for Civil Justice. In the process they have provoked more than 60 major bankruptcies, involving the loss of up to 60,000 jobs.

This elephantine mass of litigation, in the words of Supreme Court Justice David Souter, has hovered like a sword of Damocles over share prices, credit spreads and merger and acquisition activity. But its not just the signs that US companies are managing to cap exposures that is finally lifting the gloom. Theres hope in many beleaguered boardrooms that, with the Republicans controlling Congress, there may be some reliefif not in the wider arena of long-talked about tort reform, then at least in some form of legislation specifically limiting asbestos liability.

One US litigation law-yer, based in Norfolk, Virginia, believes that the Environmental Protection Agency and other environmental lobbies have been noticeably less strident on asbestos fears since the attacks on New Yorks World Trade Center: They have backpedaled on the idea that a tiny bit will kill you and are now viewing it more realisticallymaybe more to see whats truly dangerous, she says.

The burgeoning fears of trial lawyers and plaintiffs that the mood is changing and that the frontline corporate culprits have already been finished off are allowing some companies to move past hunker-down mode.

In December Halliburton, the oil field services and construction company, announced a contained bankruptcy in which its asbestos liabilities would be limited to subsidiaries. In exchange, Halliburton will set up a $4.1 billion trust to deal with about 300,000 claims. Honeywell, the diversified manufacturer, followed shortly after with news of a similar settlement likely to cost $2.9 billion.

Halliburtons plan covers all present and future asbestos claims through a trust of $2.775 billion in cash and $60 million shares worth about $1.2 billion; the agreement will be implemented via the pre-packaged Chapter 11 filing of its DII Industries and Kellogg Root & Brown subsidiaries.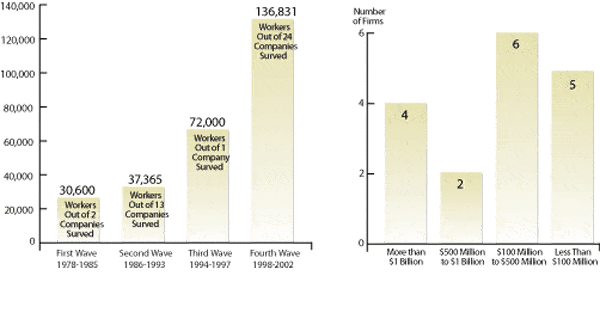 Taking Its Toll: Asbestos-Related Bankruptcies as Even the Big Fall





Sources(Left): American Insurance Association and Compustat, Dun & Bradstreets Million Dollar Directory,

Wards Business Directory, Moodys, company Web sites and individual firms Securities and Exchange Commission (SEC) filings
Sources(Right): American Insurance Association, The Center for Research in Security Prices (CRSP) market database and individual companies Securities and Exchange Commission (SEC) filings


If this transaction is completed, it will resolve a major issue that has been clouding our future, says Dave Lesar, chairman, president and chief executive at Halliburton. Not only have we taken care to responsibly provide for those affected by asbestos; this settlement will allow us to concentrate all our efforts on increasing shareholder value, and our total focus can return to Halliburtons core businesses.

Halliburton shares fell famously by 47% one day in December 2001, when major asbestos awards against the firm were announced. So the firm, once led by Vice President Dick Cheney, has every reason to want to banish the uncertainty of its asbestos liabilities.

But analysts and lawyers warn that there is still a long way to go with both the Halliburton and other dealseven if agreements, which require 75% of claimants on board, are reached. Financing, board approval and a green light from the court are all still required.

Meanwhile, Honeywell is still negotiating with lawyers representing 200,000 claimants to set up a trust, put its North American Refractories Company subsidiary into bankruptcy and cap its future liabilities.

Not all lawyers are convinced. I dont see why, by just putting the money aside and ring-fencing your exposure, the parent company is not in some way liable when the money runs out, says one. He points out that one of the original asbestos bankrupts, manufacturer of building products Johns-Manville, is paying out only 5 cents on the dollar to preserve funds for future victims.

The fact that the trusts pay only pennies on the dollar is one of the reasons why the litigation is spreading to greater numbers of defendants, says Stephen Hensler, a senior economist at RAND. If claimants cannot get adequate compensation from the former deep pockets, they must look for greater compensation from other defendants or pursue additional defendants.

Lawyers are keen to liken the world of asbestos litigation to an apple tree. All the apples have been plucked off the lower branches, and the apples higher up the treeoften companies with little direct involvement in the industryare now being targeted by trial lawyers. They are advertising on TV, the Internet and the subwayand even, in an extreme case, x-raying potential victims in shopping malls.

Lawyers have also widened the net to include plaintiffs yet to contract any symptoms. The RAND study reports that more than 50% of the payouts are transaction costs; lawyers are taking the bulk of the cash. Over 65% of the awards have gone to non-malignant claimants, according to RAND.

Asbestos litigation has become a national nightmare, as well as a national disgrace, and cries out for your attention, said Steve Kazan, an Oakland, California-based trial lawyer, testifying before the Senate Judiciary Committee in September. Having acted for cancer patients since the 1970s, Kazan believes the real victims of asbestos are being crowded out by the mass tort unimpaired claimants. As a result, he is leading a group of more than 100 trial lawyers who are siding with corporates and insurance companies, on this issue at least. The Asbestos Alliance is seeking two legislative changes to establish objective medical criteria for asbestos-related impairment and to liberalize statutes of limitations and other technical rules to remove the incentive for premature filings.

The scale of the hit taken by corporate America and its insurers was spelled out in January when Travelers Property Casualty, Citigroups former insurance arm, added $2.45 billion in reserves for asbestos liabilities. That took its provision to an overall $3.4 billiona figure that as recently as 2000 represented the total provision for asbestos costs by all insurers.

The establishment of the reserve assumes a continuing unfavorable legal environment, but Travelers executives are still hopeful. I think even if it turned out, as some people have suggested, that possible legislation may pay substantially more to people that were really impaired, we think that is appropriate, says Susan Claflin, head of the special liability group at Travelers Property Casualty in New York. We think that paying basically plaintiff lawyers and the unimpaired is not where these funds should be going.

Its far from clear whether Congress will, in fact, move ahead. Political commentators believe current efforts stand a better chance than the previous three attempts to introduce legislation but that the situation is complicated by the federal system. On the whole the federal courts do not hear the claims; instead, trial lawyers target certain very welcoming statesled by Mississippi, Texas, West Virginia, New York and Ohiofor their more borderline cases. Jefferson County, Mississippiwith a population of just 9,740has a pipeline of more than 10,000 cases.
What is certain is that, without legislation, asbestos cases are going to continue proliferating. Actuarial consulting firm Tillinghast-Towers Perrin projects that 1.1 million claims will eventually be filed and puts the total cost to defendants and insurers at $200 billion. Another firm, Milliman USA, puts the figure at $275 billion. Nor is that hit concentrated in the heavy-industry sector. RAND concludes that litigation has spread to touch firms in industries engaged in almost every form of economic activity that takes place in the American economy.

ABB Plays Damage-Limitation Game


ABB, the Swiss-Swedish engineering group, is hoping to inoculate itself from US-based asbestos liabilities in a desperate attempt to avoid bankruptcy.

The heavily indebted firm, which employs 145,000 people in more than 100 countries and was once widely lauded as Europes General Electric, will know as early as February whether it has won an agreement to reorganize its US subsidiary under Chapter 11 and ring-fence its asbestos exposure in that country.

ABB is hoping to limit its liabilities to $1.2 billion:$50 million of ABB stock, $350 million in cash plus the $812 million in assets held in Combustion Engineering (CE), the Connecticut boilermaker it bought in 1990. That acquisition has proved to be the source of all its problems and represents potentially the most devastating fallout from the frenzy of US asbestos litigation in the past decade.

Achieving this milestone is one of the highest priorities for ABB for two reasons, says Peter Voser, chief financial officer at ABB in Zurich. The uncertainty of risk means we can only make a minimum prediction of our future growth and earnings, and it is no longer possible to define our liabilities; from a financing point of viewthe uncertainty hangs over our stock pricethis risk has got to be removed.

ABB narrowly avoided a credit crunch by securing a $1.5 billion credit facility in December. One of the main conditions of that deal, says Voser, was that it delivered on its promise to either put in a Chapter 11 filing for current and future asbestos claimants or seek a full blown free fall Chapter 11.

More than 110,000 asbestos plaintiffs are seeking claims estimated to be between $2 billion and $3 billionfar more than the companys current assets. Some analysts doubt whether ABB can limit its exposure to $1.2 billion, but Voser is confident. He accepts there are risks, but when you are negotiating with claimants and law firms, there are always risks.

One risk he will not countenance is the threat of US lawyers chasing ABB in Europe. Swiss law will protect the Swiss-incorporated company, Voser believes. Kirkland & Ellis are the legal advisers on the transaction, while Blackstone and Lazard are financial advisers.
The deal is crucial not just for ABB: A successful outcome will prove a major fillip to foreign companies facing US legal risk and any corporate with asbestos liabilities. Similarly, Voser is keeping an eye on how Halliburton and Honeywell fare. Any settlement on asbestos by any company is very important for any future negotiations on this issue, he concludes.

Nick Parsons