UNITED STATES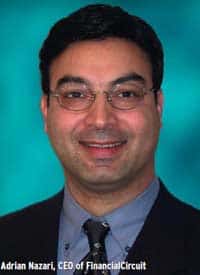 If youre an investment adviser, youre probably very familiar with this common refrain from clients: Gee, Id like to invest, but I just dont have the money right now. Adrian Nazari, CEO of a fouryear- old Silicon Valley software firm, FinancialCircuit, says his company is all about helping find a way around this problem.

Campbell, California-based FinancialCircuit makes software that financial advisers, banks, brokers and accountants can use to turn their clients debt into assets that can be invested. The privately held companys flagship product, MoneyFind, is a Web-based platform that identifies opportunities for restructuring or refinancing a customers debt to reduce payments and to generate tax savings. It searches hundreds of lenders for the lowest rates on mortgages, auto loans and other debt. The idea is to increase the customers cash flow and make more money available for investment.


Finding the Cash


Heres an example of how it might work:A customer walks into his brokers office and tells him that he wants to start a college investment plan for his newborn.Trouble is that he cant because all of his assets already go to his 401(k) retirement plan. The adviser then asks the client about his mortgage debt, auto leases, credit card debt and income trends and plugs all the data into the MoneyFind software engine. It then churns out a series of recommendations, such as paying off the lease and refinancing the mortgage debt.The software also finds the lowest market rates for these loans and computes the interest cost and tax savings from refinancing.This allows the broker to say, Okay, now you have an additional $600, and you can take that and put it in the college plan, explains FinancialCircuits Nazari.

Al Haddad, president and chief executive of Financial Profiles, a Carlsbad, California-based maker of financial planning software and a customer and partner of FinancialCircuit, says, Advisers need to provide advice on the debt side. So many clients say,If I just could find another $200 a month, I could afford to buy that insurance or whatever the financial product may be. Financial Profiles plans to integrate FinancialCircuits MoneyFind product into its own software suite.

The Beginning and Growth


Nazari and Roosevelt Elyassnia, a former colleague at National Semiconductor and founder of his own mortgage company, started FinancialCircuit in 1999 to take advantage of consolidation in the financial services industry. Deregulation had helped fuel a wave of mergers that resulted in more banks, lenders, brokerages,money managers and insurers being involved in one anothers businesses and offering many more products than they had before. So Nazari and Elyassnia figured that technology that helped link the asset and liability sides of the business to provide a total picture of a clients financial situation would find a receptive audience.The two entrepreneurs also felt that the financial services industry was in the Stone Age in its use of technology to interact with clients and service them.With initial funding from a Paris-based private investment firm Lafayette Internationaland a number of other angel investorsthe new company rolled out a series of analytical tools that helped financial advisers and accountants help their customers manage their debt and find money they thought they didnt have.

FinancialCircuits products found traction. Sales steadily climbed from $3.4 million in 2001 to $6.7 million in 2002 to about $13 million in the period ended June 30, 2003.The company does not release details on profits. Nazari expects the strong growth to continue on the back of the MoneyFind product, which was introduced in May. He projects that the 45-employee companys revenue will rise to between $24 million and $27 million next fiscal year, ending June 30 2004, as FinancialCircuit convinces more large financial institutions to adopt MoneyFind for their teams of thousands of investment advisers or planners.The software firm is in discussions with Prudential Life, E*Trade, New York Life and other large financial firms about buying MoneyFind and introducing it to their sales forces. New customers were expected to be announced later this summer.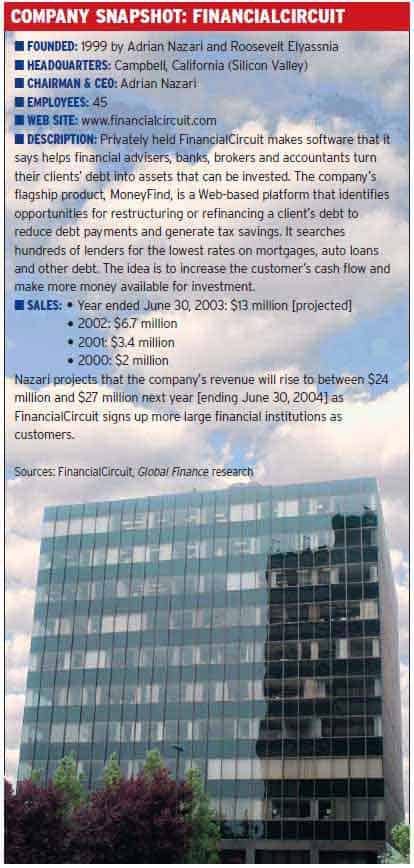 FinancialCircuit also plans to enhance MoneyFind with a market monitoring system that scours market interest rates and economic developments and then notifies the client and/or adviser whenever there is an opportunity to save money by restructuring the debt, typically a mortgage.The customer and adviser then will be able to implement the change with the push of a button, Nazari explains.


Caveats


With so many American consumers and investors in debt up to their eyeballs, perhaps many of them should focus on paying off the debt instead of laying out more money for insurance, college savings plans and the like. You wouldnt want an adviser to put somebody into more debt than they already are, says Haddad of Financial Profiles. Nazari says that his technology arms financial advisers and planners with information and choices but stresses that its still up to them to provide sound financial advice and to figure out what investment decisions to make.

We find the money. Its up to the adviser and the client to decide how best to use it, says Nazari.We have no incentive to have the client put their money anywhere. We are totally an independent company.


Company Challenges


As FinancialCircuit grows rapidly, it also faces several hurdles to keep it going. David Schehr, research director at Stamford, Connecticut-based Gartner G2, says that FinancialCircuit is benefiting from record low interest rates that present lucrative opportunities for consumers to refinance their mortgages. Hence its easier for FinancialCircuit to find liabilities that can be turned into assets. He says that a rising interest rate environment will make it more challenging to do so.

Were at historic lows for rates now.That will come to an end some time, Schehr says. He adds that the jury is out whether this will work in more normal interest rate cycles because it will be difficult for rates to fall back to the attractive ones at which many refinanced.

Another challenge FinancialCircuit faces is managing its growth and managing its customer relationships with the large financial firms it hopes to soon sign up. Theyre very demanding. Getting [the software] deployed, meeting their demands and executing is key, Nazari says, noting that every firm wants its own customized solutions.

Adam Rombel