EUROPE

The two owner companies of the worlds largest container- shipping operator, Denmark-based Maersk Sealand, agreed to merge in a stock-swap transaction valued at $9.4 billion.
D/S Svendborg and D/S 1912, both listed on the Copenhagen Stock Exchange, also are engaged in oil and gas exploration and production, shipbuilding, aviation, supermarkets and information technology services, under the banner of the A.P. Moeller Group.
Arnold Peter Moeller together with his father Captain Peter Maersk Moeller established D/S Svendborg in 1904, when they bought a secondhand steamer of 2,200 deadweight tons. Eight years later,A.P.Moeller founded D/S 1912.
Today, the two companies form the core of the A.P.Moeller Group, which employs 60,000 people in 100 countries and owns 250 enormous vessels totaling 12 million tons that provide containerized shipping services that circumnavigate the globe.
Prior to the merger, D/S Svendborg and D/S 1912 were to exercise a stock split, whereby each Svendborg shareholder was to receive two new shares for every share held, and each 1912 shareholder was to receive one new share.
Upon completion of the merger, D/S Svendborg was to be the surviving company and was to change its name to A.P. Moeller-Maersk.
In 1999 Maersk acquired the international liner business of Sea-Land Service of the US. Under former trucker Malcolm McLean, Sea-Land pioneered containerized shipping. McLean came up with the idea of lifting a truck trailer onto a ship without unloading and reloading its contents.An estimated 90% of the worlds trade today moves in containers.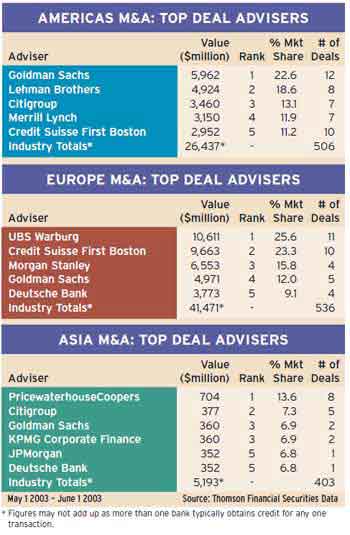 Zimmer Challenges Bid for Swiss Firm


Indiana-based Zimmer Holdings planned to launch a challenging tender offer of $3.4 billion in cash and stock for Centerpulse, a Zurich-based manufacturer of medical implants.
Previously, Smith & Nephew of Britain offered $2.4 billion for Centerpulse, formerly Sulzer Medica. Smith & Nephew said in a statement that Centerpulses board has already unanimously recommended its offer to shareholders.
Zimmer Holdings, which was spun off by Bristol Myers-Squibb in 2001, offered 120 Swiss francs and 3.68 shares of its own stock for each Centerpulse share.
Centerpulse makes spine, dental and hip implants.

THE AMERICAS



Hometown America To Acquire Chateau


Chicago-based Hometown America, an owner and operator of manufacturedhome communities in 13 states, definitively agreed to acquire Chateau Communities.
Colorado-based Chateau, a self-administered real estate investment trust, is the largest owner and operator of manufactured- home communities in the US, where it operates in 36 states.
The $2.1 billion transaction includes the assumption of an estimated $1.2 billion in net debt and preferred stock.
Chateau Communities has a high-quality portfolio of properties and offers a strong presence in markets we find attractive, says Rich Cline, CEO of Hometown America.
Hometown America has committed financing for the transaction.The companies said they expect that the merger, which is subject to shareholder approval, can be completed in the fall of 2003. Chateau has approximately 35 million common shares and units outstanding.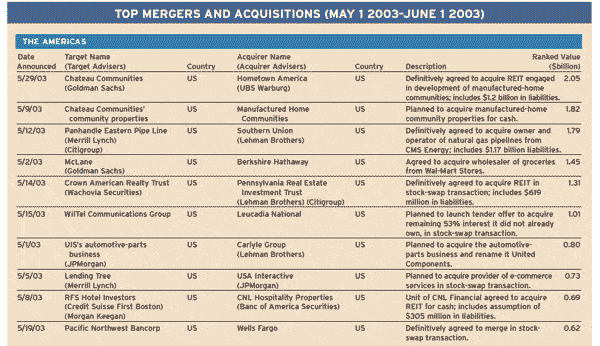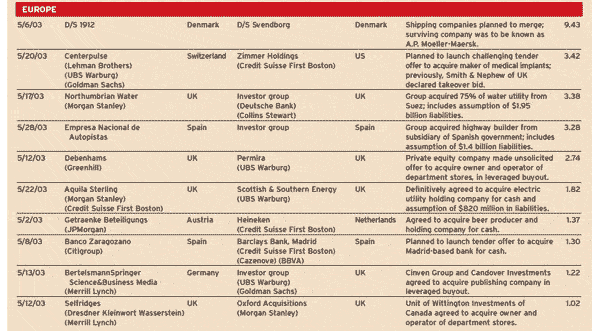 Gordon Platt