EM SPOTLIGHT – LATIN AMERICA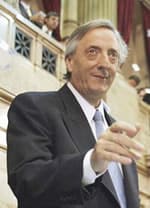 Argentina's president Nestor Kirchner faced off against some of the worlds most powerful investors

Latin America has spent the past two decades recovering from the lost decade of the 1980s, marked by debt defaults, hyperinflation, weakened currencies and political unrest. Between 1980 and 2003, the regions GDP grew by a meager 2% annually. However, strong global demand for commodities, steady investment flows, responsible economic policies and stable political environments in most countries have since put the region on a steady footing.
Much of the recovery was a result of US Treasury secretary Nicholas Bradys plan in 1989 to reduce debt loads and implement structural reforms throughout the region. Bradys initiative shifted the focus away from increasing lending as a way to deal with the crisis, to market-based debt and debt-service reductions. Under the plan, governments obtained debt relief through direct cash buybacks, swaps of existing debt for new discount and par bonds, and issuance of interest rate reduction bonds. In exchange, governments vowed to introduce economic reforms that bore fruit in the 1990s. By 1991, capital inflows exceeded outflows for the first time since the debt crisis.
Ten years later, in 2001, another crisis claimed two-thirds of the value of the Argentine peso, prompted the temporary closing of the nations banks and triggered the largest sovereign debt default in history at more than $110 billion. Although Argentina has experienced a number of crises and devaluations over the years, this one was without precedent in severity and human consequence, says Mark Falcoff of the American Enterprise Institute for Public Policy Research. Falcoff argues that while Argentine unemployment has since dropped to 9% from 25% and the government holds record reserves of $35 billion, any changes in global interest rates, grain prices or the political situation in Venezuela could cause another reversal of fortune. Oil-rich Venezuela has become Argentinas principal ally and financial backer, buying $5 billion in Argentine bonds that allowed Argentina to pre-pay its obligations with the IMF.

A Growth Story


Cumulative Latin American GDP growth since 2003 exceeds 18%, according to a report published by consulting firm McKinsey & Company this year. Last year the regions economy expanded by 5.3%, marking the fourth consecutive annual expansion. Inflation is now at a 40-year low, debt levels have been cut to more sustainable levels, and current account surpluses have reached record highs.
Latin Americas prospects are brighter than at any time in the past quarter century, notes McKinseys analysis. However, income distribution remains a key challenge, leading to the election of populist regimes throughout the region in recent years. McKinsey contends that although per capita GDP in Latin America grew by 12% since 2003, the region still has the worlds most unequal income distribution. Poverty affects nearly 40% of Latin Americans.
Access to technology will remain another concern as a means of boosting competitiveness for countries that must compete head-on with faster-growing economies in Asiaparticularly China, which is at once a large client for Latin Americas commodities and a major competitor for manufactured goods and textiles.
The World Economic Forums annual Networked Readiness Index (NRI) shows a positive trend in Latin America. The results of the NRI 2006-2007 for Latin America seems to point to a lessening of the digital divide with respect to other, more successful regions at a similar level of development, such as Asia and Eastern Europe, says the NRI report. Four countries in Latin America and the Caribbean ranked in the top 50 in the NRI: Chile (31), Barbados (40), Jamaica (45) and Mexico (49).
For 2007, the Inter-American Development Bank (IDB) predicts the regions economic growth will slow to between 4% and 4.5%. The outcome will be driven in part by an expected slowdown in the US economy. While analysts expect the slowdown to affect most Latin American countries, the IDB says possibly Brazil and Chilecountries with strong commodities exportswill be the only ones unaffected.

Antonio Guerrero