AFRICA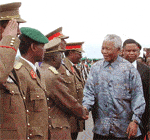 Figurehead: Nelson Mandela became

a symbol of hope

for many in Africa

The past two decades in Africa have been marked by the twin themes of dramatic progress, such as the demise of apartheid in South Africa, and heartbreaking inertia, characterized by much of the continents seemingly endless struggle with war, disease and famine. African leadersas well as multinational lenders and international peacekeepershave grappled with the arduous task of nation building and emerging ethnic and religious conflicts over the past 20 years as the individual countries recovered from the impact of centuries of colonial rule.
Many countries saw the benefits of using regional economic or intergovernmental pacts to foster economic growth and political stability. The Eastern African Community, created in 1999 by the governments of Kenya, Uganda and Tanzania, for example, now encompasses the neighboring countries of Burundi and Rwanda. It finally has a customs union in place to reduce tariffs and boost trade and ambitious plans for a common currency and even a federal president by 2012.
Meanwhile, the Chinese have been tapping into Africas economic potential and have become major investors in the continent, including the oil-rich countries of Angola, Nigeria and the Sudan.
Regime changes abounded throughout the continent over the past two decades. Nigeria, Africas most populous nation, ended a cycle of military rule in 1999, and the Democratic Republic of the Congo, the site of decades of civil strife that left millions of people dead, saw its first multi-party elections in nearly 50 years in July 2006. Liberia, after 14 years of civil war that devastated the countrys infrastructure, elected Africas first female president, US-educated banker Ellen Johnson-Sirleaf, in 2005.
Analysts agree that this shift toward democracy, along with economic liberalization, has helped spawn a wave of opportunity for the sprawling continent. Africa has done in 10 years [on electoral changes] what it took Latin America 40 years to do, says Calestous Juma, a professor at Harvard University. Africans are embracing change as the new order.
Rather than point to specific regime changes, Richard Mshomba, a professor of economics at La Salle University in Philadelphia, prefers to see the overall shift from single-party to multi-party states as more significant. In the early 1990s many African countries, for example, began to make the necessary changes to their constitutions. Before, opposition parties were not allowed. There were no term limits for leaders, says Mshomba, who left his native Tanzania in 1982. And one important thing that a multi-party system brings along is private newspapers and freedom of the press. Before, there would be only government or ruling-party newspapers, he adds.
Mshomba also sees the continents more liberal economic policies as significant. Though frequently criticized as a failure, the structural adjustment programs foisted on African nations by multilateral financial institutions were successful on some levels because they forced African nations to make needed changes, he says. He points to more stable exchange rate policies that corrected dysfunctional exchange rate systems, the emergence of private banking systems and more liberal agricultural policies.
All of these trends have helped contribute to an expected economic growth rate of nearly 6% in the coming year. In its latest report, issued last month, the United Nations Economic Commission for Africa says the expected jump of 5.8% for 2007 is the fourth straight year of 5%-plus growth.

Paula L. Green