The Big Consumers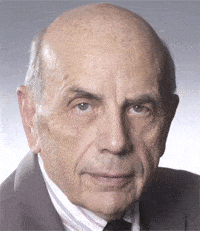 Ebel: Theres no silver

bullet

Blame it on James Watt and the steam engine. Ever since the Industrial Revolution began in Britain more than 200 years ago, global energy consumption has increased in lockstep with economic growth. And as economies continue to grow, so does energy use. The International Energy Agency, based in Paris, predicts a rise in global energy demand of 50% to 60% by 2030. Others are forecasting even greater demand, despite the prospect of continued high oil prices.
Three-quarters of the increase in energy use is expected to come from fast-growing developing countries such as China and India. As living standards rise in emerging market economies, their people are developing a love affair with the automobile. Rice paddies are being paved over to make way for highways and parking lots. Car sales in China rose 27% in the first half of 2006 from the same period a year earlier to more than 3.5 million vehicles, according to the China Association of Automobile Manufacturers. More than 1 million cars were sold in India last year, and its auto market also is growing at a double-digit annual rate. Meanwhile, growing demand for air travel is playing an even bigger role in the increase in energy demand.
The United States is the largest oil-consuming nation by far, using more than 20 million barrels a day, but China already is in second place and is gaining rapidly, according to the Energy Information Administration, or EIA, part of the US Department of Energy. At a time of high oil prices and increasing concern about environmental damage, what can countries, companies and individuals do?
As an individual consumer, there isnt much you can do, says Robert Ebel, chairman of the energy program at the Washington, DC-based Center for Strategic and International Studies. You basically have three tools to lower your energy consumption: your car keys, the light switch at home and the thermostat, he says. There is no silver bullet out there to solve the energy problem. We can tell [oil producers] that the higher the price of oil goes, the more effort we will put into finding alternative energy sources, he suggests.
Nevertheless, by the year 2030, fossil fuels will still constitute 80% of the worlds energy supply, despite increased use of hydroelectricity, solar, biomass, nuclear, wind, tides and other alternative energy sources and technology.
Energy security was slated to be the number-one topic on the agenda when the Group of Eight industrialized countries met in St. Petersburg, Russia, in July, but the issue was overshadowed by the situation in Lebanon. It would have been a thorny issue anyway as Russiathe meeting host and a major supplier of natural gas to Europebriefly halted gas supplies to Ukraine earlier this year and has moved to tighten government control of the industry. The EU has been urging Russia to adopt the Energy Charter, an international rulebook, which Moscow has signed but not ratified.
Ensuring sufficient, reliable and environmentally responsible supplies of energy at prices reflecting market fundamentals is a challenge for our countries and for mankind as a whole, the G-8 said in a statement. The group called for investment in all stages of energy supply, as well as transparency and good governance in the energy sector.
Rising oil prices threaten to slow the pace of global growth, but not enough to keep energy demand from increasing by 71% by 2030, says Guy Caruso, EIA administrator. The EIA expects world nuclear capacity to rise from 361 gigawatts in 2003 to 438 gigawatts in 2030. While Germany and Spain have plans to phase out nuclear power, the UK government recently gave the go-ahead for a new wave of nuclear power stations, built and operated by the private sector, to reduce future reliance on imports as North Sea oil runs out and to help cut carbon emissions. France gets 78% of its electricity from nuclear power and is the worlds largest net exporter of electricity.
The US Department of Energy announced a new nuclear initiative in February, including a $250 million fiscal 2007 request to launch the Global Nuclear Energy Partnership to enable the expansion of nuclear energy worldwide by demonstrating and deploying new technologies to recycle nuclear fuel. Last year, Washington signed a deal granting India access to US nuclear fuel and reactors, although the agreement is yet to be approved by the US Congress.

China Employs Best and Worst


China will continue to rely on its vast reserves of coal, which is dangerous to mine and highly polluting to burn, for the majority of its future energy needs. Nonetheless, the country has set a goal of getting 15% of its energy from renewable sources by 2020, including hydroelectric and solar.
Solar is the ultimate alternative energy technology because it is so simple, says Jesse Pichel, senior research analyst at securities firm Piper Jaffray. You take what looks like a rubber doormat and unroll it on your roof. Every major company wants to install it as a hedge against rising utility prices, he says.
According to Pichel, however, there are only three markets in the world where solar power makes economic sense right now: Japan, Hawaii and California. These are markets that have electricity costs of 30 cents or more per kilowatt hour. Chinas low-cost manufacturing capabilities, however, will help to bring down the cost of solar power so that it can compete in more areas with traditional electricity generation, Pichel says.
China-based Suntech Power Holdings, which makes photovoltaic cells, raised $396 million through a listing of American depositary receipts on the New York Stock Exchange last December. Yingli Solar, another Chinese solar-power equipment maker, plans to raise about $400 million through an initial public offering on Nasdaq by early 2007.
Suntech recently signed a letter of intent with MEMC Electronic Materials to buy $5 billion to $6 billion worth of solar wafers over a 10-year period. It is only a matter of time before the solar wafer industry will be as big as the semiconductor industry, Pichel says. Every semiconductor manufacturer is announcing a solar strategy, he notes.
The US has worked hard, and with some success, to diversify its supply of oil. About half of its petroleum imports are from countries in the western hemisphere, especially Canada and Mexico, its biggest suppliers. According to the EIA, about 19% of US petroleum imports comes from the Middle East and 18% from Africa, with the remaining 13% from other regions.
Industry uses one-third of the energy consumed in the US, followed by transportation at 27%, residential at 22% and commercial at 18%, the EIA estimates. The National Association of Manufacturing points out that while US industry has improved its energy efficiency dramatically, more and more products are imported from countries where energy efficiency lags far behind that in the US.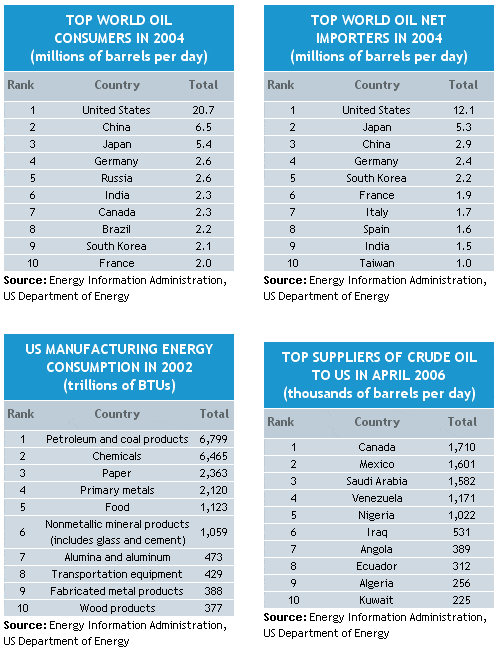 Gordon Platt