As the dust settles after the German election, it is becoming clear that Europes largest economy is undergoing a profound transformation. That change will come at a price, though.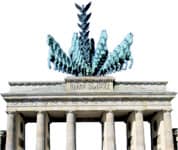 When German conservative leader Angela Merkel finally put together a Grand Coalition of left and right in November, it marked a remarkable overturning of the post-war settlement in that country. Much was made of the fact that Merkel was a womanGermanys first female chancellor, indeed. More important still is the fact that as someone who grew up in the former East Germany, she has little natural attachment to an economic model that had long since shown signs of its age.
I would like to see Germany put back on its feet again, was Merkels rallying cry.
Make no mistake, the German economy is mired in the mud: GDP is expected to rise by a measly 0.8% this year. Next year it will grow by just 1%, according to IFO, the panel of economists that advise the government. That 1% mark is beginning to look like a bad habit: Most estimates put Germanys trend growth around that level, shameful compared to the 2% level of the rest of the eurozone, let alone the 3% cruising speed of the US economy.
Unemployment hovers just over the 5 million mark, a level last seen just before the Weimar Republic gave up the ghost to the Nazis. In some former East German states almost one in five people are out of workand that despite some $110 billion of handouts to the East since reunification.
Those handouts, those dole queues, have savaged public finances. Germanys fiscal deficit stands at over 3.5% of GDP. For four years in a row now, Germany has burst through the 3% mark established by the treaty underpinning the euro single currency.
So, did the installation of a new government led by a self-declared outsider and reformer unleash a tide of optimism that change is on the way? Hardly.

More than ever, I suspect that what Germany does will be too little, too late, is the opinion of Timothy Garton Ash, the University of Oxford historian who is one of the most astute observers of modern Germany. The make-up of the coalition provides little hope of radical enough change in the areas needed to reboot the German economy, he says: labor laws, taxes and welfare contributions. A glance at the make-up of the new coalition suggests he might have a point. Of the three top economic posts, two are occupied by Social Democrats and one by a member of the CSU, a right-wing party with a strong social bent (see box for more details). And the initial program of the coalition doesnt exactly grab Germany Inc by the scruff of its neck. Minor labor, pension and corporate and income tax reforms have been jostled out of the limelight by a rise in value-added-tax (VAT), a kind of rolling sales tax.

Michael Huether, director of the Institute of the German Economy, a think tank, estimates that the VAT rise alone will drain E34 billion from citizens pockets and cut 1.5% off the potential rate of German growth. This is poison for the German economy, says Dieter Hundt, president of the countrys employers association.

Thats because Germans are already keeping their pocketbooks firmly in their, well, pockets. Germans save 11% of their income, compared to the less than 1% that Americans put aside for a rainy day. True, theyve long been a thrifty people, but there is a haunting conundrum that lies at the heart of most recent efforts to address Germanys ills. Because public sector cost-cutting and private sector restructuring almost always involve short-term pain, the measures end up battering the confidence of the German consumer still further, according to Charles Dumas, an economist at the London-based Lombard Street Research.

And they do have something to be frightened about: In January this year, the Hartz IV reforms kicked into life, means-testing social security benefits for the unemployed and making life uncomfortable for long-term dole-takers who turn down job offers. That stick has been allied with a carrot: Unemployed people can now take jobs that pay them one euro per hour on top of benefits. More than 200,000 people have taken advantage of this. Other still have taken up so-called mini-jobs, paying E400 a month.
But these measures have failed to cut into the ranks of the long-term unemployed and have added some $9.8 billion to the social security budget.
For too long, the German workforce has been divided into two camps: those with jobs, good conditions and security and those on the outside looking in. German workers are the most expensive in Europe at $34 an hour (the US equivalent is $23.16). Little wonder that faced with the challenge of China and the opportunity of a low-wage, relatively skilled workforce in the new EU members immediately to the east, German firms have become net exporters of jobs. Rarely a day goes by in Germany without headlines over a planned shuttering of a hometown factory as production facilities are shifted abroad.
But as always in Germany, the truth is a little more complex than the headlines. Frightened by the prospects of unemploymentparticularly on the new termsGerman workers have begun to react, cutting deals to save jobs. Take Grohe Water Technology, makers of high-quality bathroom fittings. When new owners Texas Pacific Group and the private equity arm of Credit Suisse First Boston earlier this year unveiled a plan to cut 3,200 out of 4,500 jobs by moving production to China, union IG Metall didnt call its members out. Instead it came up with a counterplan, one that saw one plant close down and 1,000 cut from the payroll. In exchange TPG and CSFB agreed to increase investment in the remaining facilities.
Thats a pattern repeated all across Germany, whether its carmaker Daimlers workers taking a pay freeze or Siemens workers staying on up to 40 hours a week for the same paycheck they got for 35. Add that to low inflation in Germany, and unit labor costs have fallen by some 10% against the EU average since 1999.
Thats helped Germanys blue-chip companies take advantage of the tailwind provided by global GDP gains of over 5% to boost exports by over 50% in five years, especially in the kind of capital goods it makes and China wants. Germany Inc sells over $920 billion of goods and services abroad, making it the worlds largest exporter.
That has translated into bumper profits for a string of leading German companies. It hasnt worked through into the payroll, however. Ever more Anglo-Saxon in attitude, German boards are distributing more of their gains to shareholders. And while union flexibility is slowing the drain of jobs abroad, it

is not encouraging managers to create new ones at home. Indeed, Germanys top 25 companies actually reduced the amount they invested at home by 20% in 2004, compared to a 10% slowdown worldwide in the same period.
Thats partly, of course, because they are getting more out of fewer workers. But its also because it remains expensive to take on staff. Of the average $34 an hour labor costs, a full $15 is absorbed by social costs.
The new government has indicated it will go a little way to easing the burden. Workers will have to pay more toward health and pension provision. But its probably not enough to bridge the expensive gulf between workers in jobs that carry full benefits and the swelling army of micro and euro workers.
And, again, in the short term those measures are likely to depress domestic consumption still further. At the moment there is one German worker for each retiree; by 2035 each worker will have to support two pensioners. Faced with that equation, Germanys citizens are doing the sensible thing: They are saving for their future.
Thats turned the German Main Street into a morgue. Heres one vignette: Mid-November, international clothes store H&M; introduced a low-cost diffusion range by hot designer Stella McCartney into their stores across Europe. In Londons Oxford Street, would-be fashionistas fought to get at the dresses, and the range was sold out within two hours. Two days later a colleague of this writer reported seeing racks full of the clothes in H&M;s Hamburg store. (OK, so Stella is Brit, but she is courted across the world, and her dad is Paul, of Beatles fame.)
International companies such as H&M; can weather poor demand in one area of their operations, but it is the Mittelstand companies that are most feeling the pain that comes with swooning domestic demand.
By some counts these small- and medium-size companies provide 80% of jobs in Germany; classical economics tells us that in an advanced economy such as Germanys they should account for a still higher percentage of new posts. However, it is this sector of the German economy that has found itself most constrained by rules and restrictions, starving entrepreneurs of the time and energy to grow their businesses.
Some of that burden is of their own making: The rules that say who can be a plumber, for instance, owe more to the guild system of the Middle Ages than to any modern, regulated economy. But still others are a by-product of Germanys ever-present urge to over-engineer its society.
Merkel and her new crew need to get the figures right at a national level to bring the deficit under control. But there is much, much more that can be done at a more micro level to get Germany back to work again.