Africas New Wave Of Hope



Investment Remains Elusive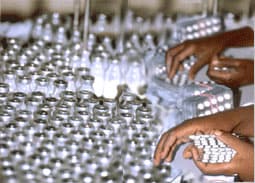 With so many countries economies largely dependent on external funding, it is difficult for many nations in Southern Africa to lure foreign investment without exacerbating poverty. Poverty levels in Southern Africa have reached such alarming proportions that the heads of state of Tanzania, Malawi, Mozambique and Zambia spoke out at a recent summit, urging reforms to transform the economic landscape of the entire region. President Benjamin Mkapa of Tanzania has since called for quicker implementation of regional measures to boost development. Let us boost initiatives rather than lingering on theories, he said.
Increasingly, calls are emerging for African nations to solve their own problems instead of relying on external aid. Mbingu wa Mutharika, a former secretary general of COMESA, says Africa needs to deal with the prevailing economic problems instead of begging for support from outside. But he also admits it would be difficult to achieve economic independence without first stimulating regional cooperation and integration. The outgoing President of Mozambique and chairman of COMESA, Joachim Chissano, has voiced similar sentiments.
Some blame donor countries and their agencies for propagating Southern Africas economic problems, however. They claim that inflexible lending policies and barriers to establishing trade with markets in the industrial countries are at least partly responsible for the economic stagnation of the region. Some in the aid community agree. ActionAids Greenhill is pressing donor nations to reconsider the terms under which they offer help to developing nations. One of the problems is that aid often comes with very stringent conditions attached that undermine country ownership and often hurt rather than help poor people, she says. Much aid is more focused on the donor priorities, its uncoordinated, and a lot of it goes back in the form of debt servicing. Its certainly not working as well as it should, she adds.
Already, Prime Minister Blairs initiative has come under fire, with critics alleging it doesnt address the need for aid to come without strings attached. Indeed, Blair is anxious that countries exhibit better governance if they are to receive aid. For the first time we have a plan that wont just deal with aid and debt butissues of governance within African countries and conflict resolution, Blair commented.
Many African leaders agree that governance is a problem, but they resent the idea that donor nations might make aid provisional on governance improvements. Africa needs to improve governance as an end in itself, not as a means of coaxing additional assistance from the international community, says Ethiopias Zenawi. Good governance is necessary for speedy economic development, and we need speedy economic development; we need to combat corruption. I do not believe there is necessarily a connection betweenaid and good governance and corruption.