Recent political turbulence gave potential investors pause for thought, but conditions in Ukraine are becoming much more investment-friendly.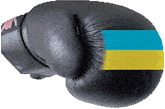 This has been a difficult year for Ukraine. First of all, it ended up in a painful and costly row with Russia over the price of its gas supplies. Then, in March, inconclusive parliamentary elections threw the country into a state of flux again. The winners that emerged from the March 26 parliamentary electionwhich include the pro-Moscow party of Viktor Yanukovych and the pro-Western liberal leaders of the Orange Revolutionhave until the end of this month to sort out their differences. But some believe it will take much longer for most investors to gain the clear economic picture they need before they will sink money into this resource-rich nation of nearly 50 million people.
I think there is a wait-and-see attitude. It will be halfway through 2007 before the [new government] builds enough confidence to attract investment, says Daniel McCarthy, a professor at Northeastern Universitys College of Business Administration in Boston. They face the Catch 22 that any leaders in eastern and central Europe do. They need to build a positive economic environment to attract investment. But to stay in office, they need to take care of social programs or they wont get re-elected.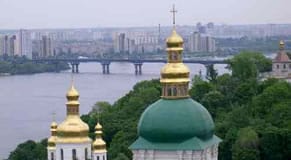 Analysts agree that the political uncertainty that followed the Orange Revolutionwhen citizens clad in the orange campaign colors of presidential contender Viktor Yushchenko took to the streets in November 2004 after allegations of widespread vote rigginghas been a major factor behind this nations dramatic drop in economic growth.
GDP growth sank from 12% in 2004 to just 2.5% last year and will hover below 3% this year as the political dust settles and the new government lays out an economic agenda. The surge in energy costs since Russia nearly doubled the price of natural gas in January has also hobbled the countrys economy.
Ukraine is going to have to pay higher prices for gas for the long-term, says Tanya Costello, an analyst at political risk firm Eurasia Group in New York City. She adds that the surge in energy prices has contributed to the countrys first current account deficit since the 1998 global fiscal crisis.
Once again, there are a lot of the political uncertainties that accompany any changing government, says Helena Hessel, a director at ratings agency Standard & Poors, adding that many necessary reforms, from revamping the civil service to an aggressive privatization program, were shelved in the run-up to the elections. Ukraine is a huge market and has the possibility of connecting with the EU in the future. But for now the economy is still very weak, she adds.
The Ukrainian banking sector, shielded from political differences by its crucial role in the economy, remains attractive to foreign firms. Lured by the countrys huge domestic market and an untapped consumer appetite for loans, credit cards and mortgages, European banks are buying into Ukrainian banks. Banking systems in transition economies are always attractive, says Hessel.
Ed Parker, head of emerging Europe sovereigns for Fitch Ratings, adds that Ukraine is one of the last outposts in eastern Europe for western European banks intent on aggressively expanding their balance sheets. Ukraines high political risks, poor economy and generally weak levels of corporate governance and banking supervision and regulation have acted as a barrier to entry, says Parker. However, since the Orange Revolution, foreign banks have shown more interest.
After months of negotiation, for example, Vienna-based Raiffeisen International Bank last August announced its $1 billion purchase of 93.5% of Bank Aval, Ukraines second-largest bank.

Sale and Return

The countrys potential doesnt stop with the banking sector. Other promising industries include steel, minerals, autos, retailers and construction materials. Kryvorizhstal, the countrys biggest steel mill, was responsible for a dramatic spike in foreign investment when it was sold last October for $4.8 billion to Mittal Steel. The Rotterdam-based company, the worlds largest steel maker, acquired a 93% stake in the plant and an iron ore mine. Representing 6% of Ukraines GDP, the sale price dwarfs the $1.5 billion in foreign investment in Ukraine for all of 2004. Metal products are a big industry, and it [Kryvorizhstal] was attractive, says Hessel. Mittal Steel wanted to have an interest in eastern Europe, and it was the biggest remaining steel industry in eastern Europe.

The October price tag was also five times the sale price of $850 million in June 2004. That sale, to a consortium that included the son-in-law of former Ukrainian president Leonid Kuchma, was subsequently touted as an example of the countrys close ties between politics and the business world and was eventually annulled by a Ukrainian court in February 2005.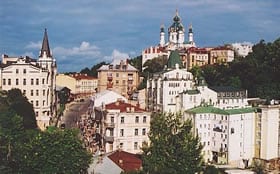 The new government that emerged from the Orange Revolution initially pledged to review the sales of several thousand state-owned businesses that had been sold to allies of the Kuchma administration at rock-bottom prices. The policy became mired in political infighting, however, and it played a part in President Yushchenkos decision to dismiss the government of former prime minister Yulia Tymoshenko in September 2005. The BYT party of Tymoshenko, a fierce advocate of the review program, came in second in the spring elections. That spooked investors, says Costello.
Yet for all the political turbulence of the past 18 months, the former Soviet satellite continues its shift to the West. Although Ukraines joining the 25-member European Union is not part of the ECs current enlargement strategy, officials from Ukraine and the North Atlantic Treaty Organisation (NATO) met several times last year to discuss membership issues. With its strategic position at the crossroads between Europe and Asia and its pending membership in the World Trade Organization, a politically stable Ukraine would be attractive to manufacturing companies that want to export throughout the region. Slightly smaller than the size of Texas, Ukraine has abundant natural resources and a well-educated population with a literacy rate of 99%.
Another positive development is a recent US Congress decision to remove Ukraine from the list of nations affected by the Jackson-Vanick amendment, a 1974 US law that links trade with the emigration policies of former Soviet-bloc countries. That decision should accelerate trade and investment between the two nations.
Questions remain over the transparency of Ukraines political system, but analysts believe the country is moving in the right direction. Its hard to imagine they would have fair and transparent elections, says Kutlay Ebiri, a manager in the central and eastern Europe department at the International Finance Corporation, referring to the March parliamentary polls. The IFC promotes sustainable private sector investment in developing countries and now has $480 million of cumulative investments in Ukraine, up from $11 million in 2003. Ebiri is optimistic that Ukraines economy will continue to grow strongly, suggesting it could notch up 4% to 5% in 2007 if political stability is established this year. Its pretty clear that theyre moving determinedly to the West, he concludes.

Paula L. Green