When companies choose to do the right thingfor whatever reasonsits good

not just for their corporate souls but for their business, too.


If it was a trend this time last year, it is a veritable frenzy this year.The growth in interest in corporate social responsibility (CSR) has been matched only by the explosion in the number of names used to denote it. Corporate citizenship, corporate responsibility or sustainability call it what you willits undoubtedly become a permanent feature of the corporate landscape.

The relentless growth of good corporate behavior is not likely to slacken in the near future, according to Sunny Misser, global and US leader of Pricewaterhouse- Coopers sustainability practice.Within the next 18 to 24 months corporate responsibility, its monitoring practices and reporting will no longer be discretionary, or even provide a competitive advantage.It will become a competitive necessity, he cautions.

According to the consultants latest global CEO attitudes survey, 79% of CEOs now agree that sustainability is vital to the profitability of their company.Another survey released at the beginning of June shows more than 80% of senior executives at large US-based businesses believed sustainability practices would be important or very important to their business mission in the future.

On the surface it might appear that the key players in the corporate worldand corporate America in particular have had an epiphany and finally acknowledged what advocates of corporate responsibility have been saying for years: that good corporate behavior combined with sound business fundamentals provides a sustainable long-term strategy for a corporation.

Sadly, according to Lynn S.Paine, head of the faculty interest group on ethics, law and leadership at Harvard Business School, most executives motives for becoming good corporate citizens are less noble. Sure, there are some who say,Gee, its just a better way to do business, she says. But the vast majority of them gains a social conscience for one of four reasons:

Risk management, either after experiencing a crisis or a scandalor perhaps seeing a rival company caught for some sort of wrongdoing.

Attracting high-quality employees.

Reputational concerns: They want to project that they are a good company to deal with.

External pressure from regulators, NGOs (non-governmental organizations), communities and other nonmarket actors.

Other leading experts on corporate responsibility agree that fear plays a great part in prompting, as one expert characterizes it, the blossoming of the corporate conscience.

One of the corporate worlds greatest fears is that the recent rash of revelations of unethical corporate behavior will lead to more legislation. US executives are unsettled by what they see happening in Europe, where the concept of corporate citizenship is considerably better established than in the States. In the UK, particularly, many of the actions companies are taking to become or to appearmore responsible are part of a desperate rearguard action aimed at heading off the imposition of additional regulatory constraints. The threat of legislation to constrain directors pay, for example, looms large, particularly after the dramatic rebellion at GlaxoSmith- Kline,where shareholders recently voted down lucrative remuneration packages for the companys top executives. In the immediate aftermath of the shareholder rebellion, the UKs secretary of state for trade and industry, Patricia Hewitt, responded to what she called continuing shareholder concern and launched an investigation into directors contracts, performance, severance payments and the linkage between them. Her stated target is directors who leave companies that have performed poorly but who receive huge compensation payouts.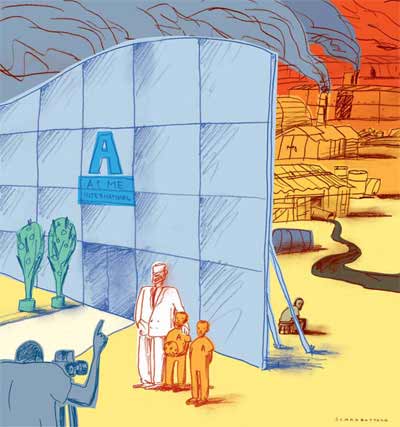 Brand Recognition


The sharp growth in companies social awareness has paralleled another significant development in the global commercial environment: the dramatic rise in importance of the brand. Simon Webley, research director at the Institute of Business Ethics in London, says, As the brand becomes ever more important, a companys success increasingly rests on the publics perception of its brand. In the PricewaterhouseCoopers CEO survey,79% of respondents said reputation and brand had considerable or extensive impact on their approach to sustainability. Its hardly surprising,then,that companies such as Nike and McDonalds are working so hard to present themselves as responsible corporate citizens.According to Interbrand, an international branding consultancy, Nikes brand is worth $7.7 billion. McDonalds brand is valued at a whopping $26.4 billion. Clearly, when a companys brand and image are so intrinsic to the success of the business, maintaining the brand image is a risk-management exercise. Risk management and reputational concerns overlap in many cases, as damage to a companys reputation could prove very costly, and, therefore, is a financial risk, says Paine.

Yet companies such as these, partly because of their associations with globalization and the worldwide dominance of American businesses, are precisely the sort of organizations that most raise the ire of activists and campaigners against corporate malpractice. It seems that no matter how hard these corporate behemoths work to ensure they are responsible corporate citizens, they cant shake the impression that they are exploitative capitalist machines riddled with corrupt executives intent on lining their own pockets, regardless of the impact on society. In a recent online poll, Adbusters, an alternative magazine about the advertising and marketing industry, asked its readers to nominate the brands that stand out for pollution, animal abuse, lethal tobacco, sweatshop labor, advertising clutter, arms sales, genetic hi-jinxthe long list of corporate crimes. In late June McDonald's was at the top of the list with 5,274 votes, and Nike was in third place with 4,496 votes. Oil giant ExxonMobil took second place.

Webley believes many such global companies are the victims of a misunderstanding.Im never quite sure why companies such as Starbucks and McDonalds are picked on [for their social behavior] so often. I think it is because people get confused between the issues of social responsibility and globalization, he says. McDonalds, for example, was recently applauded for its efforts to improve standards at its meat suppliers and to raise the standards of animal welfare industry-wide. Misunderstanding or not, the experiences of companies that suffer frequent public roastings, or in some cases physical attacks from protestors, strike fear into the hearts of companies with high-profile brands.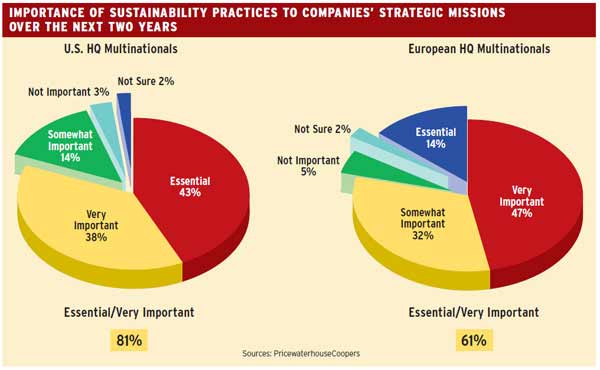 Socially Responsible Investing


Arguably the publics perception of a brand has always been an important factor in sales of products, but a more recent phenomenon is making companies especially touchy about their brand image: socially responsible investment (SRI) funds. Relatively unknown just a few years ago, SRI has become a potent force in the investment industry. In the US alone,more than $2 trillion is invested in socially screened funds.The explosive growth of SRI has been a significant factor in persuading companies to present themselves as socially responsible. There is a downside, though: the risk of being delisted.

In January this year, for example, Henderson Global Investors, a UK fund manager, removed oil giant BP from its list of approved SRI investments in response to concerns over a project with which the company was involved in Alaska. Such an event is especially galling for a company such as BP because it places a great deal of emphasis on being socially responsible and maintains a regular dialogue with the managers of many SRI funds.

The Alaskan issue has not been the only chink in BPs socially responsible armor. On the day the company announced its latest initiative to reduce pollution from vehicle fuels, it was accused of striking a deal with the Turkish government that could seriously threaten thousands of peoples human rights. A closer inspection of the Amnesty International report that prompted the allegations reveals Amnesty is not identifying an existing human rights violation but is flagging up a potential issue, one that both BP and the Turkish government claim will not arise. Nevertheless, many of those who saw news coverage about the report will be left with the impression that yet another oil giant is sacrificing the rights of the local population on the altar of commerce.

BP takes great pains to point out it is working with concerned local and international organizations. A spokesperson says,We work alongside NGOs [non-governmental organizations], and we have engaged many times with critical NGOs if they are genuinely working to improve conditions, be they environmental, social or whatever.

BP is certainly not alone. Shell, another oil company that prides itself on its responsible behavior, recently took a beating from a coalition of respected environ- mentalists over its gas development in the Castle Wilderness in Alberta, Canada. The New York-based environmental pressure group Natural Resources Defense Council accused the company of having already degraded the area to the breaking point and urged it to cease operations there. Shell is frequently cited as a company that is making great strides in acting responsibly. Many in the corporate responsibility movement promote Shells CSR policy as an example of best practice for other aspiring responsible corporate citizens.

PricewaterhouseCoopers Misser agrees that it can sometimes seem that no matter how hard a company works to be socially and environmentally responsible the company will always suffer an image problem. Sometimes it is the nature of the industry you are in that can affect your public perception. But it is not irreversible, he says.


Window Dressing or Genuine Commitment?


According to one senior executive at a New York Citybased global advertising agency, many companies initial response to the need to appear socially responsible is to hire more lawyers and public relations specialists. Its like any new code of conduct that threatens to disrupt the status quo: Companies will put all their effort into finding a way around it, he says.

Figures from a recent survey of companies in the UKs FTSE 250 index would appear to back up the assertion that many executives are more concerned about image than substance. According to a report by London, UKbased public relations consultant Pielle Consulting Group, in 24% of the organizations surveyed responsibility for CSR activities rests with the corporate communications or public affairs departments. Almost a third 30%viewed the key benefit of establishing a dialogue with stakeholders as helping identify key activities for public affairs or areas of reputation management.
But some campaigners are unperturbed that in many companies CSR or corporate responsibility is still considered to be a soft issue and relegated to the public relations or corporate communications department. Leo Martin, a director of London-based GoodCorporation, acknowledges that many companies view adopting or promoting CSR as primarily an image-building exercise.The impression that companies are jumping on the CSR bandwagon and are more focused on image than substance is reinforced by companies that have seen their competitors producing fat, glossy reports on their CSR policies and decide they want to do the same.Those reports have been rightly criticized because they have, say, photographs of people in some poor African village that they have helped, but there are no details about the companys treatment of employees in that country or how it treats its suppliers there,Martin says. But, he points out, once a company begins to embrace CSR, for whatever reason, it doesnt take long for the sense of responsibility to permeate throughout the organization. It might start off in the public relations department or with specialist, add-on CSR teams, but it will eventually work its way into every area of the business, he comments. Another senior figure in the corporate responsibility arena adds:A company that has been aware of social responsibility for longer will have seen the upside. The more they understand it, the more they will see the opportunity that is inherent in being a responsible corporation.


Walking the Talk


The key,according to Misser, is leadership:Companies need to have strong CEOs who can make bold and clear decisions on what they consider to be right and wrong. Not only will the rest of their corporation follow but so will the other industry players.

A report by the Judge Institute of Management at the UKs Cambridge University supports this assertion. Based on a survey of CEOs from global companies with combined revenues of almost $5 trillion, the survey found that environmental and social credibility would be among the most important factors contributing to the maintenance of corporate reputations in the future. But the most important factors were considered to be leadership and vision.

Misser cites Chad Holliday, chairman and CEO of chemical giant DuPont, as a prime example of an executive who is taking a bold stand on corporate ethics and setting an example that other companies senior managers are now following. But Hollidays experience may also strike fear into the hearts of executives who are hoping to add ethics to their list of strong points.The coauthor of a pioneering book about corporate citizenship, Walking the Talk: The Business Case for Sustainable Development, Holliday is a vocal proponent of ethical corporate behavior.Yet DuPont has recently been accused of some profoundly unethical behavior relating to a chemical used in the production of Teflon.

The chemical, commonly known as C-8, has found its way into the air and the water supply of a number of communities near the companys Washington Works site in West Virginia.A Washington, DC-based environmental pressure group, the Environmental Working Group, alleges that DuPont had an opportunity almost 20 years ago to eliminate air and water releases of C-8 but actually allowed off-plant pollution to increase.

DuPont has responded to the allegations and has set up a Web site specifically focused on the issue. According to company spokesperson Kathy Forte, the company has also been in regular contact with local media and holds frequent meetings with local people and other interested groups. But no matter how valid the companys defense, the accusations have stuck. Many people who have read or heard about the events are now under the impression that DuPont is not a responsible corporate citizen.

Misser says:The question is not now how something like this happened but how the company will react now this has happened.That defines whether a leader really is walking the talk. According to Forte, Holliday has not been involved directly in dealing with the C-8 issue, but DuPont is clearly working hard to address concerns among the local community.

Investors Remain Unconvinced


Events like the demise of Enron,WorldCom and others have shaken investors faith in business, says Chris Moon, director of Essex, England-based corporate ethics consultant CSR Global.Despite senior managements assertions that they were committed to social and environmental programs and that the company had a strong code of ethics, it didnt mean the company was behaving ethically, he explains.

Companies need to do more than produce glossy social reports if they are to convince stakeholders that what they say they do they actually do in practice. Stakeholders increasingly expect to see proof, says Moon.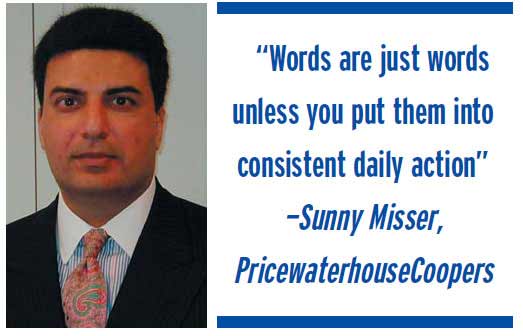 Moon sees encouraging signs among corporations, particularly in Europe,where, he says,leading companies are now focusing more on implementation and are reviewing policies against externally recognized standards. Not entirely surprisingly, Moon believes the best way to convince stakeholders that a company is as good as its corporate citizenship report claims is to have the report audited by an independent consultant. Choosing the right standards and the best consultant can be a huge task in itself, though.While corporations may be working hard to improve their ethical performance, or at least their appearance of being ethical, investors have yet to be persuaded that anything has really changed. In its March survey of investors confidence in business ethics, Bedminster, NJ-based Rating Research found that 47% of investors were either not at all confident or not very confident that senior managers of public companies behaved ethically.That proportion, based on responses from 500 US investors, has actually risen since the previous survey in January this year.

The research company,which specializes in measuring and analyzing companies intangible assets, also found only 9% of investors were more confident than they had been a year previously in the ethical behavior of senior managers. Clearly businesses have a long way to go before they win back the faith of investors and convince pressure groups and governmental organizations that they really care about being responsible corporate citizens. PricewaterhouseCoopers Misser sums up the challenge: Long-term sustainable performance does not just come from proclaiming values; it comes from consistently putting them into practiceliving them. Enron, which had an impressive code of corporate ethics, is a prime example, says Misser.Words are just words unless you put them into consistent daily action.

Dan Keeler