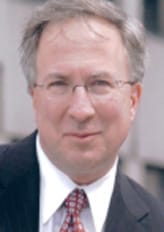 Delves questions if big payouts are necessary.

According to Delves, the reason most often given by corporate boards for approving such cushy compensation agreements is to protect the shareholders. This rationale is in direct opposition to the truth, he says. These agreements are very expensive to shareholders, and the payouts influence whether a deal gets done and the price a company can realize in a takeover, Delves says.
Normal severance provisions are usually 1.5 to two times salary and bonus, so why should payouts be three times normal compensation in the case of a merger? Delves asks. If a CEO is that good, why does he need to be paid three times his pay while he looks for a new job?
Kilts cashed in on his exit agreement with Gillette only five years after getting $70 million in connection with the sale of Nabisco to Philip Morris, now Altria.
Originally introduced as poison pills to thwart takeover attempts in the 1980s, golden parachutes, also known as golden handshakes, are now more commonly used to attract and retain executive talent.
CEOs taking on risky turnaround challenges, in particular, are demanding and getting large amounts of restricted stock and non-cash compensation in the event there is a change in control of the company. As a result, golden parachutes are getting bigger and the landings for CEOs are getting softer. Executive compensation consultants say that each situation is different and that it is never easy to say how much reward is justified for a CEO who helps create billions of dollars in shareholder value, often by restructuring a company and firing workers.
You have to peel back the onion, says Doug Friske, a managing principal in the Chicago office of Towers Perrin, who is responsible for the US central region executive compensation and rewards practice. Some CEOs have held the same job for long enough to accumulate sizable stock holdings, and stock prices have risen, he says. Major corporations in general have increased long-term incentives an part of a trend toward pay for performance, he notes. The goal is to introduce more objectivity into decision-making.
I would hope that these parachute agreements help to focus the CEOs thinking on maximizing shareholder value, which is directly aligned with the interests of shareholders, Friske says. Ultimately, a companys board is responsible for deciding whether or not a deal gets done, and not the CEO, he says.
Performance-based pay as a share of total remuneration for CEOs worldwide ranges from 14% in India to 62% in the United States, according to a study released by Towers Perrin in January. The size and frequency of stock and other long-term incentives is increasing in most parts of the world. While CEOs in the US have the largest pay packages, the gap with Europe is narrowing. Meanwhile, Asian countries such as Singapore, Malaysia, Taiwan and China are offering annual bonuses of 10% to 15% of salary for professionals, which is above the 5% to 10% of salary that bonuses average in North America and Europe, the Towers Perrin study found.
The US is a more dynamic market in terms of executive-search firms, Friske says, and CEO turnover is higher in the US than elsewhere. The average tenure for the CEO of a major US company is about three years.
When companies in different countries are battling for similar types of executives, the price tends to go up, says Edward Hauder, Chicago-based principal in the compensation consulting practice of Buck Consultants. A properly defined change-of-control agreement is an incentive for top-of-house officers to consider a takeover bid, he says. It makes them neutral to a proposed acquisition.
Announced global mergers and acquisitions increased by 38.4% to $2.7 trillion in 2005, which was the most-active year for global M&A; since 2000, according to Thomson Financial. Many of the forces that spurred a rise in mergers last year remain in place, including large pools of private equity, relatively easy access to capital and demand for energy assets.

HOW BIG IS YOUR PARACHUTE?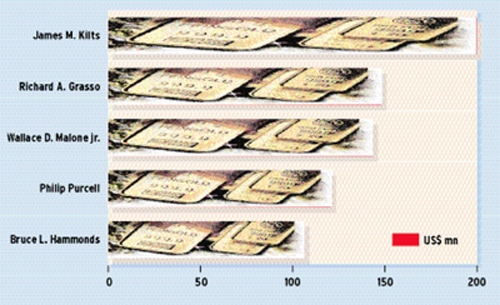 Following are some of the biggest exit agreements paid out in the past several years. Many other chief executives have negotiated similar promises that will have to be paid if their company is taken over or there is a change in control.


RICHARD A. GRASSO,

former chairman and CEO of the New York Stock Exchange, was forced to quit in September 2003 after it was revealed that he received a lump-sum payment of $139.5 million. He says the exchange still owes him about $50 million.


JAMES M. KILTS,

former CEO of Gillette, received $165 million in stock options and severance pay when Procter & Gamble acquired the shaving-products company last year. He also got options worth $23 million to stay on as vice chairman of the combined firm for one year. This was his second golden parachute. Five years earlier he received $70 million in connection with the sale of Nabisco to Philip Morris, now Altria.


WALLACE D. MALONE JR.,

former CEO of SouthTrust Bank, received a golden parachute of about $135 million when he retired as vice chairman of Wachovia in January 2006. Wachovia acquired Alabama-based SouthTrust in November 2004. Malone also holds about $473 million of Wachovia stock from the sale of SouthTrust.


PHILIP PURCELL,

former CEO of Morgan Stanley, retired after a struggle for control of the firm last year and walked away following a $113.7 million golden handshake. In addition to giving him an office and secretarial expenses for the rest of his life, Morgan Stanley will make $250,000 in charitable donations a year in Purcells name.


BRUCE L. HAMMONDS,

former CEO of MBNA, was given more than $100 million in restricted stock and options when Bank of America acquired the credit card company, effective January 1, 2006. He became president of Bank of America Card Services.

Gordon Platt