Investing In Alternatives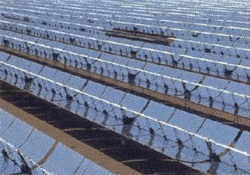 Near-panic in global energy markets has spurred an explosion of interest in alternative sources.

Spurred by factors from skyrocketing oil prices to escalating concerns over climate change and national security, global investors are expected to sink $60 billion in clean energy sources this year, doubling the tally of only two years ago. While still a small proportion of the nearly $600 billion overall energy market, experts say the declining costs of renewable energy coupled with rising costs of traditional sources will drive strong growth in the market for industries such as wind power, solar energy and biofuels like ethanol.
In the brave new world of record oil prices, there is every motivation to move full speed ahead on alternative energy technologies, says Tim Evans, an energy analyst with Citigroup Future Research in New York City. And an alternative energy source that could make any country less dependent on oil imports is a good long-term strategy. Its also prudent to pay attention to global warming.
Michael Liebreich, CEO of New Energy Finance, an independent research firm based in London with offices from New York to New Delhi, adds, The two big drivers are climate change and energy security. Liebreich says the so-called lubricants fueling the growth of clean energy are an ageing energy infrastructure and deregulation in the industrial world while less-developed nations require a reliable energy infrastructure to expand their economies.
This summers recent violence along the Israeli-Lebanese border in the always-volatile Middle East region only highlighted growing global concerns with the interruption of energy supplies. There is strong public support for homegrown energy sources, says David Dolezal, a director at UBS Investment Bank in Chicago. At the same time, the traditional sources of energy are becoming more expensive, and the cost of many renewable technologies is going down.
And for many emerging economies such as India and China, developing new energy technologies is frequently less expensive than constructing traditional electrical grids to reach households in remote areas. For developed nations, the drivers are energy security and environmental concerns. In the developing world, renewable energy is often more attractive economically, Dolezal adds.
The expansion of the renewable energy sector has also been nurtured by the proliferation of favorable government policies around the world over the past decade. Government policies have been very important to encourage early adoption of renewable energy sources, says Michael Eckhart, president of the American Council on Renewable Energy in Washington, DC. Founded in 2001, the non-profit council aims to bring renewable energy technologies into the mainstream of US society. In 1996 to 1999, we saw a turning point as policies shifted toward renewables.
That shift among governments only strengthened during the International Conference for Renewable Energies held in Bonn, Germany, in June 2004. About 3,600 participantsincluding 121 ministers responsible for energy, the environment and developmentattended the gathering, meant to boost the proportion of renewable energy in the industrialized and developing world. That was a significant shift, says Anil Cabraal, a lead energy specialist at the World Bank in Washington, DC. Governments made commitments to renewable energy.
This year, two events further opened investors eyes to the money-making opportunities lurking in clean energy. One occurred on January 1 when Chinas landmark Renewable Energy Law came into force and the government outlined a commitment to invest $180 billion in renewable energy by 2020. Enacted in February 2005, the law aims to boost Chinas renewable energy capacity to 15%, now at 7%, by the year 2020. The government is now authorizing financial subsidies and tax incentives for the development of wind power, solar energy, biomass and other alternative sources throughout the giant nation.
Meanwhile, on the other side of the planet, US president George Bush said the United States was addicted to oil and highlighted the importance of ethanol technology in his State of the Union address at the end of January. Investors took note. Researchers at New Energy Finance expect investment in renewable energy and low-carbon technologies to tally $60 billion this year, up from $48.9 billion in 2005 and $30.1 billion in 2004. Investment in the first half of this year totaled $19.3 billion. That was up 12% from the $17.2 billion placed in clean energy during the first half of 2005, but down slightly (1.5%) from the $19.6 billion invested in the latter six months of 2005, Liebreich says. The $19.3 billion figure for the first six months of 2006 includes $3.8 billion of venture capital and private equity, $5.6 billion raised in public markets and $9.9 billion of project and other asset financings.
Some of the notable deals made during the first half of 2006 included a public offering by the family-owned German firm Wacker-Chemie, one of the top suppliers of the silicon used in solar energy, which raised $1.5 billion in a public offering in Frankfurt in April. Meanwhile, Norways Renewable Energy Corp. (REC), a leading producer of silicon for solar technologies, raised $1.1 billion during its initial public offering on the Oslo Stock Exchange in May. REC is a vertically integrated solar energy company involved from silicon extraction to finished solar modules.
In the wind power sector, back orders for the large turbines needed to power the equipment have led to a slowdown in the financing of new wind farms and an upward tick in merger and acquisition activity. Suzlon, one of Indias largest wind energy firms and a manufacturer of wind turbine generators, for example, bought Belgium-based Hansen Transmission from two private equity firms for $565 million in May.
Liebreich says the clean energy industrys growth is being tempered by temporary bottlenecks in manufacturing capacity as demand outstrips supply for wind turbines and the silicon used in solar energy as well as biofuel plants. He expects growth to register at 15% to 20% in most areas. Theres been an enormous surge in demand, and the industry has to catch up, he says. The industry is not going to slow down, but there is a limit to how fast it can grow right now.
The biofuel industry needs more trained engineers to keep pace with the appetite for manufacturing plants that can turn out ethanol or biodiesel. Cabraal of the World Bank notes that the growth in wind power has temporarily outstripped the industrys capacity, and General Electric, for example, cannot deliver orders for wind turbines until 2008, Meanwhile, a wide range of companies, from traditional energy producers like BP to start-ups, are investing in renewable energy. A conference on renewable energy finance that was held in New York in late June drew more than 600 executives, investors and developers from the renewable energy arena. Two of the most attractive sectors are solar power and ethanol. Ethanol is blazing hot right now, says Evans of Citigroup.
James Nappo, managing director at UBS in Chicago, says the solar energy arena drew $3.7 billion in equity, private placements and other financing deals over the past 19 months and is expected to lure more than $1 billion in the coming year. Worldwide equity investments in ethanol tallied $1.6 billion since November 2005 and are expected to total $2 billion in the next 12 months.
There are not many sectors in the economy with renewable energys growth potential, which is why we are seeing so much investor enthusiasm for the space, says Nappo, adding that the combined market capitalizations of the publicly listed solar and ethanol companies represent less than 2% of the combined market capitalizations of the top-five oil companies. He notes: That leaves a lot of room for upside.

Paula L. Green