NEWSMAKERS: EUROPE/INDONESIA
By Udayan Gupta
Nathaniel Rothschild's Indonesian mining deal in 2010 was seen as a portent of how such cross-border deals could be done.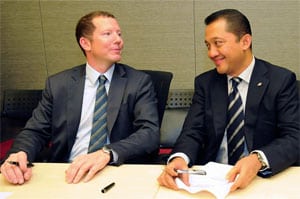 Rothschild (L) and Bakrie CEO Bobby Umar in happier days
Thirty months later, the endeavor is in a shambles, with all the parties involved––Rothschild, Indonesia's powerful Bakrie family and Indonesian coal billionaire Samin Tan––wanting separation.
In July 2010, Rothschild set up a shell company, Vallar, and—with the Bakries—bought 25% of PT Bumi Resources and 75% of Berau Coal Energy, two major Indonesian coal miners, in a $3 billion deal. Vallar was renamed Bumi, and seemed a model of cross-border dealmaking.
It allowed Rothschild, a European financier, to invest in a valuable emerging-markets resource. It allowed the Bakrie family to tap into foreign capital and to expand globally. It seemed an ideal match––Rothschild with his global connections and the Bakries with their vast Indonesian coal assets. But conflict arose over local governance styles that were often at odds with global financial requirements.
To finance a loan for their diverse holdings, the Bakries pledged their shares in Bumi (of which they hold 23.8%) as collateral. But when Bumi shares dropped in price and triggered margin calls, the Bakries sold half their shares in Bumi to Samin Tan, an Indonesian coal operator. When Rothschild questioned this and asked the Bakries to call in their loan, the group pressured Rothschild to resign as chairman, replacing him with Tan. With Bumi's shares at about a quarter of their IPO price, the Bakrie family in October offered to buy the stakes in Bumi Resources and Berau from Bumi. In November, Rothschild countered with his own proposal to sever the connection.
As financiers such as Rothschild seek to invest in rich, closely-held, usually family-owned businesses in Asia, they are coming face to face with a disturbing reality: When push comes to shove, foreign investors have minimal leverage. Their access to regulatory redress is often limited. And by seeking better governance they not only jeopardize the business, they also put their own investments at risk.
"I am afraid that I have lost confidence in the ability" of the Bumi board, Rothschild, 41, wrote in his resignation letter, adding "It is a matter of great regret for me that I was a party, with our advisers, to bringing the Bakries to London."