Czech PM Babiš is an outspoken billionaire while the PolishPM, Morawiecki, is more of a technician, whonegotiatedPoland's accession to EUbefore going on to chair Bank Zachodni WBK, part of the Santander Group.
Andrej Babiš of the Czech Republic and Mateusz Morawiecki of Poland are both former finance ministers with solid backgrounds in business and finance and reputations for getting things done. And both are now prime ministers.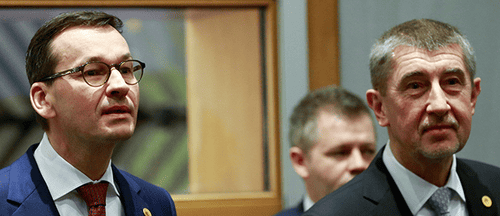 There are differences of course: Babiš is an outspoken billionaire who was forced to relinquish two newspapers and companies with lucrative state contracts to avoid conflict-of-interest charges. Morawiecki is more of a technician, who was involved in negotiating Poland's accession to the European Union before going on to chair Bank Zachodni WBK, part of the Santander Group.
Despite having been an independent before joining the governing Law and Justice Party (PiS) in 2016, Morawiecki is less obviously his own man. Ironically, parliamentary arithmetic makes him more secure. The Czech Republic's fractured parliament leaves Babiš dependent on a fragile coalition. The two assume office at a time when both countries are experiencing strained relations with Brussels over issues ranging from migrants to controversial proposed taxes—and in Poland's case, judicial changes that the EU says are incompatible with membership.
"Presumably, Morawiecki was appointed to smooth relations with Brussels. If so, it will be good for investors," says William Jackson, emerging-markets analyst at Capital Economics. However, as finance minister, Morawiecki loosened fiscal policy at a time when many felt it should have been tightened. Babiš has presided over budget surpluses.
Relations with the EU may be rocky, but both men face a benign economic environment: Full-year growth is expected to be around 3.5% for both the Czech Republic and Poland in 2017, slowing only slightly this year.
"The big worry is that policymakers fail to tighten as they should and let imbalances and vulnerabilities develop," says Jackson. "This could lead to a need for more-dramatic remedial action further down the line."