Ola Källenius will be the first non-German to lead the company.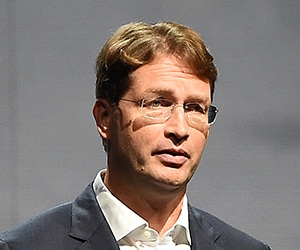 Daimler is getting a new driver. The carmaker announced that legendary top dog Dieter Zetsche will be succeeded by its current research and development chief, Ola Källenius, in 2019, ahead of schedule. Born in Västervik, a small coastal town in Sweden, 49-year-old Källenius is the first non-German to take the role.
Since joining Daimler in 1993 as a graduate in finance and accounting, Källenius has held a wide variety of executive roles, quickly winning over skeptics who argued he lacked the technical competence for some of the top positions. "He successfully managed Mercedes worldwide sales, the design and engineering department, was CEO of the performance brand AMG and oversaw Formula 1," says Ferdinand Dudenhöffer, director of the Center for Automotive Research at Germany's Duisburg-Essen University. "So he knows perfectly the Daimler world, the car world, and has a lot of ideas to continue the very important transition of Daimler into three independent arms with passenger cars, trucks and mobility services."
The changeover at the top comes at a challenging time for the auto industry. Traditional carmakers are wrestling with slow sales, global trade tensions and increased competition from upstarts and car-sharing services. "The sector is currently going through the most important transition in its history, with electric vehicles, robot cars and new players like Google, Apple, Didi and Uber," says Dudenhöffer. "It is a very challenging environment."
Arguably, Daimler is as well prepared as any automaker. It has enjoyed seven straight years of record sales and in 2016 it overtook BMW as the world's biggest luxury-car producer.
But profits dropped 19% in the first half of 2018 from the same period last year, and in the July-September period, Tesla outsold Mercedes in the US for the first time. Källenius, an enthusiastic advocate of plug-in hybrids and electric vehicles, is expected to pour resources into fending off such rivals.
Investors may need to be convinced. At press time, Daimler's stock was trading at its lowest point in five years.