MILESTONES: DENMARK
By Gordon Platt
Moody's Investors Service says something is rotten in Denmark's mortgage industry. The country's banks are still issuing interest-only loans, years after the real-estate bubble burst.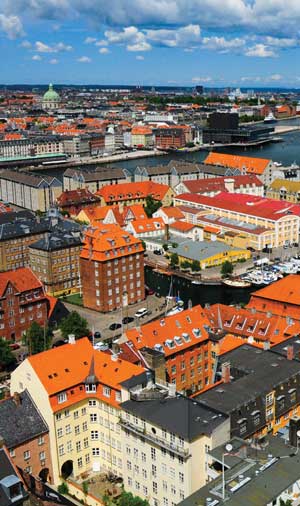 Copenhagen still home to interest-free mortgages
Meanwhile, Denmark's household debt is among the highest in the world, at 310% of disposable income. Foreclosures are at a 17-year high. After two Danish savings banks collapsed in April, Moody's issued a report saying the failures illustrated the Danish banking system's exposures to poorly performing agriculture and property sectors, adding it expected future bank failures to increase.
It was hard not to view the report as a retort to the Danish banks that fired Moody's after they won assurances from big investors that the opinions of the ratings agencies were of limited value. Nykredit, Denmark's largest mortgage lender and Europe's biggest issuer of covered bonds, dropped Moody's as its ratings agency on April 13. The bank said in a statement: "Nykredit has decided to terminate the rating agreement for business reasons." The bank said that because of Moody's "volatile view" of the Danish mortgage industry, "the significance of the ratings to Nykredit and to Nykredit's investors has diminished significantly."
Danske Bank's mortgage unit Realkredit Danmark dropped Moody's last June. The ratings agency downgraded BRFkredit, another Danish mortgage lender, in October 2011 after the bank stopped cooperating with it. Jyske Bank, Denmark's second largest listed bank, said it also was considering firing Moody's as its ratings agency. The dispute highlights the conflict of interest in the current ratings agency model. The banks, which pay to be rated, can fire their ratings agency if they don't get a good grade. It is also a matter of pride. The first Danish mortgage bonds date back more than 215 years to the period following the Copenhagen fire of 1795. Danish pension funds say they understand how the Danish mortgage market works and they still consider the bonds to be a very safe investment. They also recollect that US Treasury bond prices rose after Standard & Poor's took away their triple-A rating last year.