Digitizing more than 80% of its retail banking services proved a timely strategic move for Sberbank, Russia's largest bank. During the pandemic, customers could access most banking services while socially distancing and the bank launched new services quickly that helped customers facing financial hardship and uncertainty.

For the first three months of the coronavirus pandemic in Russia, Svetlana Kirsanova, the leader of Sberbank's retail business, and her team worked 24/7 to ensure more than 95 million retail customers could access essential banking services.
When Russians began to self isolate for their safety during the pandemic, Sberbank already had digital infrastructure and online channels in place, so customers were able to easily switch to remote banking. "We are fortunate we implemented our digital strategy several years ago and almost 68 million of our 95 million clients were already using digital banking," says Kirsanova.
In addition to the digital and mobile banking solutions Sberbank already offered, Kirsanova's team developed, tested and rolled out new solutions to ensure all customers—including those trapped abroad and outside major cities—could access essential financial services. "We only had one or two weeks to do this and, for some services, only several days," says Kirsanova. "We held Zoom chats and set up a special service desk and online IT support for employees working at home." New services were first tested by bank employees in different regions to determine how quickly they could be deployed.
One of the most important services used by Sberbank clients during the crisis was online activation of new debit cards via its mobile app: all users were able to add them to Apple, Google and Samsung Pay. The bank promoted an awareness campaign for the digital cards to help customers make contactless payments or withdraw cash from ATMs.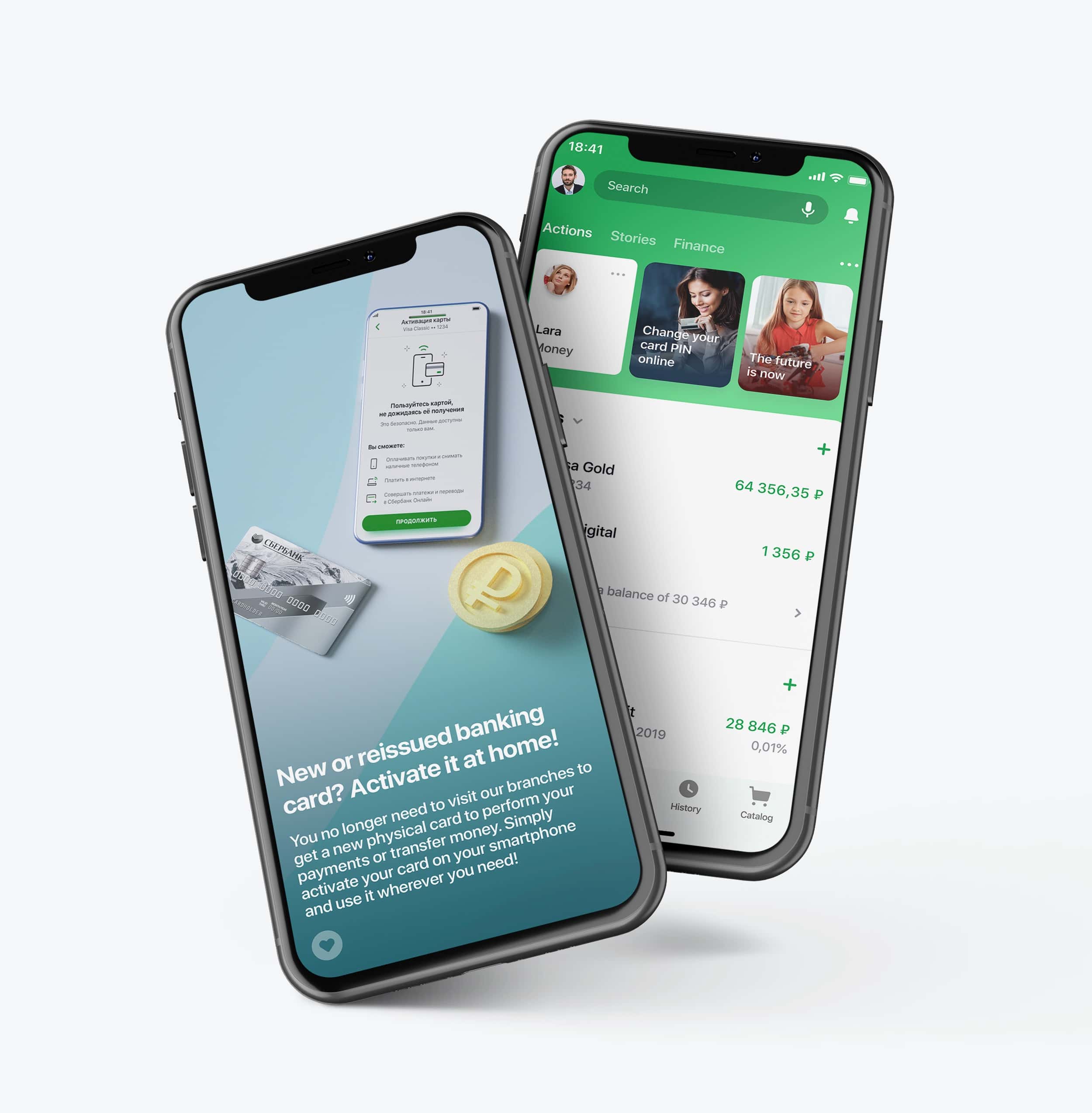 To help people who wanted to change their housing situation and buy new property during the pandemic, Sberbank launched a new digital mortgage application process for customers. Using a digital form on its DomClick.ru  website and a passport photo, customers could apply for a mortgage online and even search for a new property using Sberbank's website. "We believe we're the first bank with a fully digital experience for mortgages, integrating the whole journey from looking at properties to buying online," says Kirsanova. "Because of government regulations, we need physical signatures, so we use couriers. But now we are asking the government to change legislation so we can use biometry and video calls for authentication in the future."
"We believe we're the first bank with a fully digital experience for mortgages, integrating the whole journey from looking at properties to buying online" says Kirsanova.
The quick pivot to digital forced by the pandemic is testament to Sberbank's journey for more than a decade to digitize most of its retail banking services. But no one, not even Kirsanova, could have anticipated how crucial these services would be in a crisis. In the first few months of the pandemic, the percentage of Sberbank's digital only clients grew by 10 percent to exceed more than 52% of its customers.
But driving digital adoption is not just about appealing to younger, digitally savvy customers. "Older people are using mobile and online banking as well and we serve all of our customers," says Kirsanova. During the lockdown, Sberbank set up a special internet site to show older customers how to pay bills online.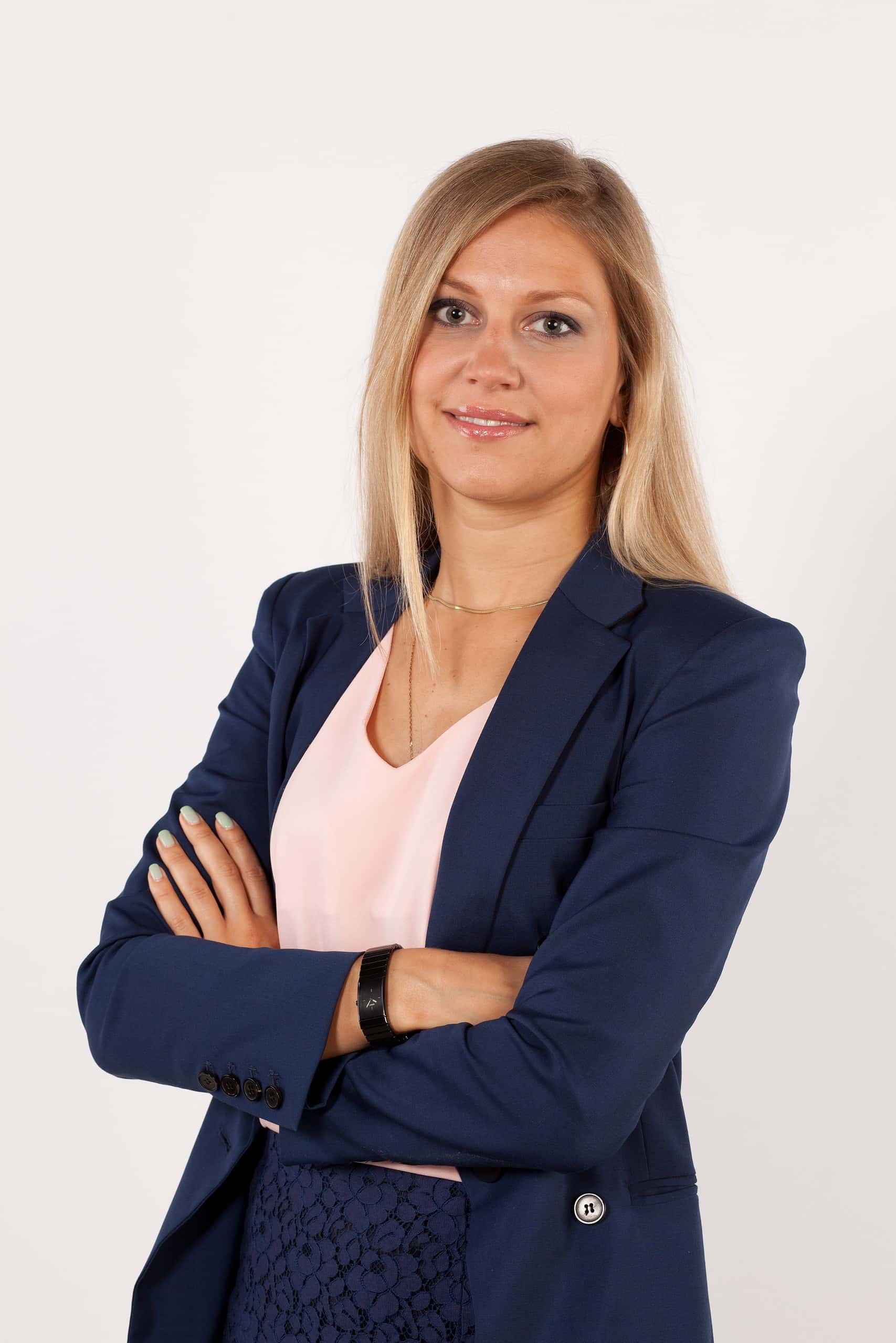 Sberbank also helped customers when a physical solution was needed. "We implemented a courier service to deliver plastic cards as well as pensions and government benefits to customers. Our courier service became a popular convenience that eliminated the need for branch visits and helped us improve efficiency," says Kirsanova. "People were afraid to remain without cash and we provided the services they needed to overcome this fear."
Even with more customers going digital, branches will likely remain vital. "We didn't close all of our branches during the pandemic as they perform more of a soft function to help customers engage with digital banking," Kirsanova explains. Sberbank created a solution where branch staff work like call center employees answering customer questions. Kirsanova is also developing new technologies for call center staff, using a combination of AI technologies and voice recognition software to transcribe voice into text so they can respond to customer queries quickly. "This was a pilot before the pandemic, but Sberbank is now giving it greater prioritization," she says.
Throughout the pandemic, providing personalized service was essential but challenging given Sberbank's diverse customer base spread across more than 80 regions in Russia. "The customer experience is different from one region to another," Kirsanova explains. "The greatest challenge was communicating with each customer personally. We had to prepare for every scenario. Life was not 'normal' anymore and our customers came to us for real help. We had hundreds of thousands of calls from customers with problems repaying loans. That was new for us." Following the government's decision to allow loan holidays, Sberbank offered several tools to help customers who faced financial difficulties. "Given our huge customer base, it was critical to act quickly to prevent panic," says Kirsanova.
By April, Sberbank's more than 14,000 branches throughout Russia had started normal operations, but given how well staff worked from home during the crisis, Kirsanova believes that a combination of working from home and in offices could operate well in the future. "We'll use couriers more and change branches to make them more customer centric and focused on financial education, such as fraud prevention," she says. "We'll find a way to do this."
---
Sberbank's B2B Crisis Solutions
COVID-19 dramatically changed the business landscape, leaving hundreds of thousands of businesses in Russia uncertain how to operate. Sberbank stepped in immediately, providing corporate clients with digital services. No papers, no bank visits, no complicated scenarios.
Under the state business support program Sberbank offered corporate clients special business support measures, such as payroll loans at 0% interest rate. As the result the bank received online applications for 55 billion rubles (786 million USD), of which about 31 billion rubles (443 million USD) were approved, helping companies retain staff during the "closed door" period.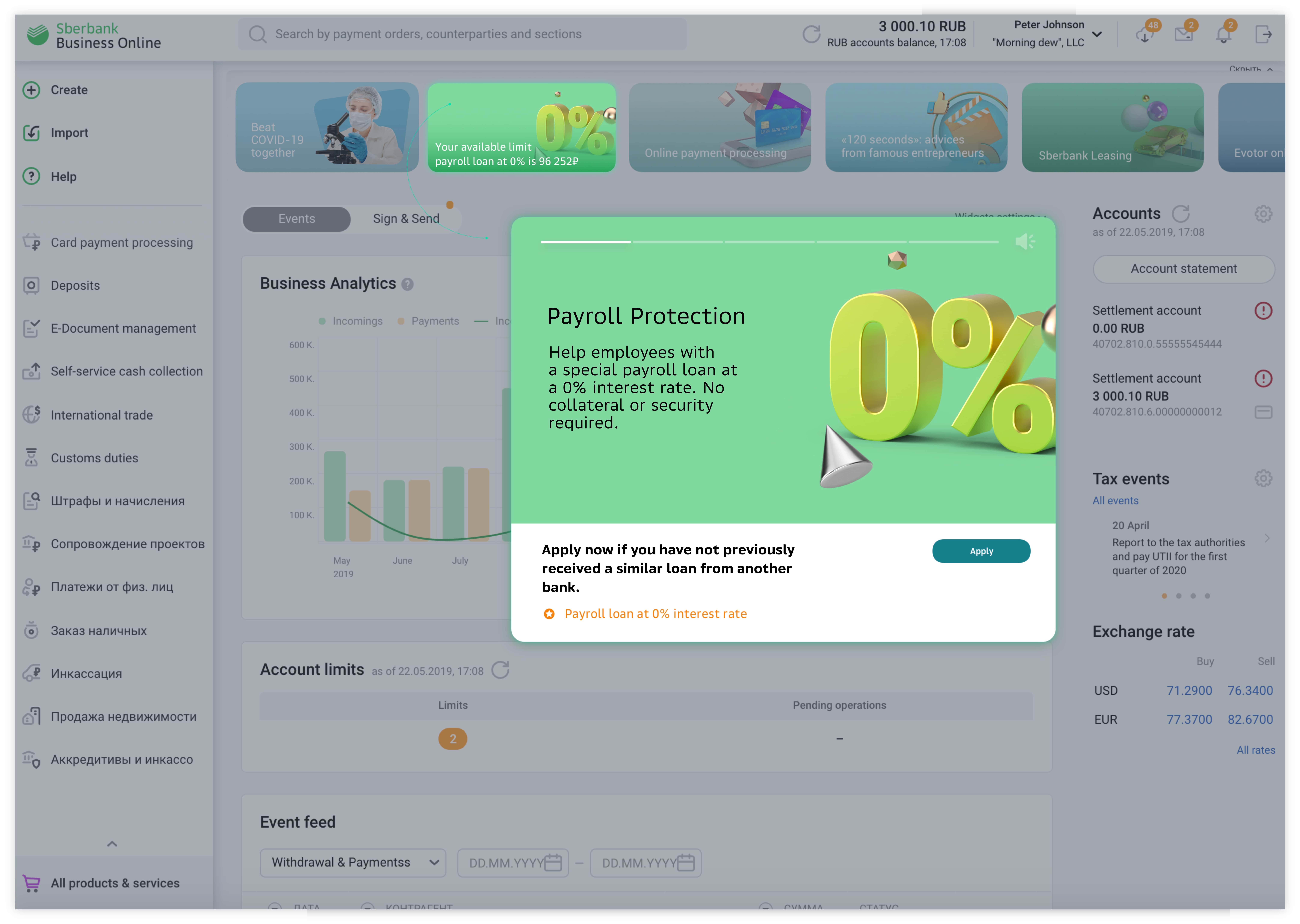 During the pandemic, Sberbank considerably increased the functionality of its online business platform: "The crisis served as a powerful catalyst to accelerate the digital transformation of our entire banking business," says Managing Director Anna Loevskaya, who is responsible for Sberbank Business Online. The Sberbank Business Online internet bank and moble app became the bank's main channel with its corporate customers during the crisis. Used by 2.2 million Russian companies, Sberbank Business Online's AI-powered, fully automated process allows the bank to make loan decisions virtually in minutes and credit money on client's account the same day – all without single visit to the branch.
"We actively developed our mobile applications for iOS and Android," said Loevskaya. "We launched a marketplace for business services, payment by QR code, payments via Touch ID and Face ID, and a new "Counterparty Check" service to minimize risks when sending wire transfer to a new partner." In less than a year, Sberbank Business Online added 300,000 mobile users, with an audience of 800,000 companies, making it the #1 mobile corporate banking application in Russia.
Sponsored By: