Pakistan's new prime minister faces high debt and a currency crisis.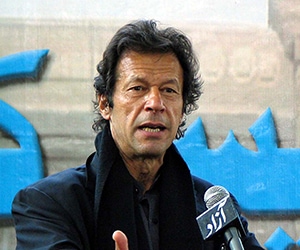 More than a quarter-century after leading Pakistan's national cricket team to the World Cup, charismatic 65-year-old Imran Khan has taken the reins as the country's new prime minister. Khan founded his party, Pakistan Tehreek-e-Insaf, 22 years ago to nourish his political ambitions. PTI emerged as the single largest party in the National Assembly in Juy's election, with 150 seats.
But Khan's ascent to high political office has been marked by charges of electoral malpractice and too-close backing of the all-powerful military establishment and the country's spy agency, Inter-Services Intelligence. The major opposition parties—jailed former Prime Minister Nawaz Sharif's Pakistan Muslim League-Nawaz (PML-N) and Bilawal Bhutto Zardari's Pakistan Peoples' Party—initially rejected the outcome of the July 25 elections, which saw over a few hundred people killed through the campaign season to election day.
Khan's strenuous campaign targeted rampant corruption, government mismanagement, feudalism and the hereditary politics of the Sharifs and Bhuttos. Given PTI's apron-string ties to the military, however, Khan may enjoy limited room on governance, especially security and foreign policy issues. And he may have to reconcile himself to an indefinite delay in rolling out promised reforms to usher in a modern welfare state.
The reason: huge external debt and a looming currency crisis, along with strained relations with India. The State Bank of Pakistan has put external debt at a whopping $91.8 billion, or 26.2% of GDP, and foreign exchange reserves at around $10 billion. To escape imminent default, Pakistan needs $1 billion—likely sources include China, the International Monetary Fund (IMF) or a bond sale to overseas Pakistanis.
A few ago, the IMF handed over $6.6 billion in a bailout package, and Pakistan has undertaken three currency devaluations in less than eight months. A slowing economy, yielding only around 5.6% GDP growth, along with burgeoning current account and fiscal deficits, only add to Khan's problems.
His new government will also have to deftly manage relations with China; Beijing may not want Khan to publicly broadcast its financial support, its ongoing supply of military hardware to Pakistan, or its building of an economic corridor with investments of $60 billion.