MILESTONES: ECUADOR/UNITED STATES
By Antonio Guerrero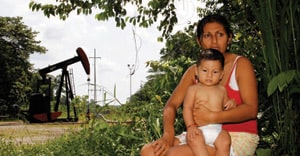 Still waiting: Chevron's appeal delays payment of its fine
When a provincial court in Ecuador in February ordered Chevron to pay an $8.6 billion fine for damaging the rainforest, the ruling intensified an 18-year battle between the US oil giant and the South American country. However, it seems a new battle is brewing, this time between each side's lawyers.
Litigation has been festering for nearly two decades, after Texaco exited Ecuador in 1992 and paid $40 million in cleanup fees. Chevron inherited the litigation when it merged with Texaco in 2001. Texaco, which struck oil in Ecuador in 1967, had joined Petroecuador, the national oil company, to expand exploration into the Amazonian region. When Texaco shut down its operations and paid the clean-up fee, it also signed an agreement with Petroecuador that freed the US company of any further responsibility.
The following year, indigenous communities filed a lawsuit against Texaco, charging $40 million was not enough to compensate for water and soil damage and health problems among residents. Instead, they sought $27 billion, a figure which they have since tried to boost to $113 billion—more than 50% of Chevron's market capitalization.
The February ruling is the largest fine ever imposed on a company for environmental damages. The court ruled the amount would be doubled if Chevron did not publicly apologize for the damage. Chevron will appeal the verdict and has received support from a US federal court and a European arbitration panel.
However, a battle between the plaintiffs' and defendants' US-based lawyers could complicate matters. Chevron, represented by Gibson Dunn & Crutcher, alleges an expert report commissioned by the court was secretly penned by the plaintiffs' attorneys and reflects the anti-business stance of Ecuador's socialist president Rafael Correa. Chevron is suing the law firm of Patton Boggs, representing the plaintiffs, under the RICO Act for alleged fraudulent litigation. Patton Boggs is counter-suing, charging that Chevron conspired to keep plaintiffs from seeking legal counsel.